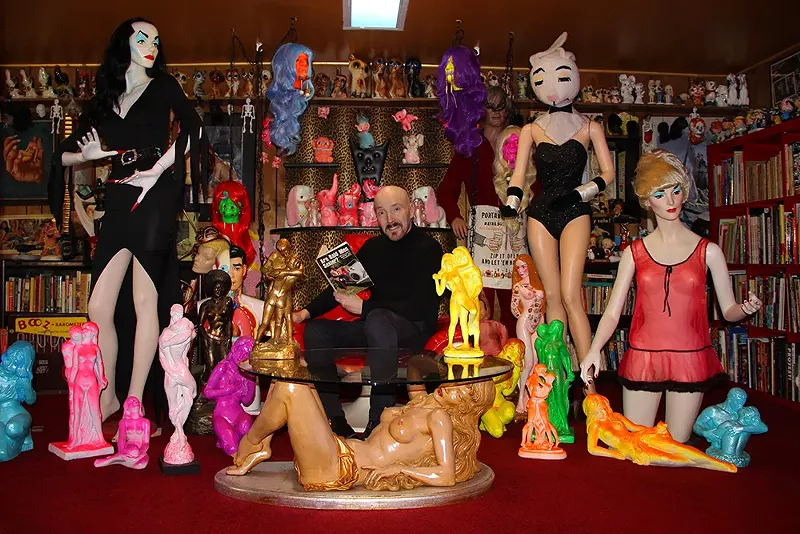 As a kid growing up in metro Detroit and Ann Arbor, artist Mitch O'Connell fondly recalls family trips to the DIA, where he would stare in wonder at Diego Riviera's murals and catch screenings of monster movies like Dracula and Frankenstein.
Now based in Chicago, O'Connell turned his childhood appreciation of art — and especially all things retro and weird — into a career. An illustrator and fine artist known for risqué designs, O'Connell has become a fixture at Detroit's erotic art festival, the Dirty Show, and this year has been highlighted as the event's featured artist.
"I've always enjoyed kitschy, offbeat things," he tells Metro Times. "Nowadays, I'll go to the flea markets and I'll post my finds on Instagram, just looking for the weird, the surreal, the sexist, the sexy, the strange — just things that you look at and wonder how they were ever made in the first place."
O'Connell keeps a flat file full of inspiration; as we speak by phone, he rifles through a collection of photos of burlesque performer-turned-actress Chesty Morgan, known for starring in B-movies like Double Agent 73. (The title is a reference to her natural, 73-inch bust.)
"You have to be sitting when you see it because otherwise you would fall off you fall on the ground because it's so just god-awfully bad, but like, badly good," he says. "But I'm happy those things exist."
In his own work, O'Connell has arrived at a style that is titillating without being too explicit, drawing from comic books, pin-ups, and circus sideshows. His images have been published in major publications including Rolling Stone, The New Yorker, and GQ.
O'Connell says he has his mother to thank for setting him on this path.
"My mom probably made me full of myself, because she was always very encouraging and very flattering to anything I ever did," he says, adding, "All I did was draw. There was no backup plan where I'm going to be a fireman or something. … and I think that's helped with a career where you either sink or swim, because you only have one thing going for you."
Like many kids, O'Connell says he initially had dreams of becoming a comic book illustrator, and honed his skills studying artists like Bernie Wrightson, Michael Kaluda, and Barry Windsor-Smith. He enrolled at the School of the Art Institute of Chicago, and as a teenager made trips to New York City, cold-calling art directors to show them his portfolio. Eventually, an art director at Heavy Metal magazine liked an image he made enough to put it on the cover — an early lesson that O'Connell could make money doing this.
"She said, 'Well, we'll pay you $500 for the cover,'" he recalls. "I was probably 18 at the time, and I said, 'Fantastic!' I was beside myself. And then she calmly slowed down and said, 'No, how we do this is I say $500, you say $1,000, and then we settle at $750.' So then she said, 'I'll pay you $750.'"
O'Connell later transferred to Chicago's American Academy of Art, but dropped out after three semesters once he started making a steady living with illustration work, landing gigs with publications like Playboy, the Chicago Tribune, and the Chicago Sun-Times. It was a fast-paced career that O'Connell says taught him even more.
"As an illustrator, I would do whatever the job entailed," he says. "It was kind of like those words of wisdom that you hear for actors — they ask if you could ride a horse, and you say yes, and then you go learn how to ride a horse. It's the same thing when people ask, 'Can you draw this?'"
After years of executing ideas for other people — and as the publishing industry shrunk — O'Connell segued into a fine arts career, doing gallery shows and making prints to sell at pop culture conventions.
"Instead of me waiting for an ideal job that I'm excited to do, I'm pretty much just drawing what I would love to get as a job, and doing it as a screen print," he says. Lately, he's partnered with Chicago's Screwball Press to make pop-art posters using fluorescent inks that glow under black lights, and is also working on making them as classic flocked '70s-style posters.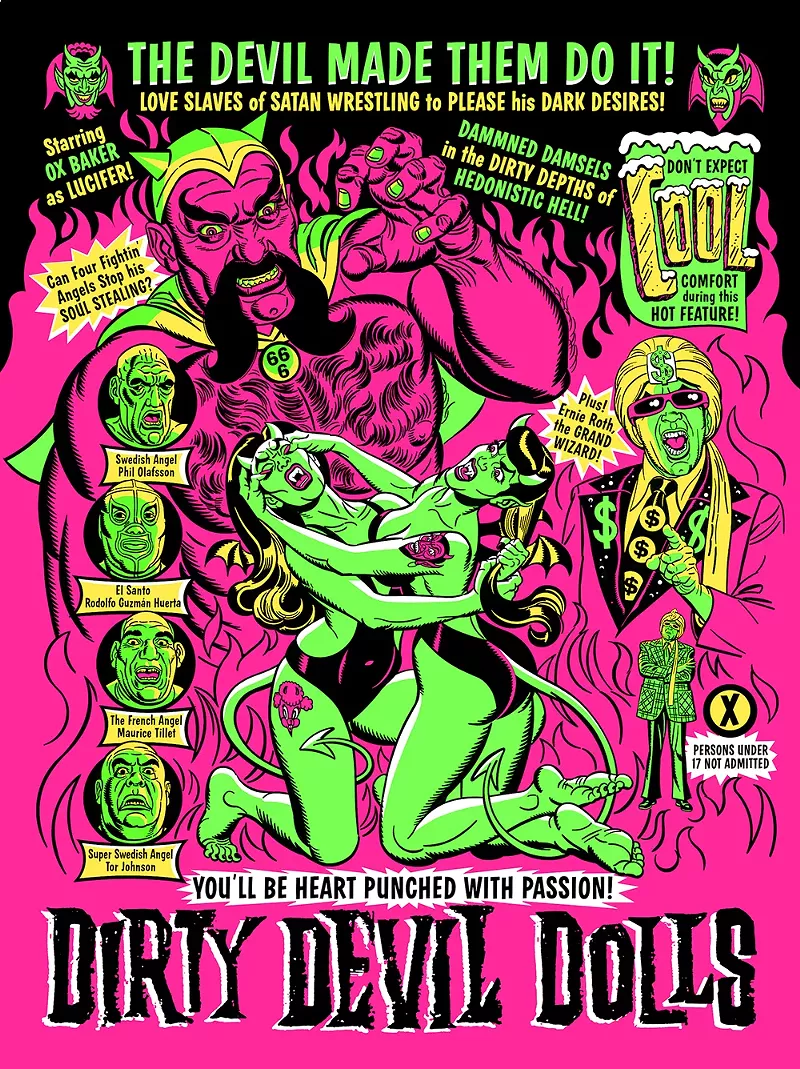 "It was just like, 'How can I go over the top, and then go over the top, and over the top,'" he says. "Once you go blacklight, you can't go back. And once I go flocked I can't stop from being flocked."
O'Connell has three children, with the youngest tagging along to pop culture conventions to help him sell merch. He says he's open with his kids about what he does for a living, which keeps him from drawing anything X-rated. (O'Connell made an exception for a series of comics based on the exploits of ex-President Donald Trump and Stormy Daniels in the style of "Tijuana Bibles," or pornographic pocket-sized books popular in the early 20th century. "I'm so happy I'm not doing it anymore now, because it really becomes tiresome," he says with relief.)
"I think they keep me reined in. I don't want to draw stuff that I'd be embarrassed to show my own kid," he says. "So that makes you think harder. … like, how can I be more clever, trying to make that same point?"
O'Connell says he made his first appearance in the Dirty Show about a decade ago. For a few years, he curated a mini-exhibition inside the festival called "the Dirty Needle," a collection of erotic tattoo flash illustrations.
"It's a wonderful show," he gushes. "It's so much fun. It's my favorite gallery show. … You can't go to a more over-the-top event than the Dirty Show, because everybody's waving their freak flag."
He adds, "I'm doing stuff I love. I'm always just trying to share the joy of these crazy images."
The Dirty Show runs 7 p.m.-2 a.m. Feb. 10-11 and 18-18 at the Russell Industrial Center; 1600 Clay St., Detroit; see full schedule of events at dirtydetroit.com. Tickets start at $45, ages 21 and older only.
Event Details
Coming soon: Metro Times Daily newsletter. We'll send you a handful of interesting Detroit stories every morning. Subscribe now to not miss a thing.
Follow us: Google News | NewsBreak | Reddit | Instagram | Facebook | Twitter