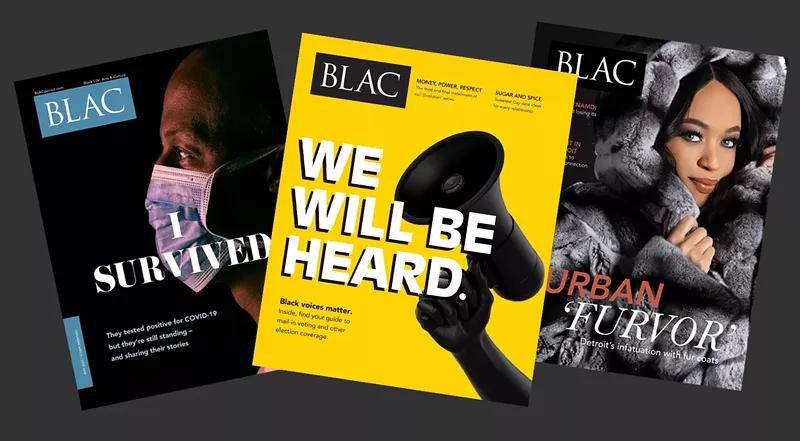 BLAC Detroit magazine's website and social media pages have gone cold. Outside of the occasional reshare on the publication's Instagram story, there hasn't been any new content produced in the past week.
The desertion of the online publication and social channels follows the abrupt firing of the publication's editor-in-chief, Darralynn Hutson.
An industry veteran, Hutson served as BLAC's editor-in-chief for about five months, having assumed office in October 2022.
On Friday, Jan. 27, Hutson took to LinkedIn to announce not only her firing, but a string of allegations against the company during her short time there.
In the post, Hutson writes that twice she had to pay contributors out of her own pocket just to keep the peace, as she didn't want to be another Black magazine with a reputation for non-payment.
"I write this post with a heavy heart stunned and dismayed but was recently abruptly let go from BLAC Magazine, a Detroit-based publication that holds so much amazing history to so many native Detroiters," Hutson writes. "I had a meeting and offered to be the magazine's owner since I was doing all of the work and learning of unsavory business practices that were coming to a boil. Unknown to so many, for months, I've been the sole creator of content of two editions and often social media and the weekly BLAC Friday to subscribers."
There's two publications in the city of Detroit that are especially coveted among Black Detroiters — Michigan Chronicle and BLAC Detroit. To be frank, for a very long time, those were the only publications where Black Detroiters could see themselves in the pages and in the staff.
In April 2020, Midland native Billy Strawter Jr. purchased BLAC after investing in the magazine for nearly five years. It seemed like a promising new era for the publication, originally founded in 1999 as African American Parent Magazine before changing its name to BLAC (an acronym for "Black Life, Arts & Culture") during its 10th year in business. At the helm, Strawter expressed ambition to make BLAC a national brand.
"BLAC was a client of my (marketing) agency first, and there was an opportunity to become an investor," he told Midland Daily News in a 2021 interview. "When they decided to sell, they approached me and it just felt like a no-brainer."
But since Strawter's acquisition, the publication has been plagued with allegations of non-payment and even litigation. And it hasn't published a print edition since September.
In an interview with Metro Times, Hutson says she believes Strawter didn't understand publishing when he acquired BLAC, and that disorganization and lack of communication contributed to the breakdown.
"You have somebody publishing a magazine who has no idea what actually goes into publishing a magazine," says Hutson. "It's great that he wanted to save it, because I think his heart was in the right place, he wanted to save a brand that meant a lot to Detroit, but it was deceitful and malicious — and that was on her end, not him."
The "her" in question is Victoria Webb, who, according to BLAC's website, is the publication's director of operations. According to her LinkedIn, Webb also serves as president of MILO, the marketing agency founded by Strawter that also handles the creative direction at BLAC.
Webb's name was mentioned by several sources that agreed to speak with Metro Times, who say Strawter had the creative ideas, but Webb was truly the business. Due to signing a non-disclosure agreement upon being hired at BLAC, two sources spoke with Metro Times under anonymity.
"Victoria is silently behind everything. You know how there's someone behind, like a puppeteer, I would say it's like that," says a former BLAC employee who worked at the publication right after Strawter's acquisition. "Billy doesn't seem to really move without Victoria's say-so."
According to another ex-BLAC employee, Webb often had a lot to say — and most times did so in a belittling manner.
"I left because of her," says the former staffer. "She sent me the rudest email, and Billy didn't say anything — she's a terrible person. She's his boss. Billy runs it, but she's truly the boss."
Metro Times reached out to Webb for comment but has not received a response by deadline.
In August 2022, Strawter found himself in Detroit's 36th District Court as Courtney Wise-Randolph, a former BLAC freelance writer, filed a civil claim against him for non-payment.
"When I first told him I'd have to take him to court, he owed me more than $3,000. By the time we got to court, it was closer to $1,100," Wise-Randolph says in texts with Metro Times. "He still hasn't paid the judgment in full, but rather than owe me thousands now, he owes $83.01. For my own sanity, I'm letting it go. I haven't filed the paperwork to say he's satisfied the judgment though, because he hasn't."
Unpaid invoices and late payments were not limited to BLAC's direct employees and freelance reporters. It was also extended to contracted third-party workers.
In June 2020, two months after his acquisition, Strawter hired Kate Abbey-Lambertz and Ashley Woods Branch of Detour Detroit to launch and produce BLAC Friday, a custom newsletter that would be published by BLAC and sent to subscribers weekly. (Full disclosure: This reporter worked for BLAC via the Detour partnership at the time, but never experienced issues with nonpayment since payment was through Detour.)
In a statement to Metro Times, Abbey-Lambertz and Woods Branch say their partnership with BLAC ended in January 2022 after issues with invoices and lack of communication with Strawter.
"Detour Detroit entered into a relationship with BLAC Media in June 2020 to launch and produce a custom email newsletter product published by BLAC Detroit," Abbey-Lambertz and Woods Branch tell Metro Times in a joint statement. "We had a productive and collegial working relationship with BLAC and the talented, hardworking writers working for the outlet, but experienced multiple instances of late payments and communication issues regarding missing invoices as the relationship progressed."
Detour officially ended the partnership with BLAC last year as it prepared to merge with Outlier Media.
BLAC's track record for not paying its freelancers or employees on time was brought to the attention of Detroit's chapter of the National Association of Black Journalists (Detroit NABJ). After the board was made aware of the allegations and a court case in favor of one contributor, Detroit NABJ emailed a letter to Strawter stating that they will not recommend any reporters work at BLAC until the issue has been resolved. The executive board sent that letter in December and tells Metro Times that it still has not received a response from Strawter or any BLAC representative.
"I think we knew of two cases when we drafted and sent the letter. Since the letter was sent to him, and our closed members page, I have heard of at least two or three similar stories, but we have not heard from him," says Vincent D. McCraw, president of Detroit NABJ. "Our position is that when people do work for an organization or a news outlet, they deserve to be paid. If their work is not used, they should be paid a kill fee or something. But to just not pay people is not workable. Our position in the letter stands. We're not going to be recommending people to work for BLAC magazine, we will not change that position."
"Our position is that when people do work for an organization or a news outlet, they deserve to be paid."

tweet this
Despite conditions and unfair treatment all former employees Metro Times spoke with say they received at BLAC, they each say they wanted to put the past behind them for their own mental health and wellness. They have all moved on to other endeavors, each expressing disappointment with this tarnishing of BLAC's legacy. For Hutson, her immediate future includes training and mentoring young Black Detroit journalists. She also recently began an apprenticeship for high school students where she teaches them the fundamentals of journalism while showing them how to enter the freelance market and network with others in the industry.
"My dream is bigger than BLAC — that's what kept me going," she says. "I'm focused on moving as many kids into the field as I possibly can. They're not going to have to figure it out as they go along. I'm going to give them the path, I'm going to give them the route to help them — one person at a time."
As for BLAC, though emails for comment sent by Metro Times remain unanswered, the outlet recently posted a call for pitches on its LinkedIn page as it acknowledged the structural changes that are happening.
"BLAC is entering a new chapter. While there have been some leadership changes, we remain committed to shining a light on Black Life, Arts & Culture, as we have for 22 years, and addressing issues that are important to our community from our perspective," a message attributed to Strawter reads. "There are many diverse and brilliant voices and stories yet to come. If you have new business openings, product spotlights, restaurants, musicians, or artists that you would like to see covered, our doors are always open."
Metro Times reached out to Strawter for comment. He did not respond by deadline.
Coming soon: Metro Times Daily newsletter. We'll send you a handful of interesting Detroit stories every morning. Subscribe now to not miss a thing.
Follow us: Google News | NewsBreak | Reddit | Instagram | Facebook | Twitter