You'll find no shortage of places to eat in Pigeon Forge. Whether you're looking for breakfast or brunch, lunch or dinner, there are plenty of dining options to choose from. Treat yourself to a delicious meal while taking in great scenery at these restaurants in Pigeon Forge with a view.
Fins Bar & Chill at Camp Margaritaville RV Resort & Lodge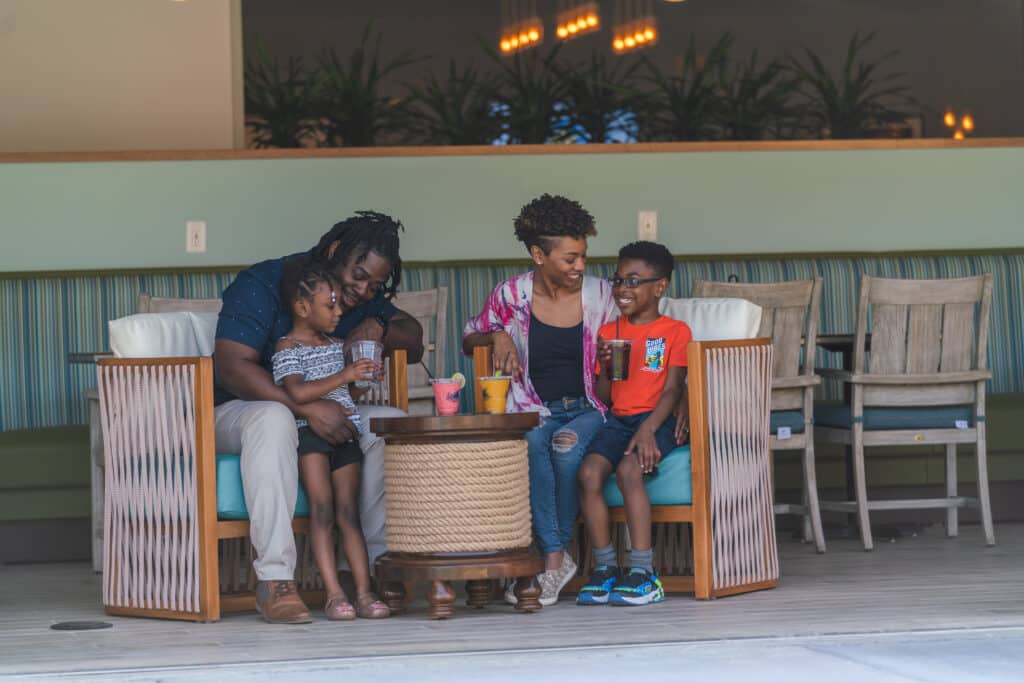 Surrounded by Smoky Mountain views, Fins Bar & Chill at Camp Margaritaville brings a fun way to dine on vacation in Pigeon Forge. Fuel up for your day of adventure with their buffet breakfast, complete with a pancake bar filled with an impressive selection of toppings. Enjoy a relaxing lunch by the pool, or stop by for dinner and play cornhole on the outdoor patio. Menu items include Tennessee Pulled Pork Nachos, Wagyu Dogs, salads and sandwiches, and of course, their signature cheeseburgers.
The Old Mill Restaurant
For delicious homestyle meals, look no further than The Old Mill Restaurant. The restaurant is in Old Mill Square, one of Pigeon Forge's most historic areas and a great family destination featuring an assortment of specialty shops and restaurants.
The dining room overlooks the Pigeon River and offers views of the historic Old Mill with its huge water wheel that turns as it grinds grains just below the dam. The grains are then used to make many of the tasty dishes served at Old Mill restaurants. Enjoy classic Southern comfort foods like corn chowder and country fried steak while watching the water flow over the dam and cascade into the waters below.
Paula Deen's Family Kitchen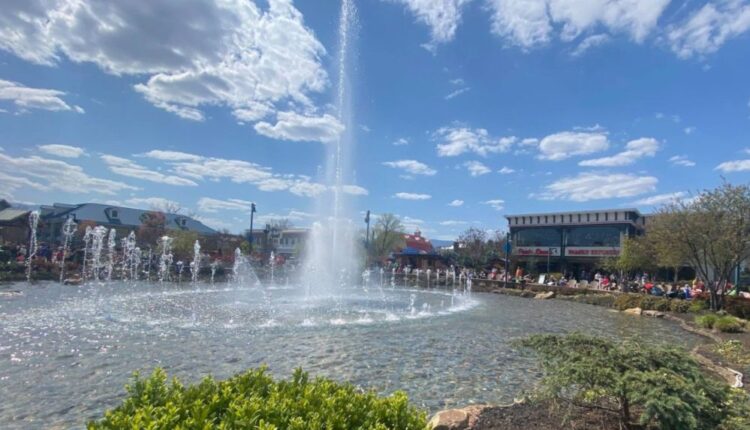 While you're in Pigeon Forge, make plans to sample some of the Deen family recipes at Paula Deen's Family Kitchen. From meatloaf and fried green tomatoes to fried chicken and biscuits and gravy, you'll find plenty of delicious options to please every member in the family.
The dining area is located upstairs with tiered seating where guests can experience the great views of The Island Show Fountains and the beautiful Smoky Mountains in the backdrop. Make sure to stop in at the Paula Deen store on the first floor to shop for goodies to take home with you!
Margaritaville
Step out of your everyday routine and into an island adventure! Jimmy Buffett's Margaritaville at The Island in Pigeon Forge offers an extensive menu selection in a welcoming and laid-back atmosphere. Enjoy tasty fare with a Caribbean flair in this unique dining space, complete with a concert stage and multiple bars. Ask for a table on the patio and enjoy dining on the large deck that overlooks the Little Pigeon River that flows around The Island.
Eat & Drink at The Mountain Mile Tower & Shops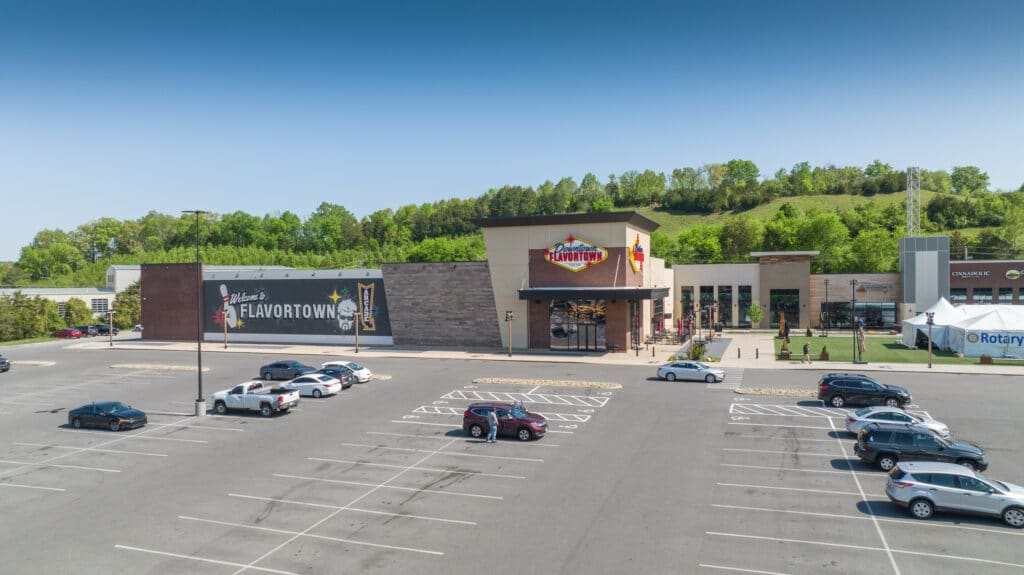 The Mountain Mile & Tower Shops offers a great variety of dining experiences with a view! From Junction 35 Spirits to Guy Fieri's Downtown Flavortown, enjoy delicious appetizers and entrees with an incredible atmosphere. Azul Cantina will also be opening here soon. This restaurant will serve authentic Mexican cuisine and will be the only restaurant in Pigeon Forge to offer a rooftop bar with amazing views of the Smoky Mountains!
Harpoon Harry's Crab House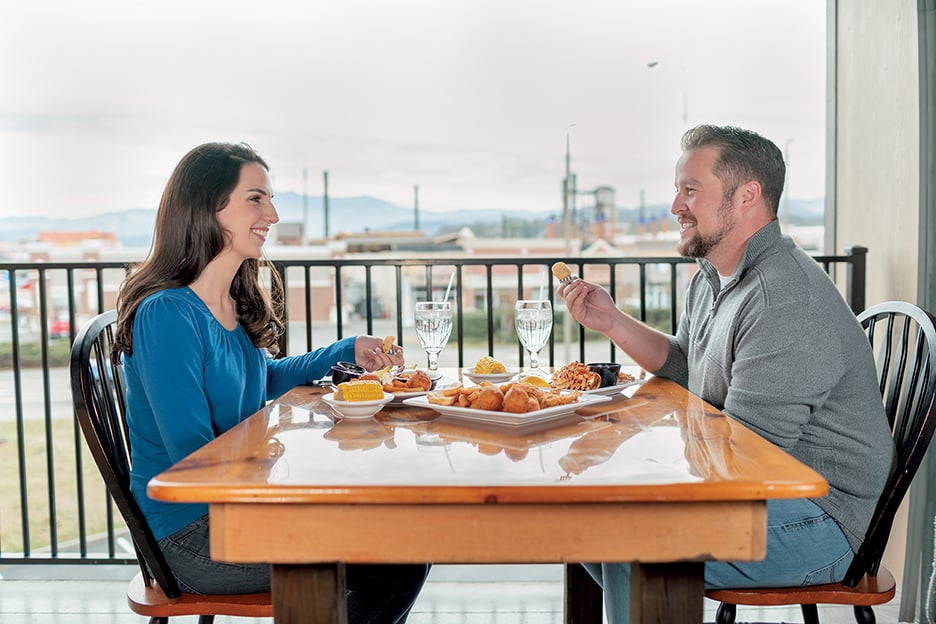 For an amazing dining experience and some of the freshest seafood available, Harpoon Harry's Crab House is a popular choice for locals and visitors alike. In addition to their extensive seafood menu featuring everything from crab legs to sushi to fish platters, Harpoon Harry's also serves steaks, chicken and burgers.
The restaurant sits in a beautiful spot on the Little Pigeon River in Pigeon Forge and offers both indoor and outdoor seating. Diners can sit outside and listen to the sounds of the river while indulging in some top-notch seafood! You'll find a full family experience at Harpoon Harry's complete with live music, an arcade and retail shop.
Local Goat – New American Restaurant Pigeon Forge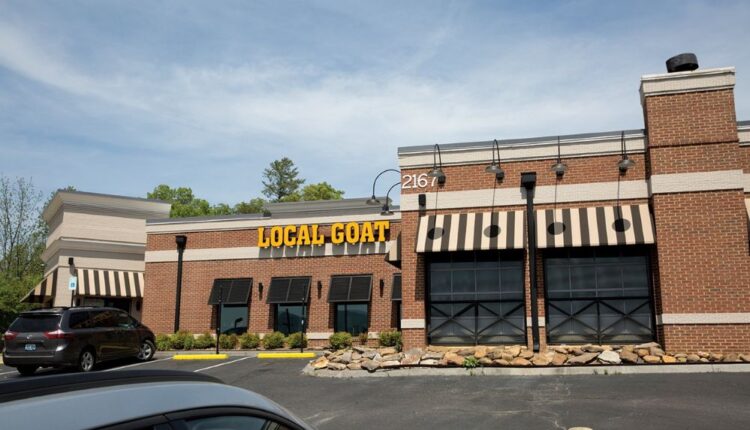 The Local Goat in Pigeon Forge is an American restaurant featuring locally sourced and sustainable menu items. From jumbo wings and hearty steaks to a wide array of appetizers and outstanding desserts, the Local Goat offers great food and great times for the whole family.
The restaurant is adorned with artwork produced by local artists and craftsmen and includes a bar that specializes in local craft beers and craft cocktails. Local Goat sits at the base of the Great Smoky Mountains with picturesque views of Mount LeConte and the surrounding mountains, making it the perfect photo spot for any occasion!
Gaucho Urbano Brazilian Steakhouse
Gaucho Urbano Brazilian Steakhouse serves authentic Brazilian cuisine made with only the freshest ingredients. And the ambiance is spectacular…it's the perfect spot for relaxing after a full day spent exploring all the great attractions and activities that line the Parkway in Pigeon Forge.
Guests can sample around sixteen different cuts of meat that are prepared fresh daily. The meats are served in a continuous table side service so all you have to do is turn your special token to the green side to signal when you're ready for service. You're sure to enjoy this unique dining experience, all while taking in the great views of downtown and the Pigeon Forge Parkway.
If you're searching for a restaurant with a view in Pigeon Forge, Tennessee, make plans to visit one of these eateries or browse a full list of restaurants in Pigeon Forge.
You May Also Like:
Best Ice Cream Shops in Pigeon Forge
Must-try Foods in Pigeon Forge
Restaurants with Live Music in Pigeon Forge