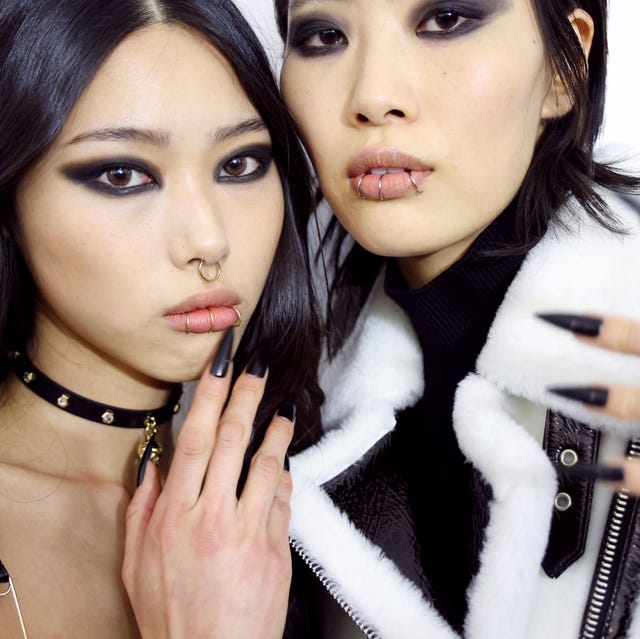 Vittorio Zunino Celotto
Beauty is pain, but nothing is more painful than sitting in a salon waiting for your nails to dry. What's even more disheartening is leaving the said salon and smudging your nails on the commute home or within the first few days, leaving you to wipe your fresh manicure off before you even took a #nailfie. It's time for you to take your nail game up a notch by opting for an at-home manicure that's half the cost of a salon manicure. The DIY manicure has never been more popular, but if you're looking for the long-lasting effects of a gel manicure, consider a UV nail lamp as your next big beauty purchase.
Salon pros use UV and LED lights to cure gel nail polish, skip dry time, and avoid mishaps. With handy features like one-touch buttons, automatic motion sensor shut-off, and timer setting options, these lamps are the only thing preventing you from achieving a salon-level manicure in the comfort of your own home.
Keep in mind that your hands will be exposed to UV rays, so remember to protect your skin by applying sunscreen and moisturizing hand creams beforehand. Ahead, shop the 15 best UV lamps for at-home manicures.
Advertisement – Continue Reading Below
1
Best For Nail Accessories
Mini UV Led Nail Lamp for Gel Nails
This UV light may be compact in size, but it cures more than just nails on the go. For those nail artists skilled with embellishments and accessories, this handheld lamp allows you to get up close and personal with your nails to keep all rhinestones and charms intact.
2
Best For The Busy-Body
UV LED Nail Lamp
Big enough for both hands—or both feet—the lamp has multiple timer modes, a motion sensor, and detachable plates to ensure every inch of your nail will be dried evenly.
3
Best For Aspiring Nail Artist
Kiara Sky -Beyond Pro Rechargeable LED Lamp Volume II – Pink
A professional-grade UV lamp, Kiara Sky's iteration is rechargeable, so you can work for hours without long, tangled cords getting in your way. Plus, the bubble pink packaging elevates any nail station.
4
Best Splurge
18G LED Nail Lamp with Comfort Cure
Touted as the "most reliable light ever," Gelish's UV lamp works best with its Gelish soak-off polishes, but can still deliver fast results in just 60 seconds. Thanks to its Comfort Cure technology, you won't feel the flash of heat you've likely experienced from other UV lamps.
5
Best For Gel Extensions
Mini Nail LED Lamp with Smart Sensor
Great for curing gel extensions
Takes longer than full-hand lamp
If you like to give every nail its own attention, this mini lamp ensures each nail is properly and evenly cured, especially for those who prefer gel extensions.
6
Best for Travel
LITmini Rechargeable Hybrid LED Lamp
Powered by a USB cable, this UV lamp is compact and portable enough for travel. The battery lasts up to three hours, so you can cure your nails as you watch, pause, and rewind your favorite movie.
7
Best For The TikTok Obsessive
UV LED Nail Lamp With Phone Holder
Holds phone for easy viewing
Can take longer to dry nails
If nail art is your thing, try this handy nail lamp complete with a phone stand for watching tutorials. The large display timer makes it easy to keep track of curing while you copy and paint.
8
Best For Comfort
48W UV LED Nail Dryer Light for Gel Nails
Nails may need a few passes
Dry time is a breeze thanks to 48W high-power LED beads designed for even and quick gel curing. The large opening allows up to five fingernails or toenails to be dried at once and comes with a pink hand pillow at the top to make polishing more comfortable.
9
Best for Gifting
DIY Gel Manicure Kit w/ LED Nail Dryer Lamp
Comes complete with tools and accessories
Is there anything cuter than this mini UV lamp shaped like a macaron? This kit comes with a mini gel polish, cuticle stick, nail file, and remover wraps.
10
Best For Quick Drying
Red Carpet Manicure Ultra Cure 30 LED Light
Doing your nails means carving out some time for yourself, but that doesn't mean you want to wait forever for them to dry. Let us introduce you to this LED Light that cures all your fingers or toes in 30 seconds.
11
Best For The Tech Snob
Dual Cure LED Light Uv Gel Nail Polish Curing Lamp
The nail pros at OPI created this salon-favorite lamp using two different light frequencies, a spacious drying chamber, and LG technology. The price tag is worth the professional-grade results.
12
Best For Durability
LED Light Lamp Version 2
CND's sleek nail lamp is a new and improved version that boasts preset controls for each gel manicure step, no-fail bulbs, and acetone resistance. It's also designed for easy pedicures, thanks to its removable base plates.
13
Best For Professional Results
UV Nail Dryer 72W
Bypass buttons with the automatic sensors of this popular Amazon pick. An extra spacious drying chamber allows both hands to be cured at the same time by 36 high-power LED bulbs. The box also comes with nail accessories such as buffing blocks and nail files to create the picture-perfect mani.
14
Best For Mobility
UV LED Mini Portable Curing Light
Don't let this mini nail lamp fool you. While you can tote it anywhere thanks to its compact size, it's still powerful and surely gets the job done. Plus, it comes at an incredibly affordable price.
15
Best For Sensitive Hands
UV LED Nail Lamp 48W
With a strong 48W light, this lamp also features thoughtful details that'll make your mani or pedi that much easier. Take it from one reviewer, "It is powerful and cures fast yet it does not give that burning/hot feeling on my hands. I also like that it has a sensor so you can place both hands at a time and you don't have to press anything for the light to turn on."
This content is created and maintained by a third party, and imported onto this page to help users provide their email addresses. You may be able to find more information about this and similar content at piano.io
Advertisement – Continue Reading Below