At a recent summit at the Clark County Government Center, teens were told to close their eyes and tear a paper to create a snowflake.
Students, who were either presidents, vice presidents, secretaries, treasurers, public relations specialists or historians in Black Student Union chapters, opened their eyes and playfully laughed at how different each other's snowflakes turned out. Moderator Yvette Williams, founder of the Clark County Black Caucus, compared the activity to accomplishing a goal, noting that "we all have a different way to get there."
"You know what else this represents?" Williams said about the snowflakes. "Look at the one next to you, the one in front of you, the one behind you. Does it look the same? Are you all the same?"
The four-hour event held about a month after school started included breakout sessions on budgets and recruitment, speeches and team-building exercises designed to equip the youth to lead their school's Black Student Union chapter. By the time it ended, students said they felt a sense of belonging, more inspired to speak out and add value on campus or that they had gained a new perspective on career possibilities.
"​​What my dream is now — is something I'm rethinking," said Mojave High School sophomore Jerrell Taylor, 15. "For most of my life, I was like, I'm going to be an internet star. I'm going to be famous. I'm going to have a lot of fans. Now I'm like, I don't need all of that. I could just be happy somewhere settling down with a different job entirely."
Taylor is vice president of Mojave's BSU, which he joined as a freshman in search of friends.
He was one of the roughly 150 students from multiple schools in Southern Nevada, including Legacy, Mojave, Green Valley and Cheyenne high schools, Odyssey Charter School and Brian and Teri Cram Middle School, who met in the Clark County Commission chamber on Sept. 15 for the 2023 BSU officer retreat by the Clark County Black Caucus (CCBC).
Black student leaders toured the Clark County Government Center after learning about different aspects of leadership, budgets, event planning, fundraising and recruitment during the retreat.  Students also learned about being caring leaders, delegating tasks and how to grow their organization's membership.
"I think BSU [provided] a way for me to just really grow as a person," Taylor said.
Students arrived with their advisers and were greeted by Eddye-Ny'iel Pitts, who is Miss Juneteenth Nevada 2023 and a former BSU president at Las Vegas Academy. 
Clark County Commissioner William McCurdy II, who gave the tour, delivered a speech about "rooting for one another" and witnessing the lives of his peers cut down before they could "identify their untapped potential."
"We are all little particles of gas waiting to explode to turn into this beautiful star," McCurdy told the crowd of teens. "We all have genius and greatness within us. For a second, I didn't think that I was going to fulfill what was within me."
He shared his story about growing up in a hardened neighborhood on the west side, dropping out of high school as a teen father and working in manual labor from ages 16 to 24 — to later become the first Black person and youngest elected official to head the Nevada Democratic Party in 2021.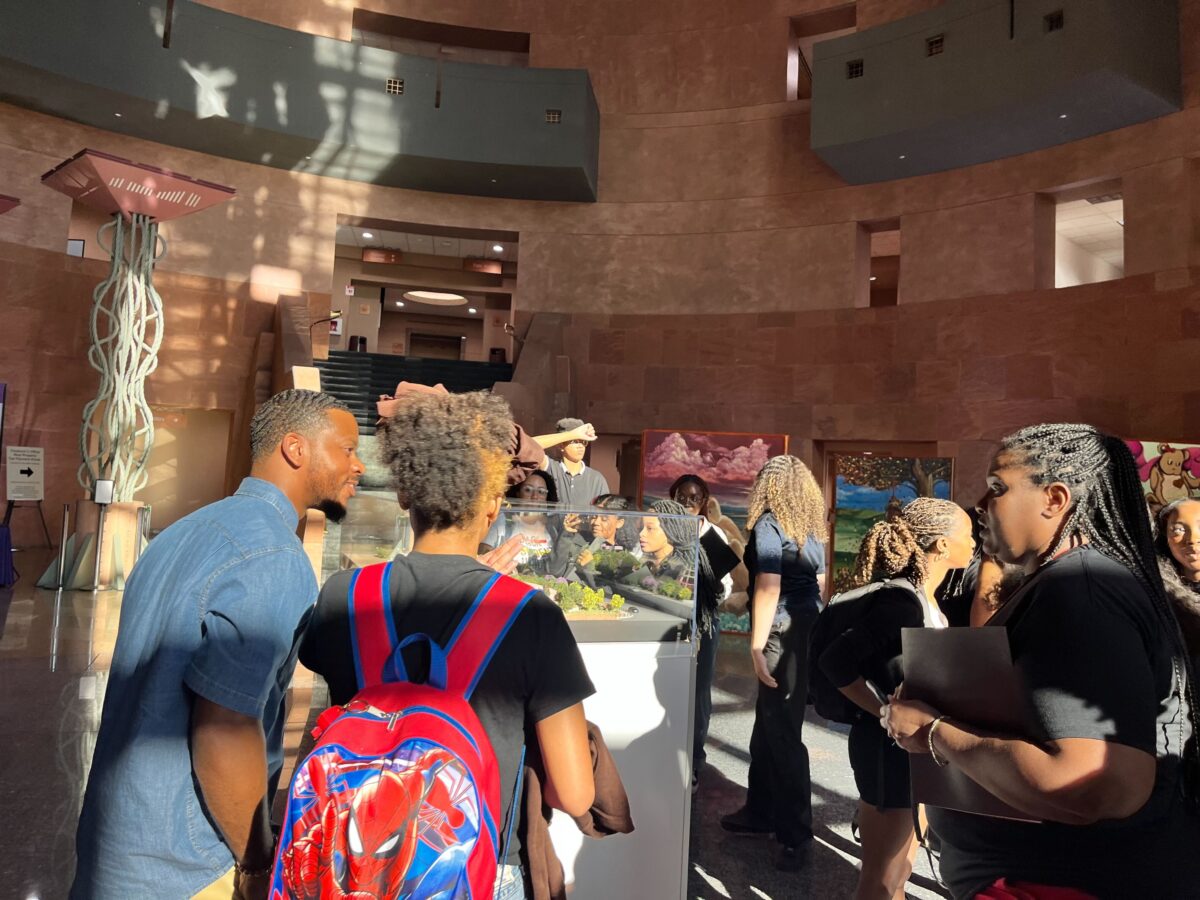 Students also received a surprise visit from Rep. Steven Horsford (D-NV) and Sean Tory, the head of the City of Las Vegas My Brother's Keeper Alliance, who led a breakout session that included a community building and talking circle.
"Everybody got to hear everybody's voices," said 13-year-old Karter Matthews, who added that the talking circle was his favorite exercise. "​​A lot of people feel left out in school. It's not really the best of a safe place for students. So I feel like coming here where everybody got to hear each other's voices and nobody was being rude or anything — everybody felt accepted."
Colorism, stereotypes and inclusivity
Eighteen-year-old Laura Momoh, who is a senior at Odyssey Charter School, said she joined BSU because she wanted to be a part of the conversations led by the group. Her school is on a hybrid schedule — she goes to campus on certain days, with Fridays set apart for clubs and social activities such as BSU.
Momoh said BSU talks have included details about "Black history, inclusivity, diversity, leadership and breaking cultural barriers." She said aside from learning leadership skills, members get to experience a different environment where their culture is the focal point.
"The conversations can include things from what it means to be Black in America, to how are dark-skinned people treated differently than light-skinned African Americans," Momoh said. "And people are exposed to that and … different implicit biases can be chipped away just by educating them and letting them know that not everyone is the stereotype that's [been] mapped out to be sold."
Third-year BSU member Mamley Ackman, 16, said she originally did not want to join the group because she often felt out of place after being shunned and called "whitewashed." She said she felt like she wasn't being what her peers wanted her to be.
Ackman is now the president of Legacy High School's BSU.
"I found my own community a little intimidating my whole life because I felt like I didn't fit in," Ackman said. "So I tried to, like, avoid it, but I ended up joining [BSU] and I really, really like how everyone is unified and together."
Why students join BSU
Matthews said he joined BSU at Cram to continue a family legacy. He said his mother and grandmother were in BSU in college and that he fell in love with it after becoming a member this year.
He was one of five middle school students at the retreat.
"I love the teachers, the people I get to meet and the culture [or] getting to know my Black heritage," he said.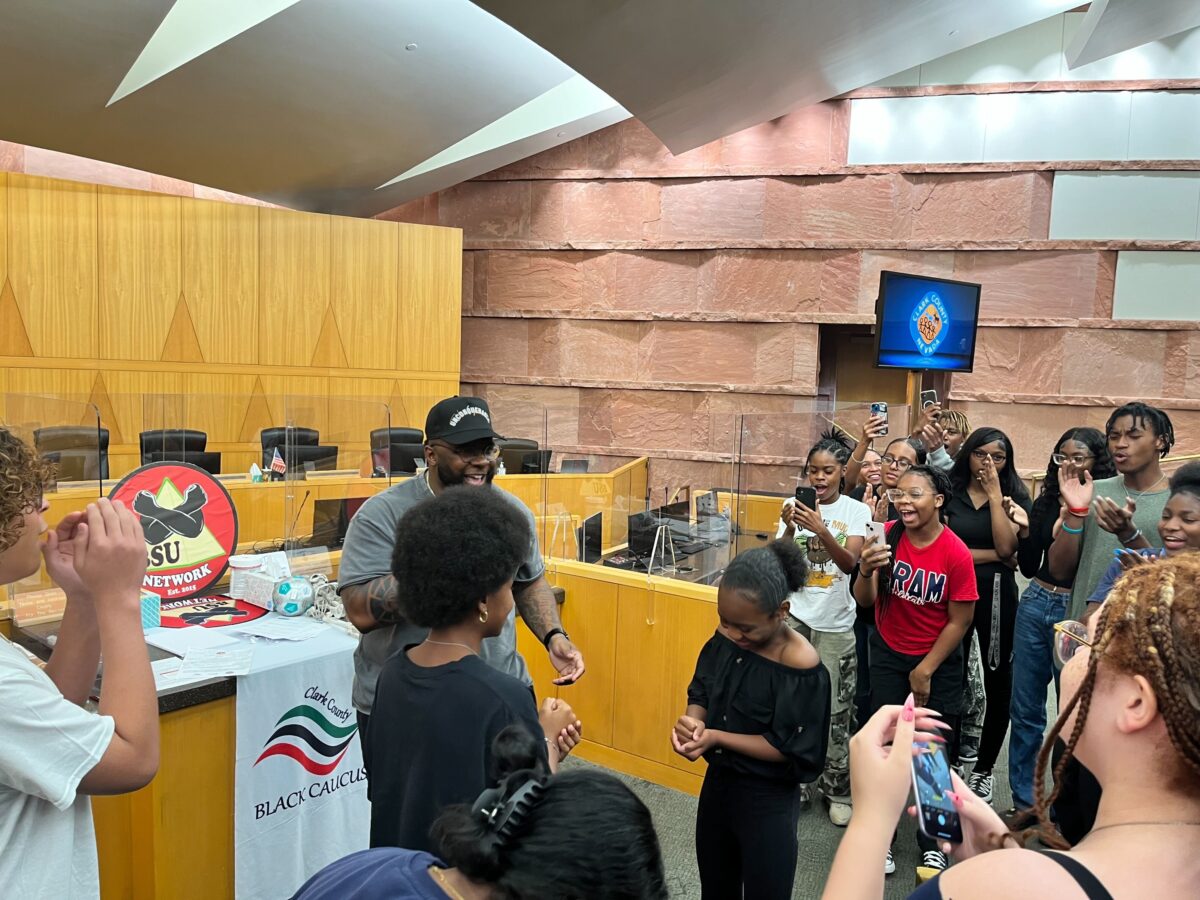 This was Cram's first year offering BSU. Matthews was joined by Janine and Jennifer Bustamante, Lyric Collins and Neriah Gallaspy, who are in sixth and seventh grades.
Jennifer Bustamante, 13, said she wasn't going to join at first because she is not Black, but expects to be elected soon as BSU historian.
"I learned that, just because you're not a specific culture, doesn't mean you don't have the chance to experience that culture," she said.
Jennifer Bustamante said the experience is increasing her confidence and happiness. Her sister, Janine Bustamante, 11, said she joined to help make the group "bigger and better."
Williams said organizers are focused on expanding into middle schools and connecting students with high school BSU groups.
Gallaspy, 11, said that when she learned Cram had a BSU, "I felt special because we don't have a lot of opportunities." 
"And that's something that I feel like I've been wanting to do — join something that advises [us on] our culture," she said.
Collins, 11, said she would encourage students to join because she believes they can make "beautiful connections with people you [might think] you would never meet in the world."
"I love that we can support the Black culture and show other people that Black people can be leaders too," she said.