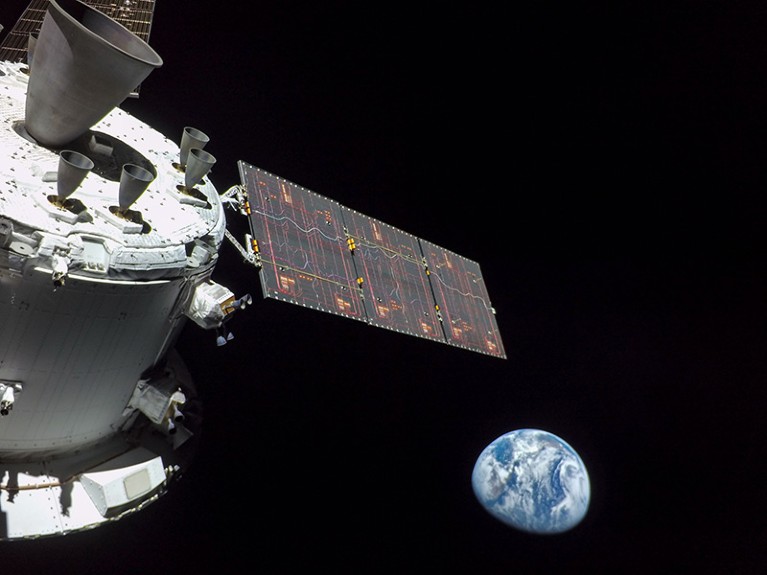 Orion spacecraft reaches the moon
The Orion spacecraft swooped just 130 kilometres above the lunar surface on 21 November — the closest a capsule designed to hold people has been to the Moon in half a century. In the lunar darkness, the capsule, which launched as part of NASA's Artemis I mission on 16 November, flew directly over Tranquility Base: the landing site of Apollo 11 where, in July 1969, Neil Armstrong and Buzz Aldrin became the first people to walk on the Moon.
Orion, a joint venture of NASA and the European Space Agency, is on an uncrewed 26-day voyage around the Moon to see how its capsule holds up under the stresses of deep space. It launched on the first-ever flight of NASA's powerful new Space Launch System rocket.
Engineers are working to troubleshoot several small glitches, such as occasional problems with Orion's navigational system that are probably due to damage from space radiation, as well as some intermittent issues with the electrical system that ferries power from Orion's four solar arrays to the capsule.
Artemis I is the first in a series of missions that NASA intends to launch as it prepares to return astronauts to the Moon. The next flight of Orion, Artemis II, could carry four astronauts around the Moon and back as early as 2024.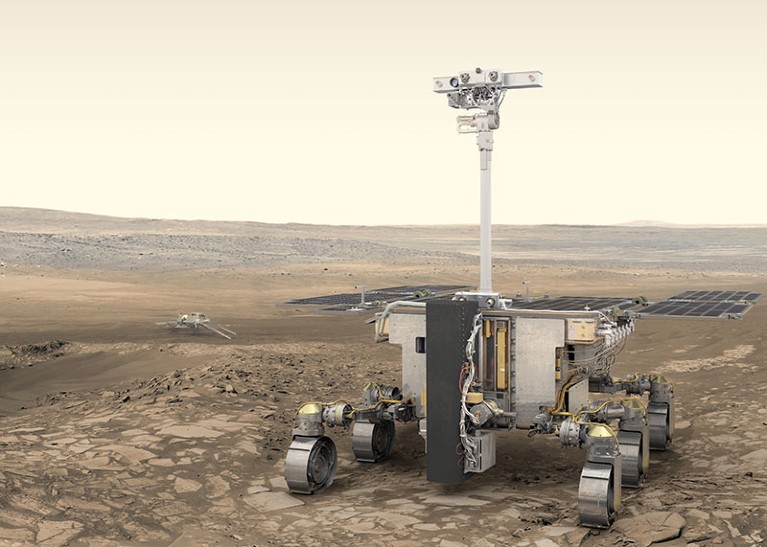 Mars rover mission saved by major investment
Europe's Rosalind Franklin Mars rover, part of the beleaguered €1.3-billion (US$1.35-billion) ExoMars programme, is now set to launch in 2028, after securing a reported €360-million investment from European countries.
The money will allow the European Space Agency (ESA) to start designing a landing platform intended to lower its first Martian rover onto the planet's surface. The work is necessary because ESA severed ties with its former partner on the mission, the Russian space agency Roscosmos, in March, after Russia invaded Ukraine. Roscosmos was in charge of designing and building landing gear for the rover, and launching the mission from its site in Baikonur, Kazakhstan.
The latest delay is the third for the mission. The rover was originally intended to launch in 2018, but technical issues scuppered that plan. The COVID‑19 pandemic then pushed a scheduled 2020 flight to 2022, before relations with Russia deteriorated.
Despite the delays, scientists remain excited about the ExoMars mission. The Franklin rover (artist's impression pictured) carries a 2-metre drill that will burrow beneath the Martian surface to search for preserved signs of ancient life.
Big research groups boost elite-university productivity
Academics at elite US universities produce more research than do their peers at less prestigious institutions because they have consistent access to more funded graduate programmes, fellowships and postdocs, a study has found (S. Zhang et al. Sci. Adv. 8, eabq7056; 2022).
The analysis included 1.6 million publications on the Web of Science database, authored by 78,802 researchers at 262 US universities. The authors looked at productivity — defined as the average number of publications authored per year — and gave each university a prestige score.
Institutional prestige does not seem to affect the productivity of graduate students and postdoctoral researchers, but the team found that it is linked to increased productivity for tenured or tenure-track faculty members. And although faculty members produced more publications in 'collaborative' disciplines — sciences in which research is usually done in groups — than in other fields, individual researchers' productivity was nearly identical across all disciplines. This suggests that the higher productivity in elite institutions is due to them having larger research groups and more available labour.