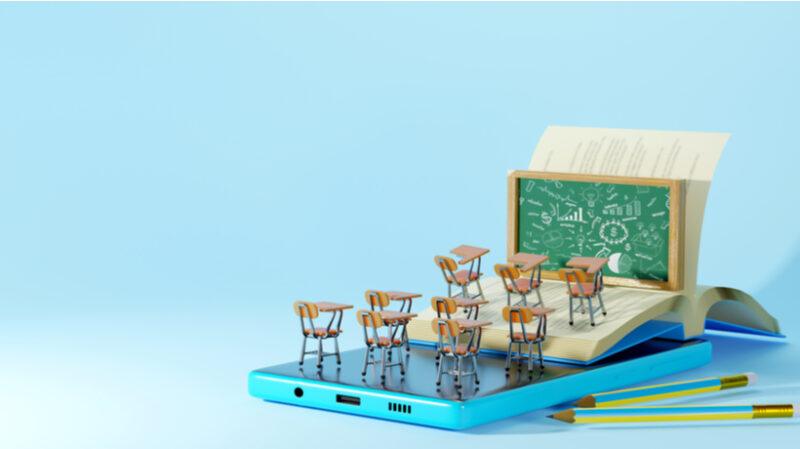 Ways Mobile Apps Are Changing eLearning
Mobile applications are the way of the world in this new decade of the twenty-first century. With massive strides in mobile app development, UI, UX, and deployment solutions, it is becoming a necessity for every industry to get on board the "app way" to stay relevant, competitive, efficient, cost-effective, and attractive to their respective end users.
The eLearning Boom
Catalyzed by the pandemic, the education and learning industry has made a turn toward online or remote methods of delivering education, simply referred to as eLearning. Interestingly, a lot of this would not have been possible without the extensive use of mobile applications for eLearning delivery and deployment.
According to a PRNewswire report, North America will contribute the largest share (34%) to global eLearning market growth. This global market is expected to grow by USD 147.5 billion from 2021 to 2025. It would be remiss not to recognize that a major chunk of this growth will come from mobile applications in eLearning.
Mobile Applications: The eLearning Transformation
It is a common misconception amongst parents that EdTech is a fad. However, time and again, these myths have been busted by the sheer volume of revenue and investment that the eLearning industry generates. A Statista report states that eLearning apps occupy 3.04% of the total ecosystem in the United States. We will now see how mobile app development is a vital link in the eLearning value chain.
1. Better Engagement With Higher Interactions
While many people still have the notion that eLearning takes the learner's eye off the ball in terms of focus on the subject matter at hand, research counters this with a 25–60% increase in retention rates amongst the users. Additionally, eLearning mobile apps provide pronounced opportunities for interactions with instructors as well as amongst the pupils. This further boosts learning capabilities, eliminates the "back-bencher and front-bencher complex," and promotes more nuanced and insightful interactions.
2. Eliminates Need For Physical Infrastructure
Physical infrastructure needs including buildings, furniture, and learning apparatus such as projectors, peripherals, etc., put an undue constraint on learning in a conventional setting. With eLearning, every student does not have to wait their turn to perform a particular practical due to a dearth of computers or gather only 50 at a time because the auditorium is not large enough. With eLearning, educational content can be transmitted seamlessly, scalably, and securely to any audience size, without being constrained by physical infrastructure needs.
3. 24/7 Availability
In the old days, most of us had to wait for the next school day to raise a question or get the solution to a pesky math problem. In the era of mobile app-powered eLearning, educational resources and content are a tap away! Be it one night before the exam or on the weekend, learners can access the resources 24/7 and 365 days a year without any hitches. Hence, eLearning is changing the way learners access learning resources.
4. Learning Gamification
The innovative use of mobile app development in eLearning has led to a new offshoot called "edugaming." Gamification in eLearning utilizes tools such as point-scoring, peer competition, teamwork, scoring tables, and much more, to make the entire learning experience more appealing to the learners, ultimately resulting in higher effectiveness and retention rates.
5. Flexibility
We discussed how eLearning enables users to access resources at their fingertips. More importantly, mobile apps used by eLearning companies possess the inherent capability to mold their functions based on the usage patterns of both the instructors and the pupils. Hence, if a tutor likes using the whiteboard a lot, the eLearning mobile app provides the necessary tools such as video enhancement, pinch-zoom and even captioning if needed. Obviously, all of these functional aspects have to be built in at the various mobile app development stages.
6. Reduction Of Overheads
Neither do the students have to bear the costs of commuting to classes and tuition centers nor do the instructors have to worry about any extra sessions taking a toll on their personal life. The use of mobile apps in eLearning makes everything mobile! Hence, the costs associated with maintaining class infrastructure, accommodations for outstation instructors, traveling to attend seminars, and building large auditoriums and amphitheaters are eliminated and this positively impacts the bottom line for all stakeholders involved.
Future Of eLearning
The future of EdTech revolves around how mobile applications can leverage and include Industry 4.0 and Web 3.0 technologies such as Artificial Intelligence, machine learning and natural language processing, VR/AR, and the metaverse. The challenges that lie ahead include creating an all-inclusive ecosystem that overcomes the hurdles of internet connectivity, peer-to-peer learning, and ensuring the veracity of online assessments.
Conclusion
The disruptions catalyzed by the advent of mobile applications into the eLearning sector are here to stay, with rising internet and smartphone penetration across the globe. These applications are becoming lighter, faster, efficient, and more secure every day. It is now the best time for your business or learning institute to switch to your very own eLearning mobile application and reach your desired audience in faster, cheaper, more efficient, and safer ways.