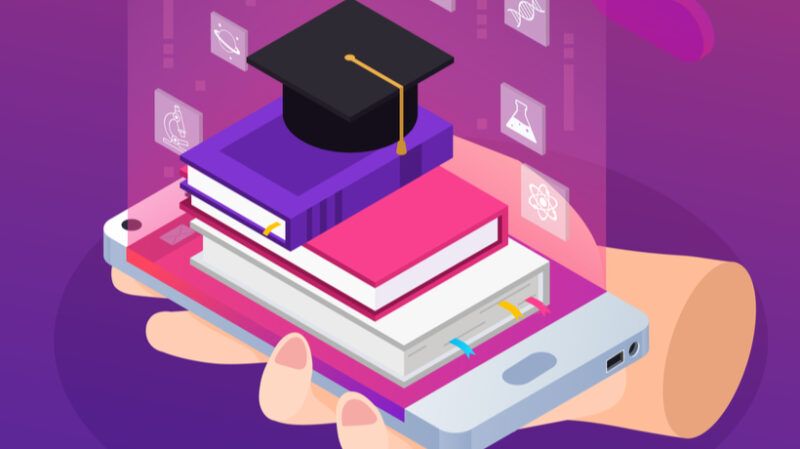 Digital Transformation Accelerated With eLearning
Virtual learning or eLearning has been a part of the education sector for a few years now. But after the COVID-19 pandemic, the culture of eLearning saw a boost in its expansion. In countries like the U.S.A., the U.K., India, and others, eLearning became the new normal and kept students and teachers connected. Now, when the world is back on track, it is crucial to understand what permanent changes eLearning has left in the form of digital transformation across processes. According to a research report, by 2026, the eLearning market is expected to reach $336.98 billion globally. As you can imagine, the concept is expanding like wildfire, and we want to throw some light on its impact on the digital transformation across markets. Stay with us until the end of this article to have some real-world insights into this issue.
eLearning Transformation Across Education Markets
1. Increased Adoption Of AI
Artificial Intelligence (AI) became a popular choice among education app developers due to its innate characteristics. This technology helps in utilizing predictive analytics, personalization, and other such concepts. To help students and companies better, apps and websites are able to recognize the requirements of the user with the help of AI, and thus assist them with better learning tips and recommendations. From the business perspective, successful recommendations and a smooth User Experience positively increase the user retention rate.
2. Expanded Market Coverage
Virtual mediums are one of the most useful tools that can help you in expanding your business beyond your usual markets. There are many countries that have similar syllabuses, study patterns, curriculums, and so on. This aspect of digital transformation helps education business owners in onboarding the eLearning space to serve global markets [1]. Some top names like Khan Academy, Coursera, and Udemy, among others, are already following eLearning trends.
3. Accessible Learning
Accessibility is a major advantage that the primary user base of eLearning receive. From having 24/7 access to study materials to connecting with the right tutors, eLearning makes it possible for students to have access to proper learning assistance. With the help of tools such as AI, eLearning is making it easier for students to find the right mentors to connect with them in real time. These tutors can even be from other countries, but if they are suitable for the subjects and available at a time that suits the user, it's a win-win for both parties.
4. Customization Of The Learning Pattern
For an effective learning strategy, staying focused on the right topics is important. With the help of eLearning technologies such as AI and machine learning, users can get specific recommendations for chapters and subjects that might benefit them. To help with passing exams or preparing for competitions, these eLearning tools also come with customized mock tests designed specifically for each user using the platform. This impact of digital learning on the eLearning sector has contributed greatly to boosting the popularity of educational platforms.
5. Making Learning Interactive And Interesting
eLearning platforms also offer the benefit of making learning more interesting. From the ability to offer visual and audio lessons to allowing users to learn through interactive games, virtual eLearning has many advantages that are being explored by platforms. On YouTube, many students of all ages stream videos related to their educational requirements. Most of these videos are narrated and prepared by experts, with the use of graphical elements, like animations, to elaborate concepts in a way that cannot be easily forgotten. This trend has also inspired Subject Matter Experts to onboard virtual learning platforms and make earnings instead of having to join colleges or schools as professors.
6. Increasing Tech Awareness
As the eLearning industry is becoming the new normal, the early adaption of technology is spreading tech awareness among the population. This early tech awareness is not only making it easier for users to understand the usability of gadgets but is also making them familiar with the possible cyber risks they need to protect themselves from. eLearning tools have, in a way, made users reconsider their fear of normalizing technology use among teenagers and early age students. It has also given the opportunity to businesses and governments to train the masses for proper parental and privacy control, instead of avoiding technology entirely.
7. Improved R&D Processes
Most effective research and development (R&D) processes are based on the usage behavior of target users. Thus, eLearning platforms have proven themselves to be the best tool to collect Big Data that can be used for corporate operations and targeted marketing. This data is generated by tracking the way users use a particular app. However, user data tracking has to adhere to local legal protocols and permissions provided by the user. Collected data, however, can help business owners in displaying the right advertisements to the right users, while ensuring companies have enough information to plan future updates or products as well.
8. AR And VR
Augmented Reality (AR) and Virtual Reality (VR) are two technologies that cannot be ignored when discussing eLearning. AR and VR have joined educational markets to provide a more realistic and interactive experience. AR can provide digital demonstrations of virtual objects by presenting them as if they were part of the real world. With the help of accessories such as phone cameras, AR technology can display objects by combining them with the real environment. On app stores, there are plenty of apps with these features already available. VR, on the other hand, requires a special accessory called a VR headset. These headsets help users to have a realistic virtual experience. For areas such as medicine, VR is one of the best technologies with which to train students for the challenges they will have to face in the future.
Wrapping Up
eLearning is an evolving industry. Throughout the years, it has seen many developments and currently, it still has a great deal of unexplored potential left. In this article, we tried to uncover a few of the crucial impacts that eLearning has already left on the world that we know today. So, hopefully, you found the article useful. We will keep publishing such informative articles in the future as well, so keep visiting.
References:
[1] A Digital Transformation Guide to Change Business Fortune in 2021