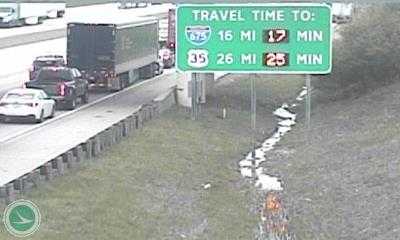 Northbound I-75 has been shut down in Butler County due to a crash involving two semis. It happened around 8:53 a.m. along northbound I-75 near State Route 129.All northbound lanes are shut down and one southbound lane is open.There is no word yet on injuries.Hazmat is on the scene. It is unknown at this time when the road will reopen for regular traffic.This story will be updated with the latest information as it comes in
MONROE, Ohio —
Northbound I-75 has been shut down in Butler County due to a crash involving two semis.
It happened around 8:53 a.m. along northbound I-75 near State Route 129.
All northbound lanes are shut down and one southbound lane is open.
There is no word yet on injuries.
This content is imported from Twitter.
You may be able to find the same content in another format, or you may be able to find more information, at their web site.
Hazmat is on the scene.
It is unknown at this time when the road will reopen for regular traffic.
This story will be updated with the latest information as it comes in