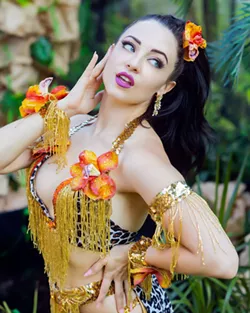 Some of Detroit's most glamorous burlesque performers are headed to Detroit's historic Senate Theater on Saturday.
Shake-A-Rama Burlesque Revue is produced by members of the Dirty Show, Detroit's annual erotic art exhibition. 
Performers include Shimmy LaRoux, Miss PussyKatt, Mila La Machina, Ada Vice, Josephine Shaker, Miss Holly Hock, Leena Allure, Fearless Amaretto, and Kitty & Eris.
The event will be emceed by comedian Tam White.
Shake-A-Rama Burlesque Revue is presented by the Keyhole Club.
Sorry kids, the event is open to guests 18 and older only.
Subscribe to Metro Times newsletters.
Follow us: Google News | NewsBreak | Reddit | Instagram | Facebook | Twitter