Los Angeles' mayor is expected to make an announcement on water conservation and restrictions for LA Department of Water and Power customers.
Mayor Eric Garcetti is scheduled to speak at 8:45 a.m. in Eagle Rock. The LADWP board president and general manager also are expected to be at the event.
Details about the announcement were not immediately available. This article will be updated after the announcement.
Garcetti's announcement comes two weeks after the Metropolitan Water District of Southern California declared an unprecedented water shortage emergency. The agency is limiting outdoor watering to one day per week in some Southern California counties — affecting about 6 million residents — after the state's driest January, February and March on record.
Those winter months are typically the wettest time of year when the nation's most populous state relies on a parade of storms that bring snow to the Sierra Nevada Mountains, California's natural reservoir, and rain. Ideally, that snowpack builds up over the winter and melts in late spring and summer, replenished California's water system and reservoirs.
Areas include parts of the San Gabriel and San Fernando valleys, Simi Valley, Woodland Hills, Canoga Park, Calabasas, areas of West Los Angeles and Hollywood, and parts of the Inland Empire.
As of April 22, the statewide snowpack was well below average.
The most recent US Drought Monitor report issued May 5 indicated more than 40 percent of California is in extreme drought, the weekly report's second-most severe category. Three months ago, after December storms raised optimism for a wet winter, that figure was just 1 percent.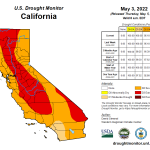 All of California is in moderate drought with some of the worst conditions in a large swath from the north-central part of the state down into the Central Valley.
The Metropolitan Water District restrictions are set to being June 1. Some customers in the Las Virgenes Municipal Water District, the Los Angeles Department of Water and Power, the Upper San Gabriel Valley Municipal Water District, Inland Empire Utilities Agency, Calleguas Municipal Water District and Three Valleys Municipal Water District would be affected by the new restrictions.
The district is asking all Southern Californians to reduce water use by 30 percent. Water agencies in the district face fines if the monthly water limits are exceeded.
A nonprofit created a Water Footprint calculator where you can enter information to estimate your water use per day. You can find it here.