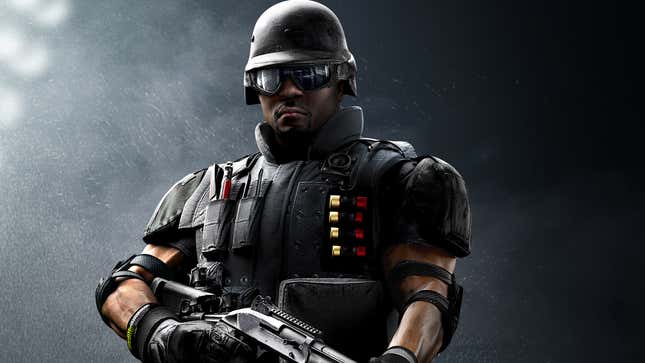 Streamer Thaqil, a Rainbow Six Siege player who publishers Ubisoft at some point deemed important enough to commemorate with an in-game item, has been dumped by the company after making a series of racist jokes on TikTok.
A Foe From The Next Team Ninja Game Is Giving Me Sekiro PTSD
As NME report, in a series of videos posted on the site—since deleted—Thaqil made a number of comments about Castle, a black character in the game:
In one video, Thaqil listed Castle as a Siege operator whose name began with N. In a second, the content creator said he would "avoid" Castle in a "Kiss, Marry Avoid" game, and claimed "I think it's quite obvious, it's because he's black".

Another video showed the streamer posing with a banana under Castle's Siege icon.
He also made a video referencing Castle and the N-word, which Thaqil explained as "a tiktok challenge where I had to name an operator as quickly as possible based on the random letter that appeared on screen. ie. L for Lion or Lesion etc. The letter N appeared on screen and I stated 'Castle'".
After his comments were picked up on social media Ubisoft were quick to act, saying "Thaqil's recent posts on social media are in breach of Ubisoft's Code of Conduct" and that "As a result, Thaqil will no longer be part of our content creators program and his charm will be removed from Rainbow Six Siege".
Thaqil responded to his dismissal by posting a message on Twitter, in which he explains each attempt at a "joke" in detail before admitting:
I will be honest, I knew what I was doing when it came to those challenges and knew the joke that I was about to make.

My intent was to never be taken literally or promote racism in anyway but now looking back, that's kinda what I did so I apologise. My main objective was to be edgy and make people laugh but I now realise that my attempt on humour may come across as insensitive and offensive, for that I am truly sorry.