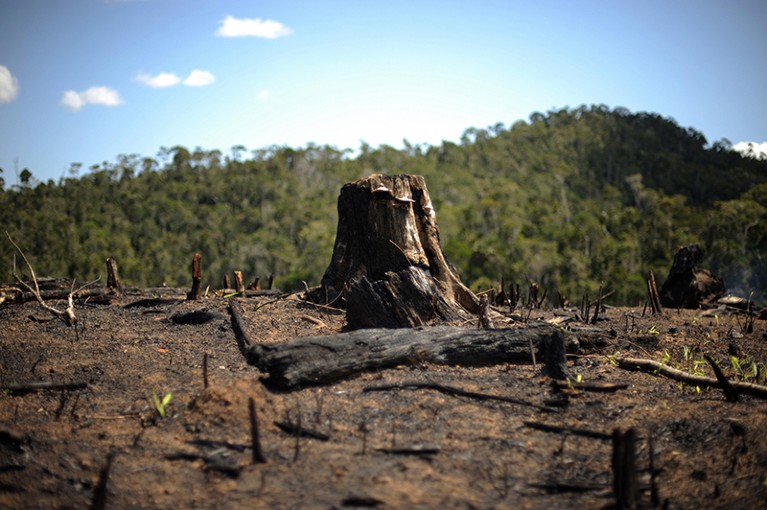 A beleaguered global deal to save the environment got a financial boost last week when Germany announced that it was upping its funding for international biodiversity conservation to €1.5 billion (US$1.49 billion) a year — an increase of €0.87 billion — making it the largest national financial pledge yet to save nature. The announcement came at a 20 September meeting in New York City, where political leaders, businesses and conservation and Indigenous-rights groups came together to rally momentum and support ahead of the United Nations biodiversity summit in Montreal, Canada, in December.
Conservationists welcomed the extra funding, but warned that other wealthy countries must also reach deeper into their pockets to ensure that nations agree on a new biodiversity agreement, called the Post-2020 Global Biodiversity Framework. Estimates suggest that an additional US$700 billion annually is needed to protect the environment.
Concerns over insufficient financing for global biodiversity conservation have stalled negotiations and threaten to derail attempts to finalize a deal in Montreal. The forthcoming summit will be the 15th meeting of the Conference of the Parties (COP15) to the UN's Convention on Biological Diversity.
Announcing the new funds, German Chancellor Olaf Scholz said: "With this contribution, we want to send a strong signal for an ambitious outcome of the biodiversity COP-15."
Claire Blanchard, head of global advocacy at WWF, a conservation group, told Nature that the extra funding "is highly significant" and sends an important signal that rich countries are prepared to step up.
But she adds: "More signals of this kind will be needed to create the environment conducive to constructive dialogue in the negotiation room."
Andrew Deutz, a specialist in biodiversity law and finance at the Nature Conservancy, a conservation group in Arlington, Virginia, says he expects further funding announcements to come in the run up to and at the COP15.
Other pledges
Several key political leaders, including Justin Trudeau, Canada's prime minister, echoed calls for rich nations to make urgent progress to secure the biodiversity deal. Trudeau urged countries to agree on two crucial targets proposed in the biodiversity framework, both to be met by 2030: to halt and reverse biodiversity loss, and to protect at least 30% of land and seas.
The new funding was bolstered by other pledges and developments, including a promise from a partnership of some of the world's wealthiest private philanthropic foundations and charities to add to the $5 billion they have already committed to conservation, if other countries promise more funds.
The partnership — which includes the Bezos Earth Fund, an environmental fund financed by entrepreneur Jeff Bezos — has already spent around $1 billion of its promised financing over the past two years, says Cristián Samper, head of the Wildlife Conservation Society, a not-for-profit group. Samper was speaking on behalf of the partnership at the meeting in New York City.
Frans Timmermans, vice-president of the European Commission, reaffirmed that Europe would double its international biodiversity funding to $1.13 billion annually — a promise originally announced in September last year. Timmermans told the meeting that the European Union would set out more details about the funding soon.
Funding shortfall
Also at the meeting, a group of four countries comprising Ecuador, Gabon, the Maldives and the United Kingdom launched a joint 10-point plan to bridge the biodiversity finance gap, which is estimated at $700 billion annually.
The plan sets out the financial commitments and policy reforms needed to finance biodiversity on the required scale. For example, it encourages wealthy and lower-income nations to allocate new funds for biodiversity and to quickly deliver on their existing financial pledges. It requires donor countries to ensure that funds for overseas development do no harm to biodiversity. And it asks countries to dedicate a portion of their national funding for climate change to activities that also protect and conserve nature.
The plan also commits countries to ensuring that public finance is invested in ways that benefit biodiversity, and to reviewing national subsidies and redirecting those that are harmful to nature. It calls on businesses to assess and disclose commercial risks associated with biodiversity decline, and to set quantitative targets to reduce their impact on the natural world. And it encourages multilateral development banks — such as the World Bank in Washington DC — and international financial institutions to ensure that their investments benefit biodiversity, and asks that they report on their biodiversity funding in time for COP-15.
So far, 15 countries, including Canada, Germany and Norway, as well as the EU have endorsed the plan.
"The plan provides a clear pathway for bridging the global biodiversity finance gap. Its significance lies in the political signal it sends," says Blanchard.
António Guterres, secretary-general of the UN, urged political leaders to "act now and at scale" to secure biodiversity financing and ensure agreement on the framework. "If negotiations continue at their slow pace, we are headed to failure," he told the meeting.