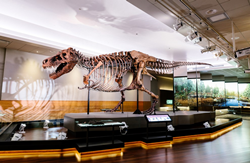 "As the icon of the Field Museum, SUE has sparked curiosity about science in millions of visitors," said Jaap Hoogstraten, the Field Museum's head of exhibitions. "We are thrilled to share SUE with Topeka for a once-in-a-lifetime experience."

TOPEKA, Kan. (PRWEB)
December 02, 2021
Visit Topeka announced today that a four-month-long Dinosaur exhibition is opening February 2022. Dubbed "Topeka Dino Days," exhibit highlights include a giant Tyrannosaurus Rex specimen, a collection of dinosaur eggs and fossils from all over the world and a full-size cast of an Allosaurus skeleton downtown.
Visitors can see the fully articulated cast of SUE at Great Overland Station, the largest Tyrannosaurus Rex specimen ever discovered. On loan from Chicago's Field Museum, the display will feature touchable fossil replicas, scent stations and a naturalistic soundscape, creating an immersive, multisensory experience.
"As the icon of the Field Museum, SUE has sparked curiosity about science in millions of visitors," said Jaap Hoogstraten, the Field Museum's head of exhibitions. "We are thrilled to share SUE with Topeka for a once-in-a-lifetime experience."
Full-size robotic dinosaurs will join wildlife at the Topeka Zoo and the Kansas Children's Discovery Center will provide colorful hands-on, interactive exhibits that will include a collection of real preserved herbivorous and carnivorous dinosaur eggs from all over the globe. Visit Topeka will host a full-size cast of an Allosaurus skeleton in the downtown visitors' center, with help and underwriting from Downtown Topeka Inc.
"We are so excited to be a part of Topeka Dino Days and can't wait for visitors of all ages to experience the discovery center's Tiny Titans: Dinosaur Eggs and Babies exhibit," said Dené Mosier, president and CEO of the Kansas Children's Discovery Center. "Dino Days is such a unique collaboration that will have people far and wide talking about our capital city."
"The Topeka Zoo's full-size robotic dinosaurs will be an outstanding addition next year to the zoo's wildlife and attractions," said Brendan Wiley, executive director of The Topeka Zoo. "We're looking forward to the dinosaurs' arrivals and can't wait for this collaborative project to be fully realized."
Visit Topeka and its tourism partners expect Topeka Dino Days exhibits to lead to additional events and displays. The events will draw an estimated 100,000 additional visitors to the area and injecting $4-$5 million in the local economy through lodging, dining and retail.
"What a cool experience this will be for Topeka," said Mayor Michelle De La Isla. "Topeka Dino Days is sure to be a boost for our local economy, as visitors from across Kansas and around the region travel to our capital city for exciting family fun. It is incredible to see so many local organizations working together to stand up this expansive attraction and a special thank you goes out to the Field Museum for its support. The bar is being set high for the future of tourism in Topeka."
In partnership with The Topeka Zoo & Conservation Center, the Kansas Children's Discovery Center, Shawnee County Parks and Recreation, Downtown Topeka Inc. and the Topeka Lodging Association, Topeka Dino Days, including the Great Overland Station's "SUE: The T. Rex Experience, is expected to begin on February 4, 2022. Dino Days should run through the end of May 2022, with some exhibits lasting well into the summer.
"This collaboration is huge for Topeka and Shawnee County," said Sean Dixon, president of Visit Topeka. "Our local tourism partners have been working hard to pull this together and we believe it will result in some extraordinary experiences for community members, as well as tens of thousands of expected visitors. We can't wait for families and dinosaur enthusiasts alike to see Topeka put on a show of prehistoric proportions."
About "SUE: The T. Rex Experience"

"SUE: The T. Rex Experience" was organized by the Field Museum and is part of the Griffin Dinosaur Experience, made possible by the generous support of the Kenneth C. Griffin Charitable Fund.
About Visit Topeka Inc.

As Topeka's official destination marketing organization, Visit Topeka Inc. is dedicated to marketing the region as an exceptional destination for meetings, events, sports and leisure tourism, thereby enhancing the local economy. Visit Topeka is a 501(c)6 nonprofit. Learn more at VisitTopeka.com.
Share article on social media or email: