Hello Nature readers, would you like to get this Briefing in your inbox free every day? Sign up here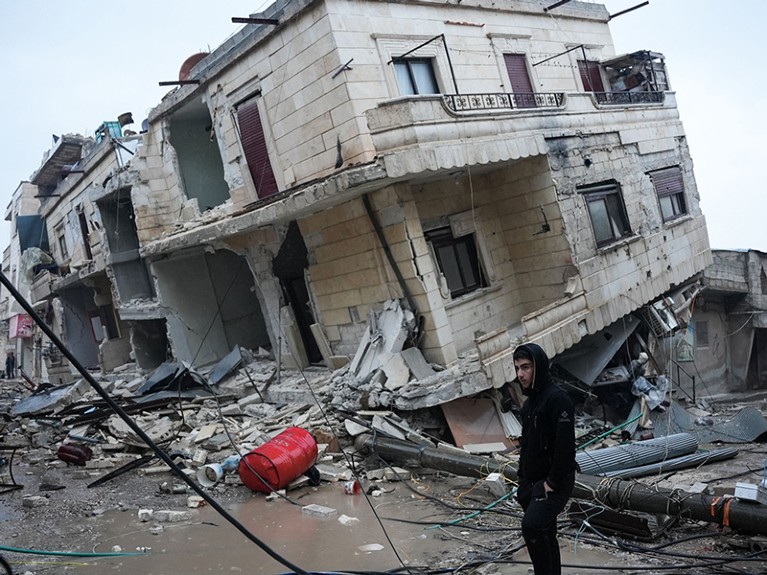 A magnitude-7.8 earthquake hit southeastern Turkey and parts of Syria in the early hours of yesterday morning. The quake was followed by a magnitude-7.5 event some 9 hours later, as well as more than 200 aftershocks. The earthquakes did not come as a surprise — most of the region sits between two major faults, the North Anatolian Fault and East Anatolian Fault. Many people who die during earthquakes are killed by falling bricks and masonry — and lots of buildings in Turkey are vulnerable masonry structures packed close together. The situation is even worse in Syria, where almost 12 years of conflict have decimated building standards. More than 5,000 people are known to have lost their lives, and aftershocks and freezing temperatures mean the death toll is expected to increase.
The World Health Organization (WHO) is discussing what would be the first legally binding treaty intended to avoid the deep divides revealed during the COVID-19 pandemic, which saw low-income countries struggle to secure vaccines. The draft suggests a network for distributing drug ingredients, temporary waivers on intellectual-property rights and rapid data sharing. It also includes a "bold" proposal for governments to set aside an as-yet-unspecified percentage of their gross domestic products for international aid. Researchers say that it's an ambitious attempt, but that it doesn't do enough to ensure compliance.
In the race to build practical quantum computers, systems based on individual neutral atoms are moving toward the front of the pack. For years, quantum bits (qubits) made from either superconducting loops or trapped ions have been the frontrunners. Increased computing power came from cramming more and more qubits into devices. This has limits because each qubit needs a separate controlling unit, and it can be tricky to get the right qubits to interact at the right time. Now, neutral-atom qubits can be created in bundles of hundreds, held in place and manipulated by laser beams called optical tweezers. Once an underdog, the technology's pace of improvement has surprised researchers. "The path to scale to thousands of atomic qubits is clear and will likely happen within two years," says physicist Chao-Yang Lu.
Features & opinion
Some scientists now frequently use generative artificial-intelligence (AI) systems, such as ChatGPT, to help them write and edit manuscripts, check their code and brainstorm ideas. But the excitement about the use of such tools is tempered with apprehension, because of their propensity to make factual errors, reproduce biases in training data and provide fuel for fakery. They also rely on humans to tag reams of violent, abusive and other horrific content so that it can be filtered out, and require a huge amount of energy to train. Researchers are grappling with these issues, in part by urging more regulation and transparency.
Tracking citations in policy documents, measuring innovation outputs such as patents or citations, and looking at whether studies line up with the United Nations Sustainable Development Goals are some of the ways to capture how research benefits society. All of these methods have downsides, and none are as globally prevalent as academic citation metrics — but there's a good reason to keep tackling the tricky task of assessing societal impact, says science-policy researcher Paul Nightingale: "If you could do proper evaluations, the return on investment [into science] would be very high."
Sample-adaptive microscopes are allowing scientists to peer deeper into living tissues than ever before. Their optics can adjust on the fly using software and components such as deformable lenses to counteract effects that usually blur images, such as wriggling mouse embryos and transient events in tissue. For laboratories that don't have access to the often expensive, custom-built components, computational methods can extend the capabilities of conventional microscopes. "That's kind of the future of autonomous microscopy — letting the microscope decide when and where and how to act on specific events," says developmental biologist Kate McDole.
Where I work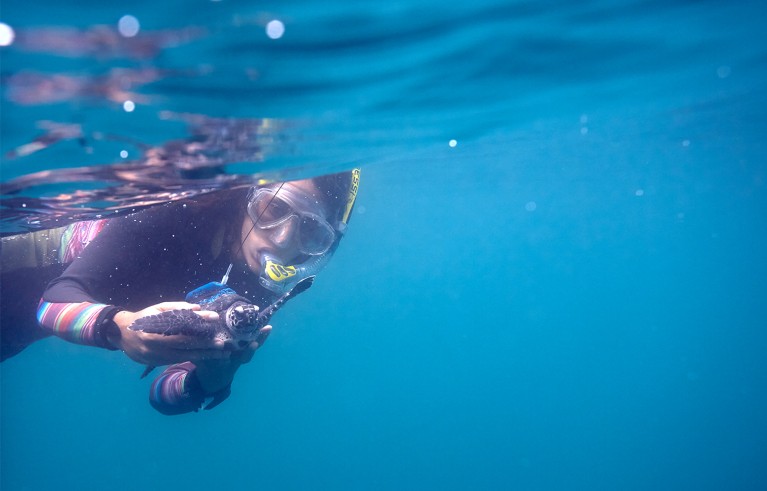 Cristina Miranda is a scientific coordinator at Equilibrio Azul, a non-profit organization in Ecuador, where she studies critically endangered hawksbill sea turtles (Eretmochelys imbricata). "In this image, we have just attached a transmitter to a baby turtle — a first for hawksbill turtles this young and in the eastern Pacific region," she says. "Our findings have overturned assumptions that neonates were just carried along by currents," says Miranda. "We found that one-day-old turtles can swim against the current." They aim for a specific direction — north by northwest — and have been tracked swimming roughly 2,000 kilometres. (Nature | 3 min read) (Felipe Vallejo/Equilibrio Azul)
Good news about the lost radioactive capsule that we told you about last week — it's been found! The caesium-137 fell off a Rio Tinto lorry driving along a 1,400-kilometre stretch of road in Western Australia. It was spotted just 2 metres off the side of the highway by searchers with gamma-ray detection equipment, in what materials scientist Nigel Marks called a "victory for science".
The victory could be yours if you enter EU-LIFE and Nature's essay contest. The Utopia Institute of Research seeks your answer to the question, what does a perfect research institute look like? The authors of the three best stories, identified by an international jury of scientists and writers, will be invited, with paid travel, to present their essays at the EU-LIFE 10th Anniversary Conference in Portugal. The author of the best essay will be awarded a prize of €5,000 (US$5,300) and possible publication in Nature — two runners-up will receive €2,500 each. Find out more here.
Thanks for reading,
Flora Graham, senior editor, Nature Briefing
With contributions by Katrina Krämer, Smriti Mallapaty and Dyani Lewis
We've recently launched two new e-mails you might like. They're free, and of course you can unsubscribe at any time.
• Nature Briefing: Cancer — a new weekly newsletter written with cancer researchers in mind. Sign up here to receive the next one.
• Nature Briefing: Translational Research covers biotechnology, drug discovery and pharma. Sign up here to get it free in your inbox each week.