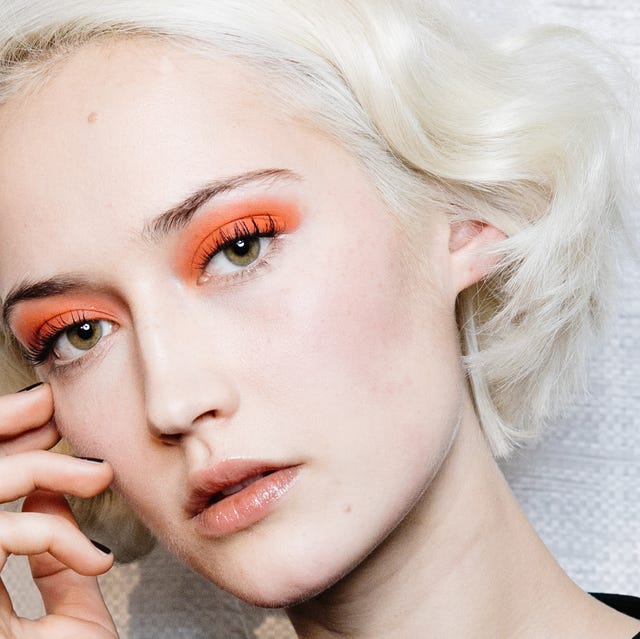 Rosdiana CiaravoloGetty Images
As a recovering blonde, I know the struggle of maintaining my color while warding off brassiness and dousing myself in purple shampoos. It seems like I can leave the salon chair with icy cool color, and after just a few washes, I'm left with a weirdly warm color again. But maintaining blonde hair at home is surprisingly easy–and not expensive. The solution to your blonde hair woes? A hair toner. You might already be familiar with toners if you're a faux blonde or a blonde with highlights. But you can also do them at home, with shockingly similar results to what you'd get at the salon. Here to fill us in on everything we need to know are two qualified experts: Celebrity hairstylist and IGK Co-founder Chase Kusero and Matrix Brand Ambassador and celebrity hairstylist Castillo.
What is a hair toner?
"Toners are products that help neutralize brassiness, add complexity to blonde shades, brighten, and enhance shine," says Kusero. Toners are essential whether you're a blonde, brunette, redhead, or fun punky color. "Think of a toner like a color corrector," says Castillo. "A toner is important when the undertones become more visible after a chemical service or just the roundabout sun and hard water damage. You know it's time to tone when the surface color of your hair starts to fade away and the crazy golds, yellows, oranges, and red undertones start to take front and center."
What kind of toner is best for blondes?
It all depends on what kind of blonde you want to be. "When choosing a toner, it is best to first determine whether you are trying to avoid a tone or enhance it," says Kusero. "For maintaining ashy and icy blondes, it is best to choose toners in the violet or purple family. For maintaining vibrancy in warmer blonde shades, it is best to choose a toner in the yellow or gold family."
Are in-salon toners different than at-home toners?
Yes, and no. "The difference is in longevity and wear," says Castillo. "When you visit your salon and get a toner applied, you can assume that it will last at least six weeks until you'll need to have another color service. But when you use at-home toners, the process is done weekly and usually during your shower. The combination of the two can be really beneficial, especially when discussed with your hairstylist."
If you want to extend the time between salon visits, an at-home toner can get the job done. "At-home toners are best used when you're in between salon visits. Most often, you'll find them in the form of a pigmented shampoo, conditioner, mask, or a semi-permanent gloss treatment," says Kusero. "Results can last anywhere from one to ten washes. There is much more versatility and customization of toning depending on the product, which makes these toners ideal for at-home color maintenance."
Here, find the 13 best toners we recommend for bright blondes.
Advertisement – Continue Reading Below
1
Best For Long-Lasting Tone
Feria Long-Lasting Anti Brass Power Hair Toner
May need to sit on hair longer
You can skip trips to the salon with this toner. It's supposed to reduce brassiness in blondes in just five minutes, but the results last a whole three weeks. Plus, this toner also uses softening polymers to make bleached strands feel softer and less damaged.
2
Best Permanent Toner
Shimmer Lights Permanent Cream Toner
If you want a more intense color refresh, this permanent toner can give you salon-level results from home. It's a permanent toner, which means it requires the use of a developer, which can sometimes damage fragile hair. But if you choose to use this toner, the results are bright, not brassy, and last quite a while.
3
Best For Intense Brassiness
Total Results So Silver Triple Power Hair Mask
If your blonde needs consistent upkeep, this toning mask will dramatically reduce any unwanted warmth–and impart intense shine and moisture to the hair. When applied, the color looks like a greeny blue, but the results are bright, silvery strands.
4
Best For Platinum Blondes
Permanent Liquid Hair Toner T18
Be warned; this toner is only made for hair already nearing platinum. When applied, it reduces yellow tones for an icy-white color that is almost too cool to look at. If you're not a platinum blonde already, this toner also comes in other colors that are better suited for you.
5
Best Customizable Toner
MIXED FEELINGS Leave-In Blonde Toning Drops
If you already have a favorite shampoo or conditioner but want that extra oomph that a toning product can give, these drops can instantly transform your favorite product into one that tones, too. You can also use it in your leave-in products for a more dramatic toning job.
6
Best For Summer Blondes
Sheer Blonde Go Blonder Lightening Shampoo
Not all of us want to look icy. For a warmer blonde that's perfect for the summer, this shampoo deposits yellow tones for extra warmth. For natural blondes, this will make the hair look brighter and like you got highlights, without the hefty price tag.
7
Best Leave-In Toner
Blonde LA Toning Leave In Spray
After getting out of the shower, this leave-in purple spray instantly refreshes brassy blondes. You don't need to wash it out–simply follow up with your styling tools. This toner uses hyaluronic acid and squalane to hydrate and soften the hair while it's on.
8
Best Gloss And Toner
Color Fanatic Top Coat + Tone Gloss
To get the full salon experience at home, this toner doubles as a gloss for shiny, perfectly toned hair. Using this product in place of a conditioner, you can reduce brassiness and tone the hair while giving it that freshly-styled shine.
9
Best Color Range
Hair Toning Treatment
Depending on your preferred tone, this line of color masks can give either an icy blonde refresh or impart beautiful caramel tones to blonde hair. You can even opt for their red or brown colors for a full new 'do. This is the best product to use when you can't get to the salon.
10
Best For All Hair Colors
Total Results Brass Off Conditioner
Whether you're a blonde or a brunette, this anti-brass conditioner can work wonders. It's a light violet pigment that reduces unwanted warmth without making your hair look purply. It's also incredibly hydrating, which makes it perfect for damaged hair.
11
Best Toning Kit
Drop It Hair Toner
For dramatic results without any fuss, this kit will allow you to gently change the tone of your blonde by just mixing some toner drops into your favorite conditioner. You can choose your preferred color, with choices that range from icy platinum to rose gold pink.
12
Best For Daily Maintenence
Cool Blonde Shampoo
Blondes might have more fun, but they also have more upkeep. This highly pigmented purple shampoo will reduce brassiness while you wash your hair to help extend the time between salon visits. Unlike some purple shampoos that leave the hair feeling brittle and dry, this one softens and nourishes the hair.
13
Best Multi-Use Drops
Mixtape Hair Color Drops
These customizable drops come in three colors: purple for brassy blondes, green for warm brunettes, and golden for sunkissed blondes. You can mix them into your favorite styling or rinse-out products for subtly improved color.
This content is created and maintained by a third party, and imported onto this page to help users provide their email addresses. You may be able to find more information about this and similar content at piano.io
Advertisement – Continue Reading Below