Music venues the world over do a variety of things to stand out from the crowd, but one of the most successful at doing so has to be The Caverns in Pelham. As you might gather from the name, this unique venue brings musical artists and fans together inside a cave — not your typical place to see a show. And that these high-quality concerts are staged far outside an urban area, surrounded by natural beauty, is no small feat.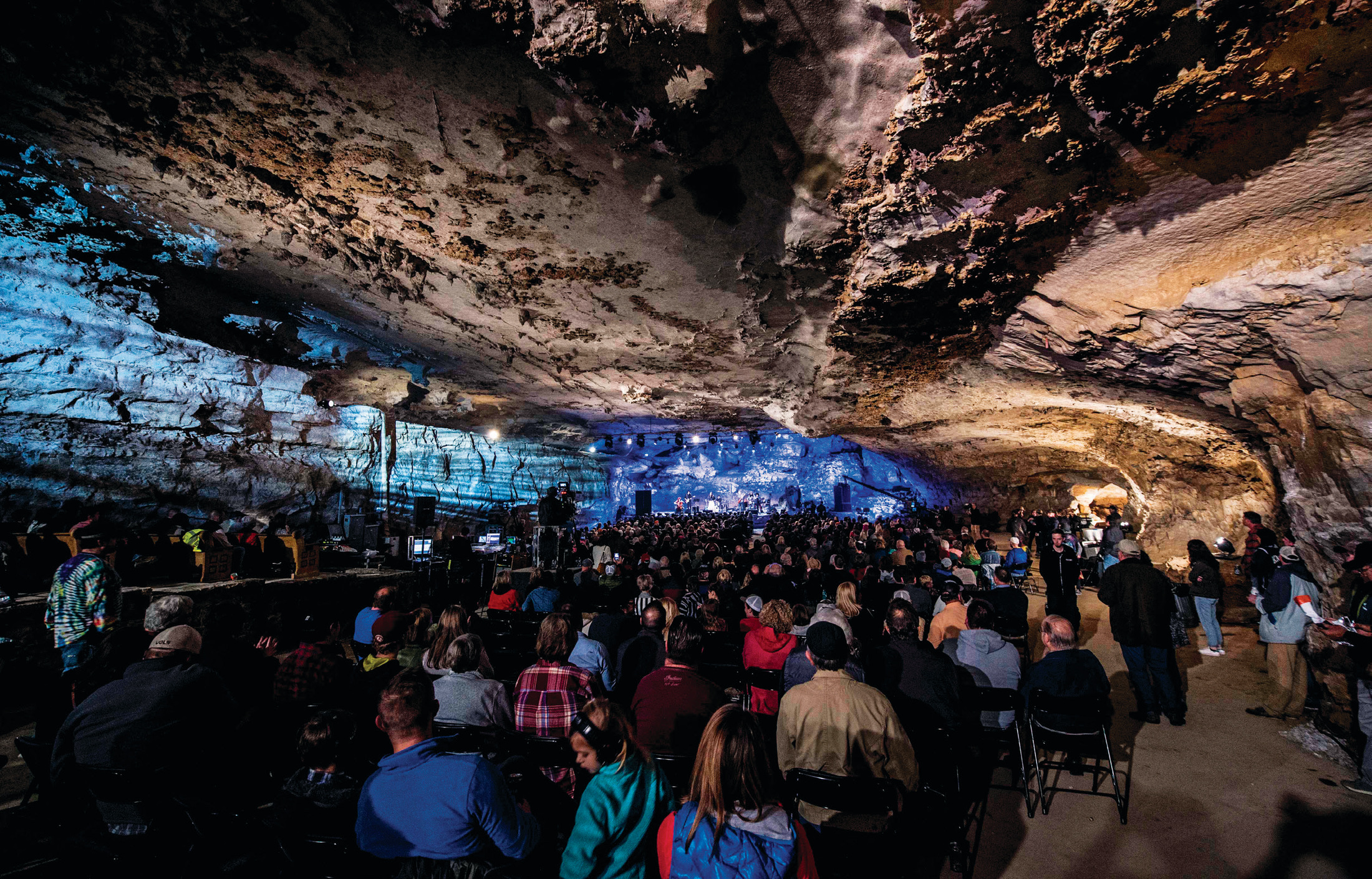 Music in the mountains
The Bluegrass Underground shows, which were started by owner Todd Mayo in 2008 and are the subject of an Emmy-winning PBS series of the same name, moved in 2018 from another cave to the current location — Big Mouth Cave, which has likely been used for human shelter for up to 25,000 years. It gets its name honestly. According to Jeff Meltesen, marketing director for The Caverns, you could place the Leaning Tower of Pisa on its side in the entrance to the cave.
"We opened The Caverns with a show by Billy Strings, a popular jamgrass artist," Meltesen says.
And since then, the schedule has been increasingly full with 75 underground shows this year along with another 10 at The Caverns Above Ground Amphitheater, which opened in October 2020 to bring back live music shows in a safer environment when the pandemic made underground shows impossible. A full season of outdoor shows was staged in 2021. The concert season typically runs March through December with multiple events every weekend.
The variety of musical types represented at shows has expanded beyond bluegrass, though that is still a favorite among show attendees.
General Manager Joe Lurgio notes that The Caverns now hosts acts ranging from bluegrass, country and gospel to EDM, rock, hip-hop and even classical. A look at upcoming shows offers something for a wide variety of musical tastes: rock band Drive-By Truckers; reggae and pop band UB40; indie rock group Copeland playing with the Sewanee Symphony Orchestra; and even the I Love the '90s tour with familiar names Vanilla Ice, Tone Loc, Coolio, Young MC, Rob Base and All-4-One.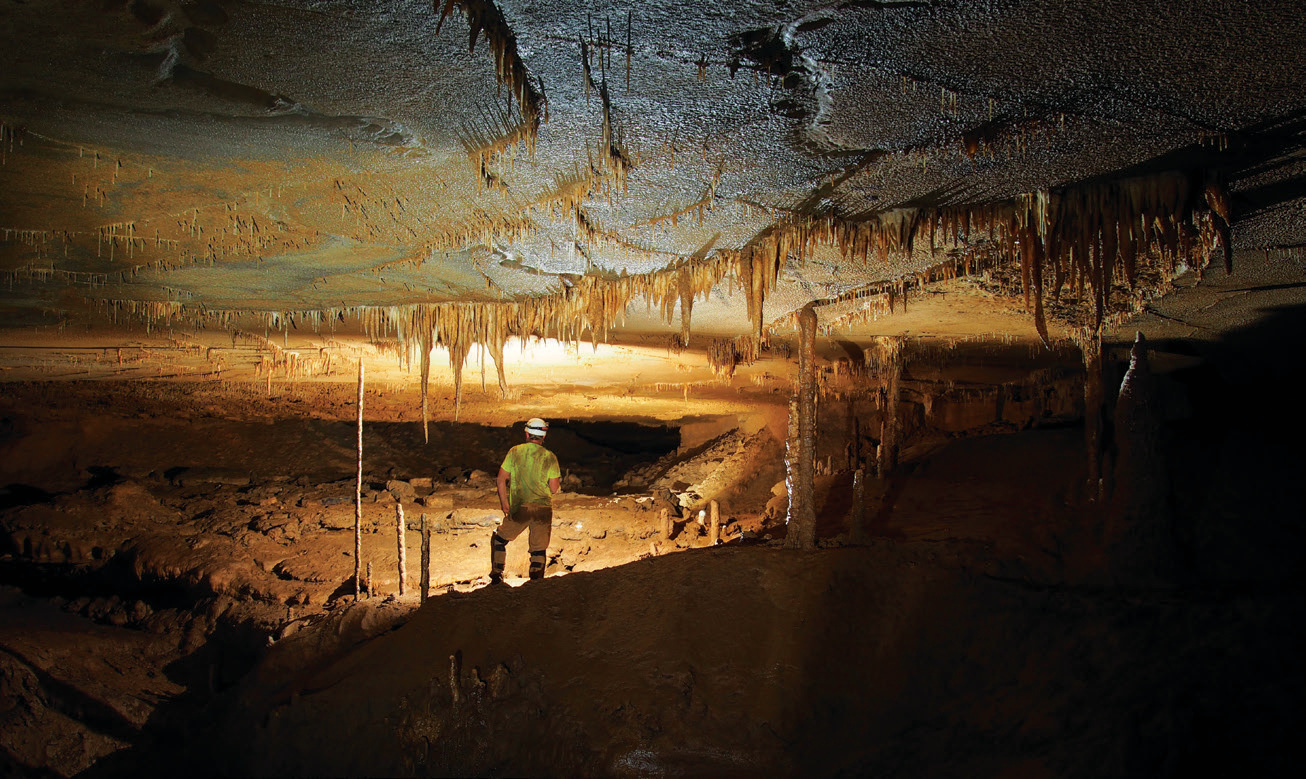 Some notable past performers are Arlo Guthrie, Los Lobos, Molly Hatchet, Jason Isbell and The 400 Unit, Old Crow Medicine Show, John Anderson, Wyclef Jean and Steve Earle & The Dukes.
Don't let the fact that the shows are held in a cave fool you. This is a well-equipped venue with state-of-the-art sound and lights that can accommodate 850 seated guests or 1,200 for standing-room-only shows. There are restrooms and food and beverage service inside the cave, and its gentle slope makes it both good for viewing a show and easily accessible to music fans with mobility issues.
"A wild cave was turned into a state-of-the-art music venue," Meltesen says.
Music fans love the venue, and they used that love to help propel The Caverns to the winner's circle of Garden & Gun magazine's 11th annual competition for best Southern music venue.
In addition to the parade of shows available throughout the year, The Caverns is hosting its first Cavefest two-day music festival Oct. 8–9. Headliners include Sam Bush Band, Leftover Salmon, The Infamous Stringdusters and Yonder Mountain String Band with more than a dozen other acts scheduled to perform. In true music festival spirit, there will also be primitive car camping, cave tours, food trucks, vendors, cave yoga and more fun activities. Tickets are already on sale on the venue's website, thecaverns.com.
Lurgio notes that Sequachee Valley Electric Cooperative and CEO/President Mike Partin have been wonderful partners and friends to The Caverns.
"We have a great relationship with them," Lurgio says. "They ran three-phase power out to us, something that's normally only available in urban areas. They went above and beyond and have been great partners when we need it."
Natural wonders
While the music venue is a big draw to The Caverns, those who enjoy visiting caves will want to put a trip to this Grundy County spot on their to-visit lists. Visitors can go on guided tours of the caves either alone or in combination with music show tickets.
Daily guided tours take visitors not only through Big Mouth Cave and a behind-the-scenes look at the music venue but also Big Room Cave, which is also appropriately name since it is, indeed, big — three football fields long. Not only will you get to explore the history and geology of the caves but also hear more about cave lore and Grundy County at large. Tours last about an hour.
For the more adventurous spelunkers, the three-to four-hour adventure cave tours are challenging, tight in spots and may very well get you muddy. But a benefit is seeing sights such as an underground river before maneuvering your way back out. These tours are led by experienced cavers.
For the youngsters, Camp Caverns is a residential summer program catering to children ages 8–13. Hosted at the historic DuBose Center in Monteagle, the camp involves programming in the caves. Topics covered include various aspects of history, geography, arts and teamwork.
A great destination
Situated where it is, The Caverns offers a great destination for several days of vacation fun when you pair a cave tour and a show or festival with the many hiking, rock climbing and other outdoor recreation opportunities throughout Grundy County. "Stay and Cave" packages are available for those who want to stick around and play a little longer.
According to Meltesen, some 125,000 visitors will make their way to The Caverns this year.
"And that number is going to continue to grow," he says. Lurgio says that the combination of natural beauty and musical beauty makes The Caverns such a great place to visit.
"There's nothing else like it," he says.
---
For more information
Visit thecaverns.com or call 931-516-9724.