Nevada Department of Corrections Director Charles Daniels has resigned, per a request from Gov. Steve Sisolak after a convicted murderer escaped from Southern Desert Correctional Center last Friday.
The NDOC did not realize Porfirio Duarte-Herrera — serving a life sentence after a 2009 murder conviction stemming from the planting of a car bomb in the Luxor parking garage in Las Vegas that killed a man — was gone until he was missing from Tuesday morning's head count, according to the Reno Gazette-Journal. He was taken back into custody Wednesday after the Las Vegas Metropolitan Police Department received a tip that a person matching his description was at a bus stop near Eastern and Owens avenues in Las Vegas. 
"This kind of security lapse cannot be permitted and those responsible will be held accountable," Sisolak said in an earlier statement issued Tuesday.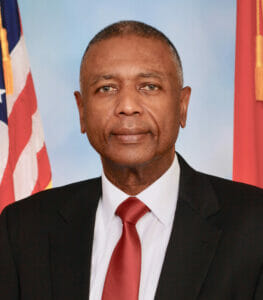 The investigation into the escape is still ongoing, Sisolak's office said Friday. Following department protocols, six NDOC officers have been placed on administrative leave and the governor is organizing a small group of advisors to look into Southern Desert Correctional Center and make recommendations to improve conditions.
"My office will continue to work closely with the team at the Nevada Department of Corrections to ensure the safety and well-being of both NDOC employees and inmates who are in the State's care," Sisolak said. "Corrections institutions across the nation are facing severe staffing shortages and together, we are working with NDOC to look at innovative ways to increase recruitment at all facilities within this state." 
The Nevada Department of Corrections had a vacancy rate of 28 percent as of Aug. 1, according to state data obtained by The Nevada Independent. At the time, that equated to 837 vacant positions.
The department's vacancy rate increased slightly to 29 percent as of Sept. 7, state officials said Friday.
Paul Lunkwitz, a former correctional officer and current president of the correctional officer union Fraternal Order of Police Nevada, told KVVU Las Vegas that Duarte-Herrera likely used a dummy and battery acid to possibly dissolve a part of the fence to escape from the prison. The tower monitoring Duarte-Herrera's unit — which holds roughly 200 inmates — was unmanned and has been for years, Lunkwitz told the news station. 
"He hired the director. He knows how this department is being run. He knows those towers have not been staffed for as long as they haven't been staffed for, and that's a legislatively approved budgeted position," Lunkwitz said.
Prisons are facing severe staffing shortages nationwide, which has only been exasperated by COVID. Not only did COVID take its toll on the lives of correctional officers, killing five times more officers than gunfire, according to a statistic published by CNN in October 2021, but many walked off the job after prisons made vaccine requirements.
Updated 9/30/2022 at 1:40 p.m. to include a more recent vacancy rate for the Nevada Department of Corrections.