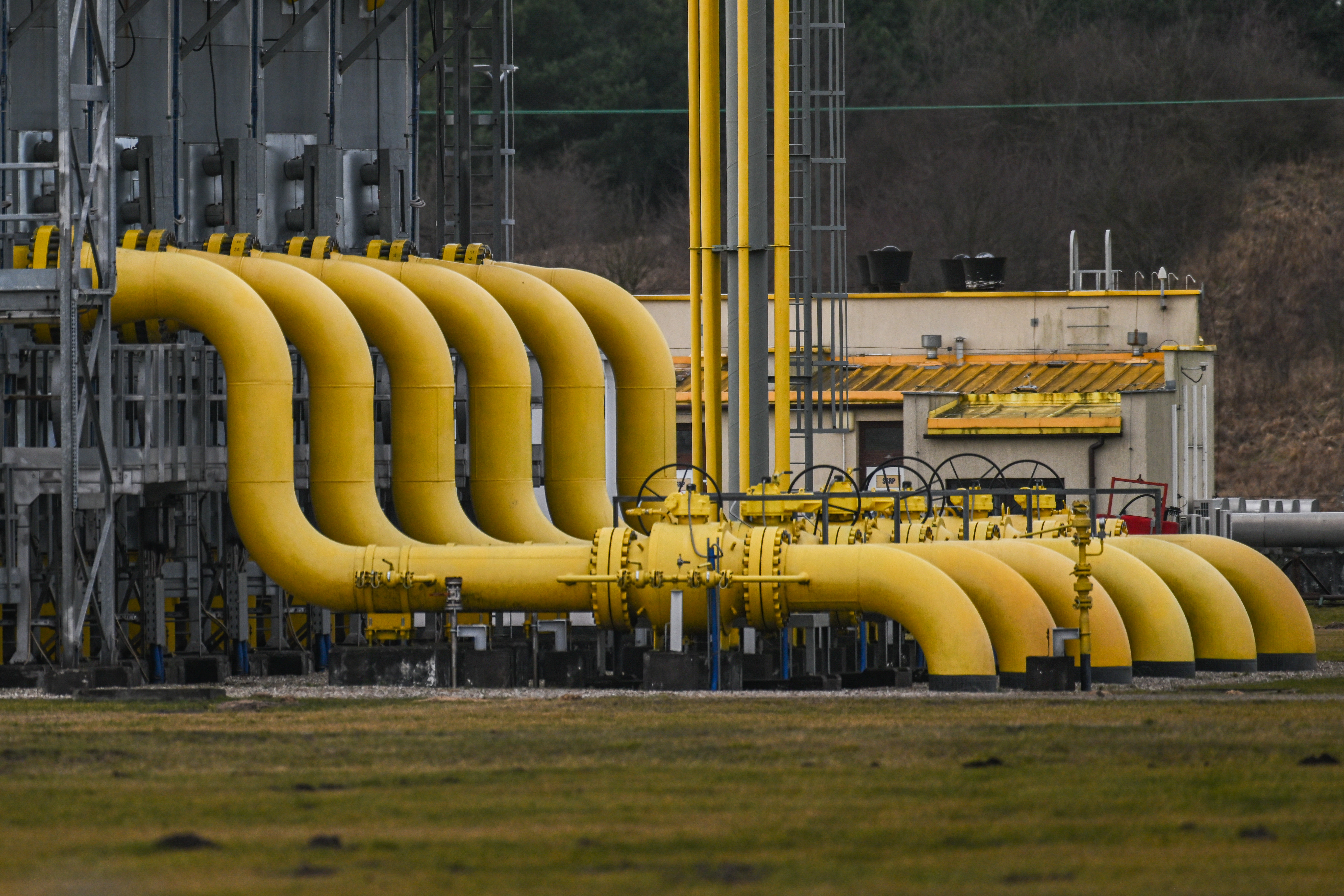 Russia on Wednesday cut two European Union nations off from its gas, a dramatic escalation against a pair of countries staunchly backing Ukraine in a conflict that is increasingly becoming a wider battle with the West.
One day after the United States and other Western allies vowed to speed more and better military supplies to Ukraine, the Kremlin upped the ante, using its most essential export as leverage. European gas prices shot up on the news, which European leaders denounced as "blackmail."
In a memo, state-controlled Russian giant Gazprom said it was cutting Poland and Bulgaria off from its natural gas because they refused to pay in Russian rubles, as President Vladimir Putin had demanded. The company said it had not received any such payment since the beginning of the month.
The gas cuts do not immediately put the countries into dire trouble since they have worked on getting alternative sources for several years now and the continent is heading into summer, making gas not as essential for households.
Still, it sent shivers of worry through the 27-nation European Union, which immediately convened a special coordination group to limit the impact of the move.
Fatih Birol, the executive director of the Paris-based International Energy Agency, called the move a "weaponization of energy supplies" in a tweet.
"Gazprom's move to completely shut off gas supplies to Poland is yet another sign of Russia's politicization of existing agreements & will only accelerate European efforts to move away from Russian energy supplies," he wrote.
EU Commission President Ursula von der Leyen called the move "yet another attempt by Russia to use gas as an instrument of blackmail."
Bulgarian Prime Minister Kiril Petkov also called the suspension of gas deliveries blackmail and said it was "a gross violation of their contract."
"We will not succumb to such a racket," he added.
The stoppage marked "an historical turning point in the bilateral energy relationship" between Russia and Europe, said Simone Tagliapietra, senior fellow at the Bruegel think tank in Brussels.
On Tuesday, the U.S. defense chief urged Ukraine's allies to "move at the speed of war" to get more and heavier weapons to Kyiv as Russian forces rained fire on eastern and southern Ukraine.
Poland, a historical rival of Russia, has been a major gateway for the delivery of weapons to Ukraine and confirmed this week that it is sending the country tanks. It said it was well prepared for Wednesday's gas cutoff.
Poland also has ample natural gas in storage, and it will soon benefit from two pipelines coming online, analyst Emily McClain of Rystad Energy said.
"There will be no shortage of gas in Polish homes," Climate Minister Anna Moskwa tweeted.
Bulgaria gets over 90% of its gas from Russia, and officials said they were working to find other sources, such as Azerbaijan.
Both countries had refused Russia's demands that they pay in rubles, as have almost all of Russia's gas customers in Europe.
As the Russian invasion of Ukraine has dragged on, the endgame has become less clear. NBCLX storyteller Clark Fouraker spoke to Philip Wasielewski of the Foreign Policy Research Institute about the war's possible outcomes, which hinge on a key question: Does Russia want to fight — or find a way out?
Warsaw said this week that it, too, was sending weaponry to Ukraine's army, in the form of tanks. On Tuesday it announced sanctions targeting 50 Russian oligarchs and companies, including Gazprom.
Bulgaria, once one of Moscow's closest allies, has cut many of its ties with Russia after a new, liberal government took the reins last fall and also in the wake of the invasion. It has supported sanctions against Russia and sent humanitarian aid to Ukraine.
Bulgaria has been hesitant to provide military aid, but Prime Minister Kiril Petkov and members of his coalition government were expected in Kyiv on Wednesday for talks about further assistance.
Europe buys large amounts of Russian natural gas for residential heating, electrical generation and the fuel industry, with Germany particularly dependent on it. The imports have continued despite the war.
Around 60% of imports are paid in euros, and the rest in dollars. Putin's demand was apparently intended to help bolster the Russian currency against Western sanctions.
In Washington, White House press secretary Jen Psaki said the U.S. had been preparing for such a cutoff by Russia.
"Some of that has been asking some countries in Asia who have excess supply to provide that to Europe," Psaki said. "We've done that in some cases, and it's been an ongoing effort."
Click here for complete coverage of the crisis in Ukraine.
Russia's war with Ukraine continues to drag on as Ukraine receives U.S. aid and Russia hurts from sanctions. Though some say there's pressure for Putin to end the war before May 9, a significant victory day in Russian history, it looks like there's no end in sight to the war, says Joel Rubin, former U.S. deputy assistant secretary of state.
---
Associated Press writers Veselin Toshkov in Sofia, Bulgaria, and Zeke Miller and Paul Wiseman in Washington contributed to this report.