A recent study was conducted to assess Arizona voters' sentiment towards the potential overturn of Roe v. Wade and whether it would affect their voting in the upcoming midterm elections. According to the latest Arizona Public Opinion Pulse survey by OH Predictive Insights, 87% of registered voters believe that abortion should be legal in some sort of way – unmoved from the 87% who said the same in September.
The Arizona Public Opinion Pulse (AZPOP) was conducted from May 9th – May 16th, 2022 and surveyed 938 Arizona registered voters with a margin of error of ± 3.3%.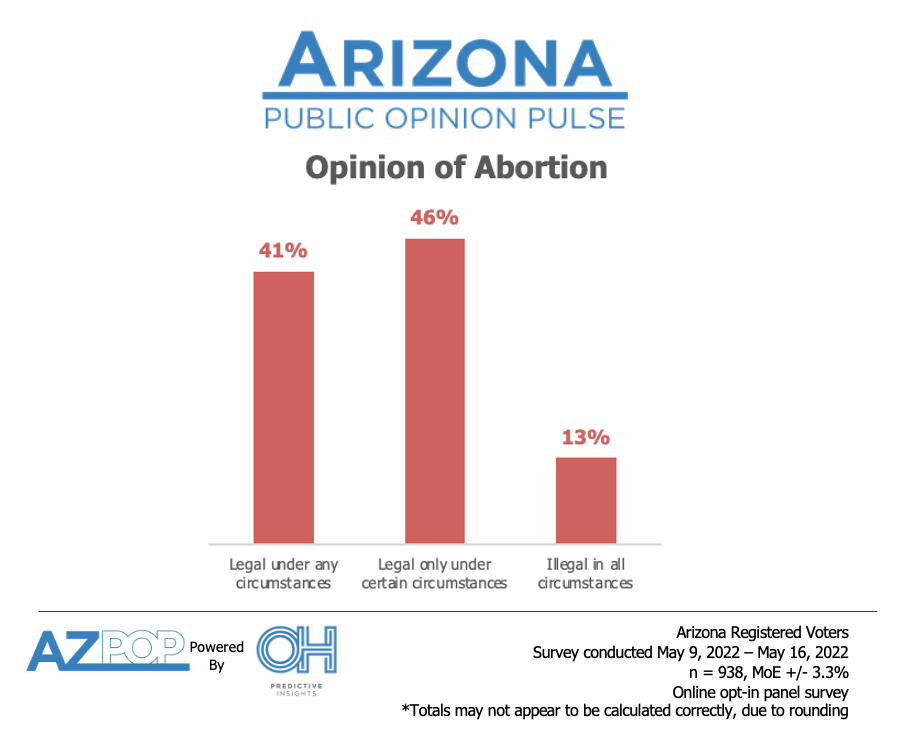 Sentiment towards Abortion
Arizona voters were asked whether they would support or oppose the overturn of Roe v. Wade, essentially meaning abortion would no longer be protected by the U.S. Constitution and the legality of abortion would be up to each state. Half of the respondents would oppose Roe v. Wade being overturned.
According to the May AZPOP, 31% of Arizona registered voters said they were pro-life, and 54% said they were pro-choice. The option to choose neither label, not given in the September AZPOP where pollsters last asked this question, resonated with a meaningful 15% of voters in the May survey. Pollsters say this helps explain some of the differences seen from September when 62% of voters selected pro-choice and 38% selected pro-life.
"Abortion discussion surrounding the Texas Heartbeat Act in September was only a precursor to the national level this topic took this month," said Mike Noble OH Predictive Insights (OHPI) Chief of Research. "The overall sentiment on abortion has remained the same since September: Arizonans overwhelmingly want abortion to be legal in at least some circumstances."
Impact on Voting
With midterm election season in full swing, the recent survey gauged how a candidate's stance on abortion would impact Arizona voters' decision to vote for them or not. Overall, 3 in 5 voters said a candidate's stance on abortion would be very/somewhat impactful on their decision, while only 1 in 5 said it would be lightly/least impactful to their decision.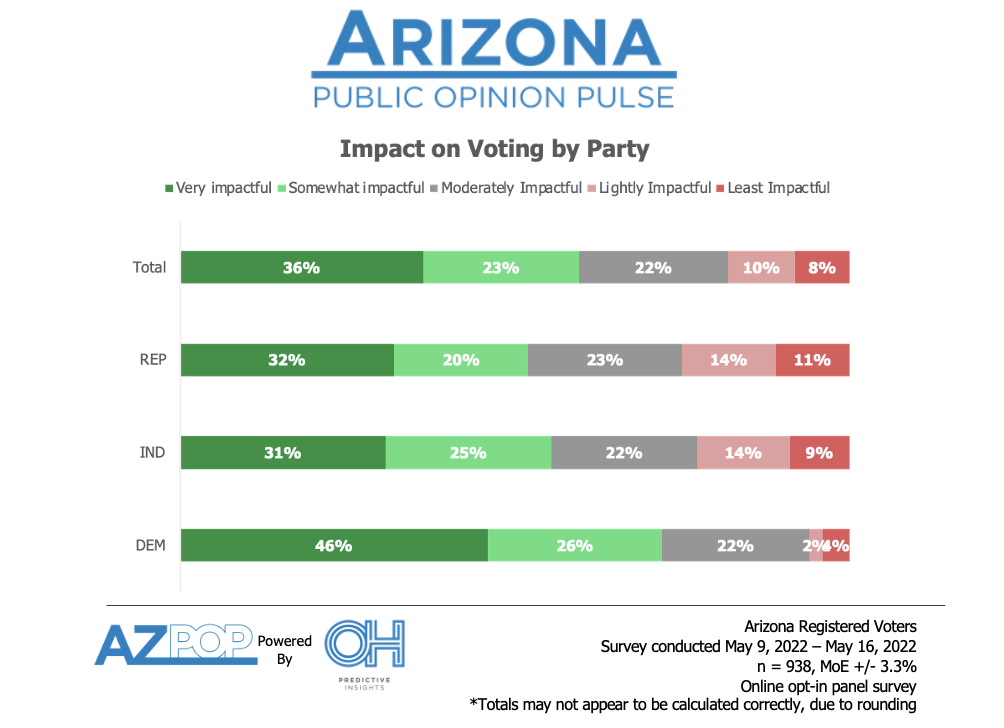 Arizona's political environment has been recently more Republican-friendly due to current Democratic President Joe Biden's nationwide unfavorability as well as the GOP's months-long lead in voter enthusiasm. According to the May AZPOP, a candidate's stance on abortion is most impactful to Democrats (72% very/somewhat impactful), whereas this level of impact among Republicans (52%) and Independents (56%) falls below average for each.
"All this uproar at the Supreme Court might be the kick in the side that Democratic voters need to compete with Republicans at the ballot box," said Noble
Although the Supreme Court has not yet made an official ruling, the highly anticipated decision is expected in the next month or so.
"I am expecting to see many Democrats and possibly Independents leading the share of those who are more enthused to vote in the upcoming midterms if Roe v. Wade is overturned," said Noble. "The unknown part is whether this issue will have enough of an impact to offset the pro-GOP political climate."
"Noble's prediction has not yet been borne out when looking at party turnout in a number of major states that have held primary elections since the Roe draft decision was leaked," said political consultant Constantin Querard on KFYI's James T. Harris show. "While Democratic turnout nationally is up 2-3% overall compared to 2018 turnout, Republican turnout is up closer to 30%, suggesting that if Democrat voters are inspired by Roe, it has not yet translated into voter enthusiasm at the polls."
Religious Affiliations
Pollsters say that an interesting insight was revealed in the data comes from looking at opinions on abortion by religious affiliation. Protestant voters make up the largest group of those who believe abortion should be illegal in all circumstances at 23%, but a higher share of them (31%) say abortion should be legal in all cases. The survey found that Roman Catholic voters are more likely to believe all abortion should be legal (41%) than illegal (13%) by a more-than 3:1 ratio.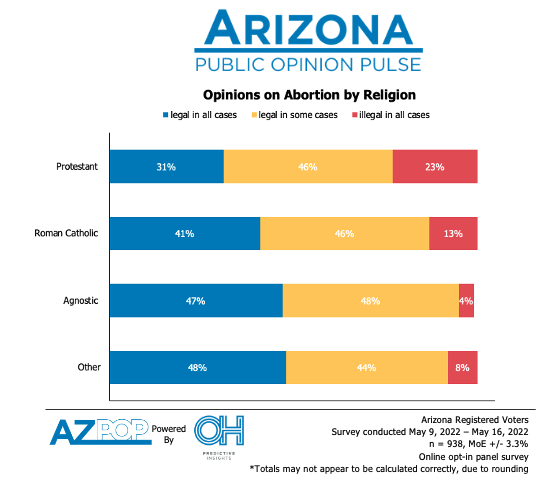 Key Takeaway
"While there are a variety of lenses through which you could assess sentiment on abortion, the biggest takeaway candidates should gain from this data is that their position on abortion will impact Arizona voters' decisions, but some more than others, so deeply understanding your coalition is crucial this close to Election Day," said Noble.