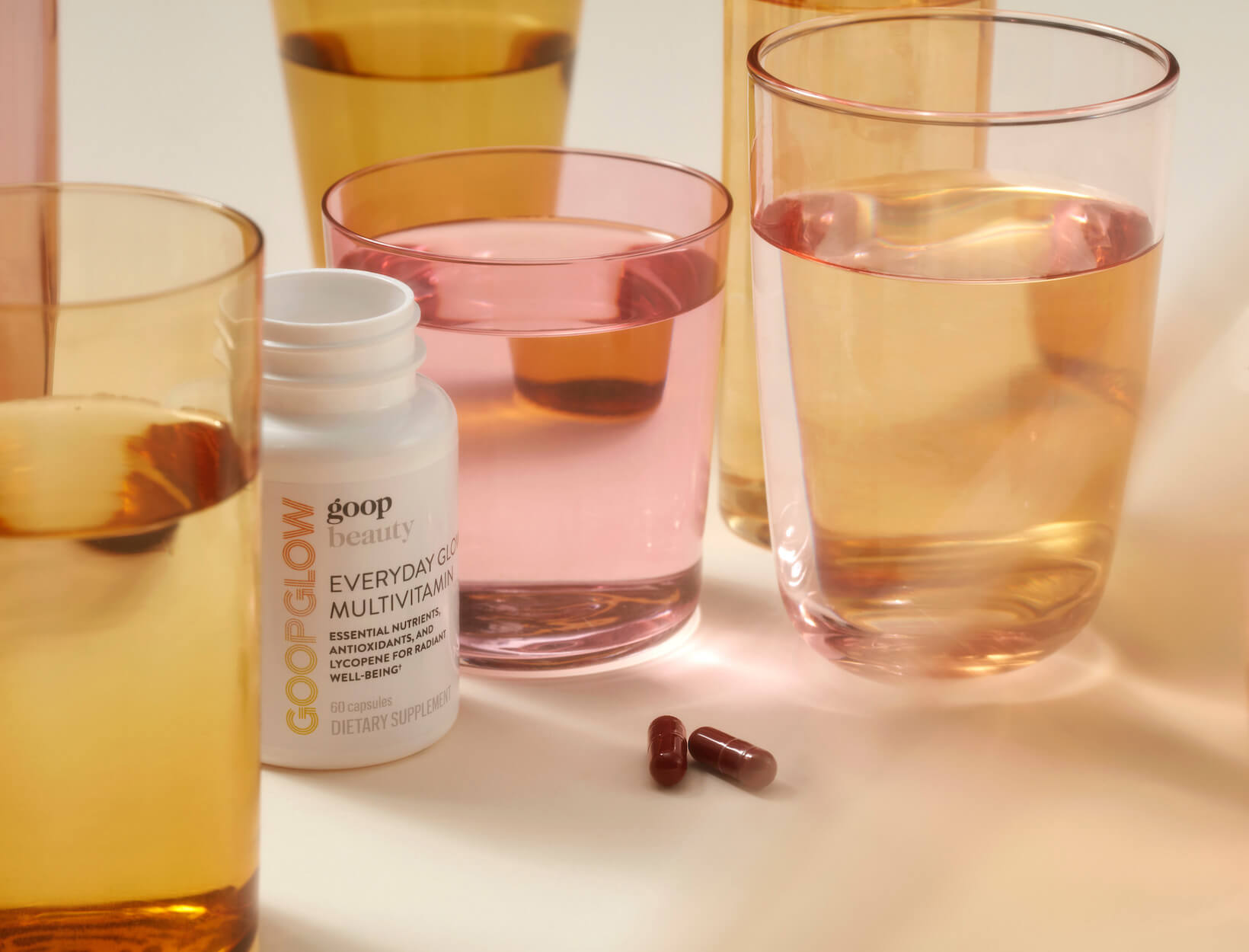 Our Dietitian Answers Your Q's
on the Everyday Glow Multivitamin
By Thira Burns, MS, RDN
When you're filling your plate with foods you love—including lots of fresh, delicious fruits and veggies, healthy fats, varied sources of protein, and something sweet here and there—your food alone likely gets you a long way toward good nutrition. But most of us could use some help here and there. Whatever health goals you have in mind, a well-formulated multivitamin is a solid place to start.
That's why we made the Everyday Glow Multivitamin—we wanted to support radiant skin, long-term brain health, an immune system running at max capacity, and whatever else. Because my team and I formulated this multi ourselves, we know the label in and out. Here are the questions that were top of mind for us while we were creating it. (For anything you don't see here, email us at customerservice@goop.com or give us a ring at 1.844.WTF.GOOP.)
---
Q: WHAT IS IN THE GOOPGLOW EVERYDAY GLOW MULTIVITAMIN?
A:
This multivitamin contains a foundation of essential nutrients to support skin health, healthy energy metabolism, bone health, immune function, nervous system and cognitive health, and cellular health—and provide antioxidant support.* That includes high-potency antioxidant vitamins C and E along with the carotenoids lycopene and beta-carotene, which help support the skin's natural resilience to ordinary sun exposure and other environmental stressors that contribute to skin aging.† It also includes a concentrated extract from ashwagandha root, a botanical traditionally used to support a healthy stress response.*
Q: WHAT'S THE BEST WAY TO TAKE IT?
A:
This multi is two capsules a day and can be taken with just a few sips of water. You take it without food, if that's your preference. But keep in mind that taking it alongside a snack or meal that contains healthy fats may enhance the bioavailability of a few key ingredients. One more note: If you're sensitive to B vitamins, consider taking the Everyday Glow Multivitamin in the earlier part of the day—I'd say no later than you would drink a cup of black tea.
Q: HOW LONG WILL IT TAKE TO NOTICE AN EFFECT?
A:
You likely won't suddenly feel a stark difference. That's because the vitamins and minerals here are working behind the scenes to nutritionally support healthy skin and hair, bones, immune function, energy metabolism, and nervous system and cellular health.
In clinical studies examining lycopene—the tomato extract we included here—for skin health, participants used it daily for 10 to 12 weeks.
As with any supplement, consistency is key; these ingredients work best over time.
Q: CAN I TAKE IT MORE THAN ONCE A DAY?
A:
No. My team formulated the Everyday Glow Multivitamin with specific amounts of each vitamin and mineral in mind. Two capsules are enough to provide the health benefits we intended for this multi. If you needed more than that, we would have designed it that way. So there's no need to take more.
Q: DO I NEED TO TAKE IT WITH FOOD?
A:
Not necessarily—we chose ingredients that are easier on the stomach, like a fully chelated form of iron—but taking it with a meal or snack that contains healthy fats may enhance the bioavailability of certain nutrients.
Q: CAN MEN USE THIS PRODUCT?
A:
Totally.
Q: IS THE GOOPGLOW EVERYDAY GLOW MULTIVITAMIN GLUTEN-FREE?
A:
Yes. We test for gluten with a process called a sandwich enzyme immunoassay, which ensures gluten is not present above a limit of twenty parts per million. This immunoassay is a staple in the food industry for identifying contaminants like gluten in food and supplements.
Q: IS THE GOOPGLOW EVERYDAY GLOW MULTIVITAMIN SOY-FREE?
A:
Yes.
Q: DOES THE GOOPGLOW EVERYDAY GLOW MULTIVITAMIN CONTAIN SUGAR?
A:
No, there's no sugar (or any other sweeteners, for that matter) in this multivitamin.
Q: DOES IT CONTAIN ANY ARTIFICIAL COLORS OR FLAVORS?
A:
Nope. That pretty burgundy hue comes from the ingredients themselves—particularly lycopene.
Q: IS THE GOOPGLOW EVERYDAY GLOW MULTIVITAMIN VEGAN?
A:
Yes, it's vegan. We chose plant-based versions of vitamins A, D, and E, as well as lycopene.
Q: IS THIS PRODUCT NON-GMO?
A:
Yes. The ingredients we chose for the Everyday Glow Multivitamin are non-GMO.
Q: WHAT IS THE SHELF LIFE OF THE PRODUCT?
A:
Twenty-four months.
Q: IS THERE A PRESERVATIVE IN THE PRODUCT?
A:
No, the product contains no preservatives.
Q: HOW SHOULD I STORE IT?
A:
Keep this multivitamin in a cool, dry place. (No need to refrigerate.) Because the ingredients in the multivitamin are sensitive to light, we made sure to use an opaque bottle to protect them. If you transfer the capsules to any other container—like a pillbox—be sure to choose one that's opaque and that won't pop open when you don't want it to.
Q: IS THE GOOPGLOW EVERYDAY GLOW MULTIVITAMIN FDA-APPROVED?
A:
The FDA requires all manufacturers of dietary supplements to use good manufacturing practices (or GMPs for short) to test all products for active ingredients and contaminants. GMPs also help us label products accurately. Our supplements are made with only FDA-allowed ingredients, and they're manufactured in accordance with FDA current GMP (CGMP) requirements, proven by GMP-certified third parties.
That said, you typically hear "FDA-approved" in the context of drug regulation. The FDA does not regulate dietary supplements in the same way it does drugs. Instead, supplements are regulated as foods, as they are not intended to treat, diagnose, cure, or alleviate the effects of any disease. So you actually shouldn't see the words "FDA-approved" applied to supplements here or anywhere else.
Q: CAN I TAKE THE GOOPGLOW EVERYDAY GLOW MULTIVITAMIN WITH OTHER SUPPLEMENTS?
A:
The Everyday Glow Multivitamin intended to be used as a daily multivitamin. If you're thinking about combining it with other supplements, be sure consult your health care professional first.
Q: WHO IS THE EVERYDAY GLOW MULTIVITAMIN FOR?
A:
We made the Everyday Glow Multivitamin for anyone who wants a hand covering their nutritional bases—and supporting happy, healthy skin while they're at it—on a daily basis. It's made to fit in with the healthy habits you've already established as daily routine.
That said, there are a handful of cases where this multi might not be for you. Like if you are pregnant, planning to become pregnant, or breastfeeding. And you should check in with your doctor first if you have a medical condition, are taking any medication (including blood thinning, diabetes, or antihypertensive medication), or are planning on having a medical procedure or surgery
Q: WHERE IS THE GOOPGLOW EVERYDAY GLOW MULTIVITAMIN MANUFACTURED?
A:
The Everyday Glow Multivitamin is manufactured in the United States.
Q: IS THE PACKAGING RECYCLABLE?
A:
Yes!
---
Our director of wellness product development, Thira Burns, has a BS in clinical nutrition from UC Davis and an MS in nutrition science from San Jose State University, and she is a registered dietitian nutritionist. She's the brain behind our beloved soft chews, our gut and metabolism superpowders, DTF, and our growing family of goop sex toys. And she's the keeper of our wellness shop: Burns's team vets the documentation verifying the purity and quality of the supplements goop carries by diving into third-party testing and double-blind studies on ingredients. So she knows that these products are manufactured according to the FDA's current good manufacturing practices and that the label claims are backed by research.
---
*These statements have not been evaluated by the Food and Drug Administration. This product is not intended to diagnose, treat, cure, or prevent any disease.
---
†Not intended to replace sunscreen. Always use a sunscreen while spending time outdoors.
---
This article is for informational purposes only. It is not, nor is it intended to be, a substitute for professional medical advice, diagnosis, or treatment and should never be relied upon for specific medical advice. To the extent that this article features the advice of physicians or medical practitioners, the views expressed are the views of the cited expert and do not necessarily represent the views of goop.