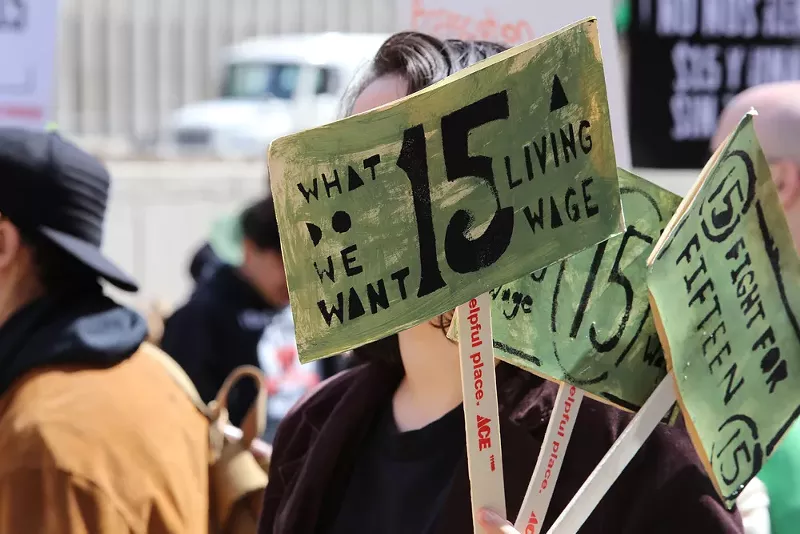 A Michigan Court of Appeals panel delivered bad news to minimum wage workers on Thursday by siding with the former Republican-led Legislature.
The panel ruled that state lawmakers had constitutional authority to weaken a minimum wage law approved by citizens through a petition process.
For now, the ruling blocks the minimum wage from increasing from $10.10 per hour to $13.03 per hour. Tipped minimum wage would have rose to $11.73 an hour.
At issue is a 2018 petition initiative organized by One Fair Wage that sought to raise minimum wage to $12 an hour by 2022 and increase annually with inflation. The coalition collected hundreds of thousands of signatures to force the Legislature to either adopt it or send it to voters in the next general election ballot.
The Republican-led Legislature adopted the bills in September 2018, but quickly weakened the legislation in a controversial switcheroo that landed in court. Under the weakened bills, the minimum wage would increase to $12 by 2030, as long as unemployment is low.
But in July 2022, the Michigan Court of Claims ruled that the Legislature violated the state constitution by weakening the initiatives.
Thursday's ruling overturns that's decision.
"Because there are no limitations with respect to the amendment of initiated laws beyond the initial 40-session day period for legislative action, the Legislature is free to amend laws adopted through the initiative process during the same legislative session," Court of Appeals Judge Christopher Murray said in the majority opinion.
One Fair Wage is expected to appeal the case to the Michigan Supreme Court.
Business and hospitality groups have opposed increasing Michigan's minimum wage, saying it would harm small business owners.
"We are relieved and appreciative of the unanimous 'Adopt and Amend' decision out of the Court of Appeals today that will allow Michigan and its 18,000 restaurants and hotels to move forward with greater certainty as to their operating future. Through this ruling, countless restaurants and 50,000 hospitality jobs have been at least temporarily saved," Michigan Restaurant & Lodging Association President & CEO Justin Winslow said in a statement. "We are optimistic that the Michigan Supreme Court will recognize the same and allow this industry to redirect its focus to the daunting task of recovering from a pandemic that decimated it so completely."
Metro Times couldn't immediately reach the plaintiffs in the case — Mothering Justice, Michigan One Fair Wage, Michigan Time to Care, and Restaurant Opportunities Center of Michigan.
Coming soon: Metro Times Daily newsletter. We'll send you a handful of interesting Detroit stories every morning. Subscribe now to not miss a thing.
Follow us: Google News | NewsBreak | Reddit | Instagram | Facebook | Twitter