My new home overlooks an old cemetery. Surrounding the gold-plated finial atop the dome of a Sufi's mausoleum in the centre of the cemetery are crowns of palm trees, interspersed with a mix of natives and exotics. Surrounded by a surging sea of high-rises dwarfing its trees, the cemetery is an oasis of green. Every evening, as the nagara drum is struck at the mausoleum, and the evening azaan (muslim call for prayer) is called, flocks of rose-ringed parakeets, squabbling like kids, return to their roosts in the cemetery trees. The melody of the human voice, the percussion of an ancient drum, and the high-pitch calls of parakeets, is an unlikely musical trio, but one that has been available to us for years. What we begin to lose, we begin to notice.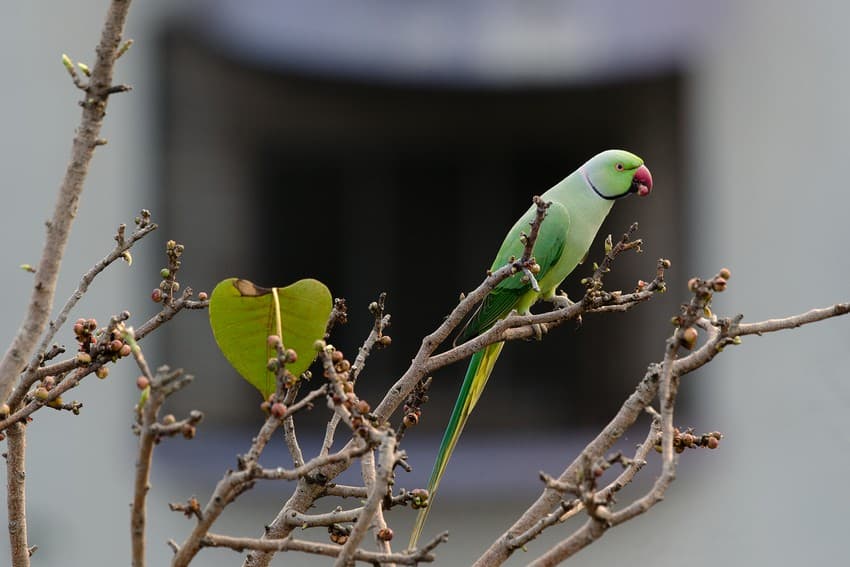 Photo: Rizwan Mithawala
Before moving house on New Year, we lived in a locality bereft of trees. Planting trees is out of question in Mumbai; so I planted and tended to a garden of butterfly friendly plants on my windowsill, inviting, observing and photographing the life-cycle of the Red Pierrot butterfly, among others. Every evening, my mother observed and counted the number of parakeets in each flock, as several flocks made their way to the southern end of the city, towards Churchgate, where a good number of old trees persist, with some help from their human neighbours.
For city dwellers, every tree matters, every bird matters. We have starved and deprived ourselves of the sights and sounds that have been part of our evolutionary history. Our immediate environment is mostly dust, polythene wrappers floating above the 17th floor, and the din of the next high-rise coming up cheek by jowl, soon to block the sun from our windowsill gardens. Yet, few of us care about this loss. But thankfully, those who care on behalf of the entire city are out to protect every single tree, keeping vigil even at midnight.
As an environment journalist, I have covered the loss of Mumbai's trees to the Mumbai Metro 3 project, and a robust citizen's movement to protect every tree possible. The city could have lost a lot more trees than it has, if not for citizens who came forward to protect the trees they had grown up with. They brought to the notice of journalists every tree that was marked to death with a red cross, and saved from the axe each one that was not in the way of the project excavation sites, and was yet marked to be cut. In protest, they even carried out a funeral procession of a tree.
It makes perfect sense to protect urban trees for our well being – physiological, mental and spiritual. Trees can cool our cities, and prevent them from becoming 'heat islands', several degrees warmer than the surrounding rural areas. According to the Food and Agriculture Organization of the United Nations, strategically planted trees in urban areas can cool the air by 2 ºC to 8 ºC, and those planted close to buildings can reduce air conditioning use by 30 percent. Each large tree can absorb up to 150 kg of carbon dioxide a year, as well as filter urban pollutants and fine particulates. Spending time in company of trees can reduce blood pressure and mental stress, uplift our moods, and bring solace to our battered hearts.
City trees provide food and shelter to myriads of life-forms that enrich our lives with their presence – birds, butterflies, bats, squirrels, and innumerable invertebrates. We are beginning to lose these beautiful neighbours to our indifference. The Asian koel and the coppersmith barbet are common birds in Mumbai, seldom seen, often heard. The metallic single-note call of the barbet, and the melodious crescendo of the koel, bring back memories of our idyllic childhoods. But as we stop caring for our neighbourhood trees, we are losing the music of koels and barbets, too.
An aunt, who lives in a tree-less neighbourhood, recently visited and stayed with us for three days, and was delighted to hear the koel after decades. Now I record and send her koel calls, and she relives her childhood. If we start caring for city trees, they can fill our lives with music, and meaning. For meaning can also be sought, and found, in birdsong and leaf rustle.
——————————————————————————————————————————————————————
About the author: Rizwan Mithawala is a Conservation Writer with the Wildlife Conservation Trust and a Fellow of the International League of Conservation Writers. He has previously worked as an environment journalist with a national newspaper.
Disclaimer: The author is associated with Wildlife Conservation Trust. The views and opinions expressed in the article are his own and do not necessarily reflect the views and opinions of Wildlife Conservation Trust.
——————————————————————————————————————————————————————
Your donations support our on-ground operations, helping us meet our conservation goals.

——————————————————————————————————————————————————————
Related Links