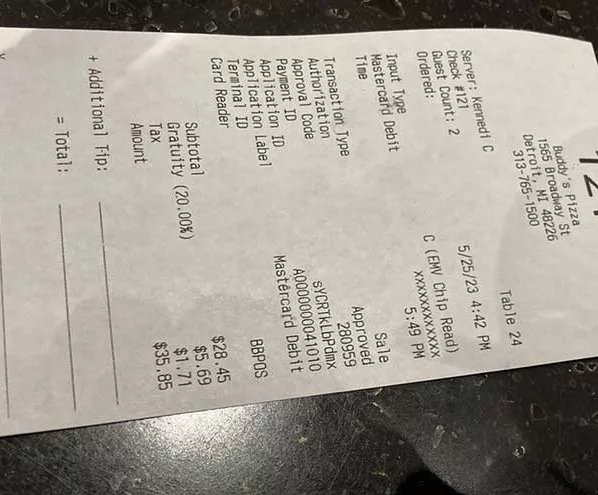 At Buddy's Pizza in Grand Circus Park, the waitress was blunt. Just so you know, she said, this restaurant adds a 20% gratuity to the bill. Is that OK?
In that Buddy's makes arguably Detroit's best, deep-dish pizza — particularly "The Detroiter" — we chose to stay and eat. We were on our way to the Tigers' baseball game and we sure didn't want to spend even more money for the inferior pizza of Comerica Park.
My buddy picked up our Buddy's tab, with the automatic 20% "gratuity." For our convenience, the restaurant bill left a blank space for the "additional tip," as it was labeled. So he added an extra $5, he said, because the service was good.
Still thirsty when we reached the ballpark, I bought a 20-ounce Diet Pepsi in a plastic bottle at an outfield concession stand.
The list price was $6.29, but my season-ticket discount (beeped via my smartphone screen) slashed a whole 65 cents from that total. Therefore, I paid only $5.64! (For those of you keeping score at home, that is 28 cents per ounce — at the discount — compared to 31 cents per ounce at retail).
Since they no longer accept mere cold cash in Ilitch Village, I put the soda pop on a credit card.
The confirmation screen gave me an option to tip: 20%, 15%, 10%, "Other," or "No Tip." In that the server had done nothing more than hand me the bottle and the credit-card screen, I clicked "No Tip."
No doubt, you have your own stories about coercive tipping, one of those current issues of social custom that is more about politesse than it is of politics. How much more should we tip service workers compared to before the COVID-19 pandemic?
And at what point does it stop? Sometimes, it seems as if the vending machines and the parking meters might soon expect a little extra on the side from the grateful consumer.
"Thank you for your service!" you might soon chirp to the gasoline pump as you add a few dollars to the tab after filling up your tank all by yourself.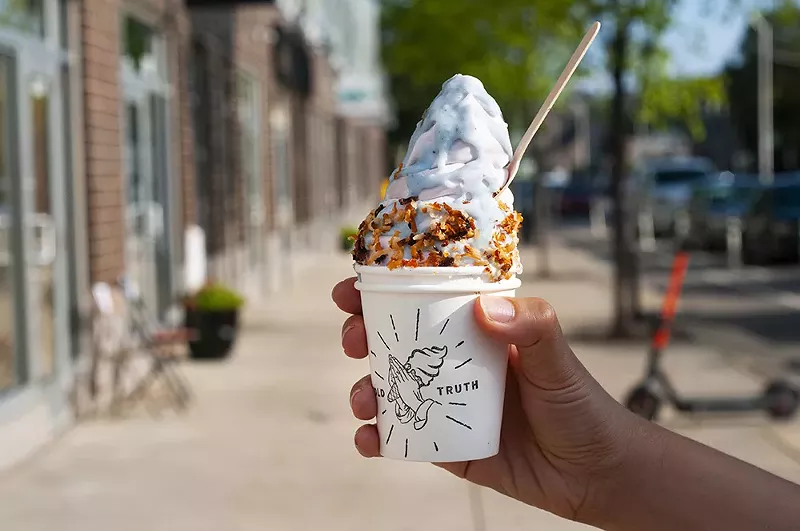 This snit hit the fan last week in Midtown at Cold Truth, an ice cream parlor on Cass and Canfield that serves vegan fare, made from scratch.
When a customer paid with a credit card but failed to leave a tip for the server, owner Tim Mahoney tracked her down on the internet and scolded her in writing, something he now regrets.
"We operate in a tipped business model," he told her. "If we haven't risen to a level that you feel is worthy of a gratuity, we absolutely understand."
Also understanding was Channel 4 (WDIV-TV), which covered the story from the customer's point of view. Truth be told, this brought considerable chilly blowback to the boss at Cold Truth.
"I have since apologized and realized this rash decision was offensive," Mahoney tells Metro Times in a telephone interview.
He says critics accused him of "internet stalking" and of coercing tips because that way he can pay lower wages to his employees. When asked, Mahoney says they earn $10 per hour to start, with higher wages possible, plus tips.
He says a "tipped business model" allows store owners to keep prices low enough to encourage repeat regulars who understand the model and reward the scoopers properly.
You can probably sense I have mixed feelings about tipping. When I delivered newspapers (Detroit News, afternoons) in the 1960s, about a third of the customers tipped, but we didn't expect it or coerce it.
After that, when I cooked and sold pizza on East Jefferson, nobody ever tipped me, although two different guys robbed me at gunpoint. (Here's a tip on how to react: hand over the money.)
But when I worked in high school as an usher at Tiger Stadium — speaking of ballparks — we "badge boys" patrolled only the reserved seats, with my section on the first base line in the steep steps of the upper deck.
Older men, the uniformed ushers, were paid a daily stipend and also hustled tips in the box seats where dwelled the swells who tipped the most. But the badge boys worked strictly on tips in the middle-class sections of the Stadium.
Yes, we got to see the games, but any real money came from showing people to their correct chairs and using a rag to clean the crud from off the wood.
Sometimes, guys would silently coax you to work harder by standing there intently watching you with their hands in their pockets, jingling their coins, back when people carried real money.
Back then, two quarters would be a good tip for dusting four chairs. Sometimes, they'd give you more. But — once in a while — the guy ostentatiously jingling his coins would pull his hand from his pocket with nothing in it and pretend to be unaware that tipping was customary.
Sometimes, these creeps would stifle a small smile, as if to imply that you were a sucker to fall for their bluff. And to these few stiffs, I would finally like to apologize after all these decades if I accidentally stepped on the tender toenails of your foot as I left your row.
It's just that, sometimes, we all reach a certain tipping point.
Subscribe to Metro Times newsletters.
Follow us: Google News | NewsBreak | Reddit | Instagram | Facebook | Twitter