Lunch And Learns: Crowdsourcing For eLearning Innovation
This article is part of a series on overcoming remote working challenges by building learning experiences that are based on solid learning science. What you are about to read is a fable. The company, AshCom, is fictional, but the learning challenges faced by Kathryn, AshCom's CLO, and her team are real and commonly shared by learning teams in large organizations. It is our hope that you will be able to connect with the characters, their challenges, and the solutions they discover. We also invite you to read the first eBook in the series.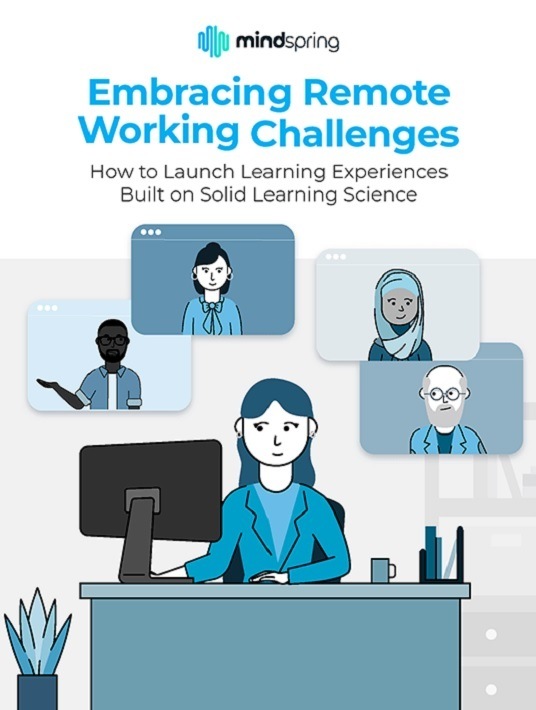 eBook Release
Embracing Remote Working Challenges: How To Launch Learning Experiences Built On Solid Learning Science
Flexibility is key, but does the time-tested learning science support virtual learning experiences designed exclusively for remote positions?
The Virtual Learning Solution
"A partially remote workforce trained primarily through virtual learning." Kathryn wrote these words at the top of the whiteboard in her office. Laszlo, the CHRO at AshCom, gave her this challenge. As a manufacturing company, AshCom would not go completely remote, but Laszlo and his team had identified 1,400 jobs of the 7,000 total at AshCom that might become partly or even completely remote. It was one of the key strategies for retaining the great people they already had and attracting new people to AshCom.
The words at the top of the whiteboard unsettled Kathryn. She had been around adult learning for more than two decades in various roles in large companies. She remembered the days when virtual learning was more of a promise than a reality. In the early days, technology was limited and what was available was prohibitively expensive. She recalled looking at creating a short 3D animation early on with a price tag of over $100,000.
Things had changed. The technology caught up to the dream. In some ways, it even surpassed what early theorists were predicting. Although AshCom hadn't yet done much work in Augmented Reality, Virtual Reality, and Artificial Intelligence, the tech she saw at tradeshows was clearly changing the fabric of learning experiences.
Will It Work?
It wasn't the lack of tools that made Kathryn apprehensive about a remote workforce trained by virtual learning. Something else, more basic, was causing her to hesitate. Would it work? This was a big bet for AshCom. Moving 1,400 people to remote work in short order would cause major disruption all over the place. The coming chaos would be worth it to keep and attract great people, but Kathryn wasn't sure all the details had been considered.
Could she and her learning team still give remote people great learning experiences so they could do their jobs well? Would their learning be diminished? Would this actually become a threat to AshCom? Much of the learning literature in recent years had been emphasizing the power of social learning. How would that work in remote?
Kathryn did a quick literature review, looking specifically for organizations that had already made the transition to virtual learning. The results were mixed. Some companies found wonderful success with virtual. Other stories were less encouraging, and some were flat-out troubling.
Kathryn sat staring at her whiteboard. "A partially remote workforce trained primarily through virtual learning." Was this possible? It seemed that it was and that some companies had done it successfully. What was the difference between those organizations and the companies that had moderate or even low success?
Pressing Questions
The list of questions was getting longer while the list of answers was getting shorter. Kathryn decided it was time to meet with Rebecca, who usually helped bring some clarity.
Rebecca played a consultative role for AshCom. Her company, MindSpring, was first introduced to Kathryn and her learning team when they decided to build a true learning game that would teach their managers greater financial literacy. They needed a partner with deep experience in learning and game building. Their search led to MindSpring, which then assigned Rebecca to be their key contact and learning advisor.
Although Kathryn originally planned to use Rebecca's services on just the game, she continued to engage Rebecca, who helped the AshCom team work through other strategic initiatives. Rebecca had a lot of experience with other companies and understood the learning challenges of the manufacturing industry.
Kathryn set up a video conference call with Rebecca. Neither of them was much for small talk, given their roles and task lists. Kathryn jumped in, explaining the challenge Laszlo had given her. This was the driver of the initiative.
"I'm seeing this among most of my clients," said Rebecca. "Some companies are diving in headfirst without a lot of reflection. They know they need to, so they are just pushing ahead."
"And how is that going for them?" asked Kathryn.
"It is all over the map," replied Rebecca. "Some had more experience than others and so their results were different."
"Is there something in common among those who are doing virtual learning among a remote workforce well?" asked Kathryn.
Peer Input And Benchmarking
"The better ones did some benchmarking and talked to their peers in the learning industry," replied Rebecca. "You can read all the articles you want, but there really isn't a good substitute for talking to a few leaders who have already done what you are trying to do at AshCom. I can help you with that pretty quickly."
"That would be appreciated," said Kathryn hesitantly.
"But that's not what you are looking for, is it?" questioned Rebecca, with just a hint of force in her voice. "I can't help you unless you tell me what you are struggling with." Rebecca had gotten to know Kathryn well in the time they worked together and considered it part of her role to be a speaker of unvarnished truth.
"I don't mean to undervalue benchmarking, and I really do appreciate your help in connecting with people who are farther down this path," said Kathryn. "But no. That's not my greatest concern. I'm not even really sure how to put this into words." Kathryn thought for a moment, and Rebecca was experienced enough to not interrupt.
"It goes beyond the question of whether or not virtual learning experiences will work," said Kathryn. "I am trying to avoid being the person who is against progress, but I have a lot of questions about virtual learning experiences."
"Ok," said Rebecca. "Beyond whether or not others have done it, and beyond whether or not it's possible to do, you're asking some deep questions. Are you wondering if virtual is the right direction?"
"Something like that," said Kathryn.
"Let me try this," replied Rebecca. "You want to know if virtual learning for remote workers is actually based on solid learning science."
"Yes!" exclaimed Kathryn. "That's it. I know we can. I know we need to. I believe the delivery can change if the learning experiences are based on strong learning science. That is the piece that is missing. We talk about the psychology, sociology, and brain science that contribute to our understanding of how people learn. But have we thought about how they inform virtual learning?"
"Among my clients," said Rebecca, "most of the time that isn't even considered, and it shows. I have not heard anyone put it quite like you just did, but I think a lot of learning experts are struggling with how learning science and virtual learning fit together."
The Challenge
"Here is my challenge," said Kathryn. "This is a high-profile, fast-moving project, and I don't have several months to do the research or attend a graduate course on how these two are connected. I need to move faster than that. Any chance you could do the research and let me know so I can move past this?"
"Let me make another suggestion," said Rebecca. "Your learning team is one of the more experienced teams I know among all the companies I work with. If I remember correctly, at least one of them is currently completing her master's degree. You already have people who have been educated on learning science and have some experience with virtual learning."
"I see where you are going," said Kathryn. "I've got everything I need sitting right outside my office."
"Yep," replied Rebecca, "and I think all of them would be honored to share with you and your team what they already know or what they will learn with a little research."
"Crowd-sourcing to a very smart crowd?" replied Kathryn. "Brilliant. Any suggestions on how to do that?"
"One comes to mind," said Rebecca. "Maybe you assign each one of them to a specific branch of the learning science tree and ask that person to make a 15-minute presentation on that science and how it relates to virtual learning."
"Good start," replied Kathryn. "I don't want to have a bunch of 15-minute PowerPoint presentations without a chance to ask some questions and think a little. It might take a little time, but I think Laszlo will be ok if we take a few weeks to do this. I think the payoff will make the time worth it."
"What do you have in mind?" asked Rebecca.
"I'm thinking a series of lunch-and-learns," said Kathryn. "I'll assign a topic to each team member. They will have 15 minutes to present an overview of the learning science, 15 minutes to talk about how it relates to virtual learning, and then 15 minutes for discussion and questions. We can get through all the topics in two weeks."
"Sounds like a plan," said Rebecca. "I've got to get to another virtual meeting, but please let me know how I can be helpful."
After Rebecca ended the meeting, Kathryn walked to the whiteboard in her office. On the left side, she wrote:
Brain Science
Psychology
Sociology
Linguistics
Consumer Science
After staring at the list for a few moments, she started to match the learning science with people on her team. It came to her quickly because she was familiar with the education, experiences, and passions of her team members.
Brain Science – Darryl
Psychology – Martina
Sociology – Michael
Linguistics – Adeena
Consumer Science – Amy
She added one more to the bottom of the list: Instructional Design. She assigned that to Maggie who had been with AshCom in the learning space longer than anyone else.
After a quick review, Kathryn began to draft an email to her team that would explain the challenge of virtual training to remote workers, why they needed to do it, and which section each of them would lead. She also sent a schedule that began with the first lunch-and-learn in two weeks. Darryl was up first and would have less time than the others, a challenge he would embrace. They would meet for lunch, which would be provided, on Mondays, Wednesdays, and Fridays until they covered all the topics.
Conclusion
Download the eBook Embracing Remote Working Challenges: How To Launch Learning Experiences Built On Solid Learning Science to discover how you can overcome obstacles with targeted solutions backed by learning psychology and proven methodologies. You can also join the webinar to discover which scientific principles are relevant for remote workforce training.