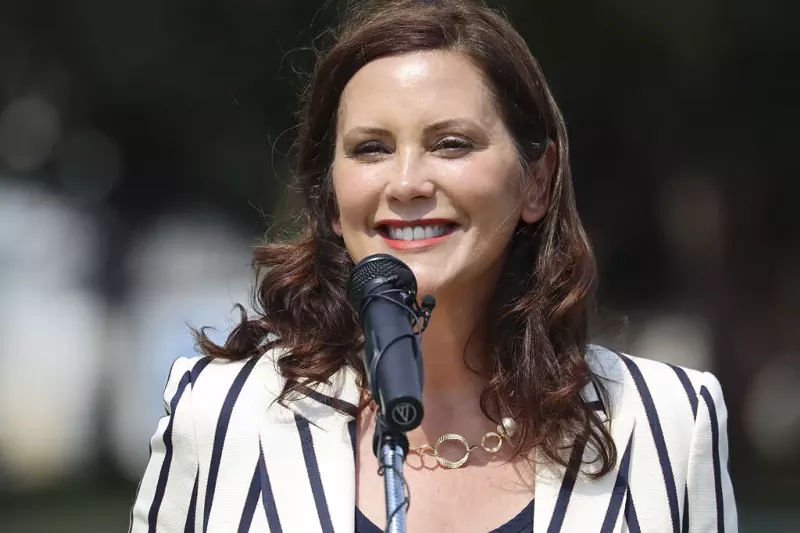 Gov. Gretchen Whitmer on Friday signed a package of pro-labor bills that restores prevailing wage for construction workers and repeals the state's so-called "right-to-work" law that prevented union contracts from requiring membership fees as a condition of employment.
The bills are a major victory for the labor movement as Democrats continue to use their new majority in the Legislature to restore pro-worker laws that were by repealed by Republicans.
"Today, we are coming together to restore workers' rights, protect Michiganders on the job, and grow Michigan's middle class," Whitmer said in a statement. "Michigan workers are the most talented and hard-working in the world and deserve to be treated with dignity and respect. These bills will protect health and safety, ensuring healthcare workers can put patient care ahead of profit, construction workers can speak up when there's a safety issue, and employees can call attention to food safety threats and other problems."
The state Senate and House recently passed the bills along party lines.
Republicans repealed the state's prevailing wage law in 2018. By reinstating it, Democrats have ensured union-level wages and benefits for workers on state-funded construction projects.
The legislation also repeals the state's right-to-work law, which Republicans passed in 2012. Supporters of the law said it was unfair to require employees to belong to a union.
Opponents argued that the law was intended to weaken unions by allowing non-union workers to benefit from union bargaining without paying dues.
"'Right to work' is a lie that has only hurt workers in our state and allowed some to benefit from union contracts without paying their fair share," state Rep. Regina Weiss, D-Oak Park, said. "With this repeal, we are restoring workers' rights to create a bargaining environment where workers and employers are equal."
Labor leaders said the bills undo years of harm done by Republicans.
"After decades of anti-worker attacks, Michigan has restored the balance of power for working people by passing laws to protect their freedom to bargain for the good wages, good benefits, and safe workplaces they deserve," Ron Bieber, President of Michigan AFL-CIO, said. "Ten years ago, Governor Whitmer was standing side by side with well over ten thousand working people who showed up in Lansing to protest the devastating attack on their rights. Today, she has demonstrated yet again her unwavering commitment to putting working families first. After decades of attacks on working people, it's a new day in Michigan, and the future is bright." 
Coming soon: Metro Times Daily newsletter. We'll send you a handful of interesting Detroit stories every morning. Subscribe now to not miss a thing.
Follow us: Google News | NewsBreak | Reddit | Instagram | Facebook | Twitter