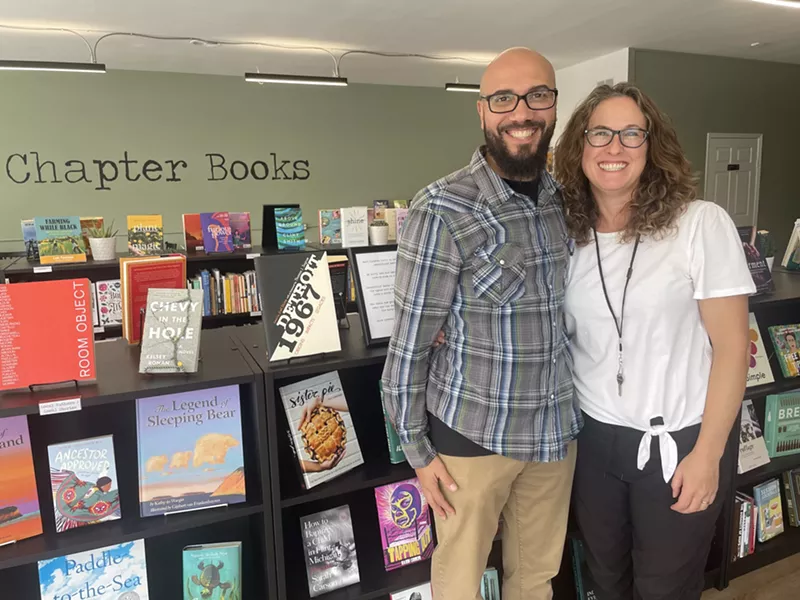 Next Chapter Books is getting ready for its grand opening on Thursday, but it's already well known on Detroit's Eastside.
After running as a pop-up inside the Alger Theater for several months, the independent bookstore has secured a brick-and-mortar location at 16555 E. Warren Ave., just a block from the theater.
Bookshelves in the store are stocked with new and gently used classics by James Baldwin, Ralph Ellison, and Zora Neale Hurston along with children's books, fiction, cookbooks, and more. A section dedicated to local authors proudly displays titles by Michigan Poet Laureate Nandi Comer, Terry Blackhawk, Anna Clark, MARS Marshall, and Kelsey Ronan.
Co-owners and married couple Sarah and Jay Williams started the pop-up just after Thanksgiving last year after realizing the lack of independent bookstores in the area. Sarah tells Metro Times they chose the Eastside neighborhood, partially because she grew up near the area.
"I definitely had emotional ties with being here as a kid, walking into the Jefferson branch Library with my parents and falling in love with reading there," she says. "There's Pages [Bookshop], our friends have 27th Letter, and there's Book Suey in Hamtramck, but between Woodward and the Pointes, there is no full-time independent bookstore in the city." (There's also Source Booksellers in Midtown.)
Next Chapter Books had a soft opening on Sept. 19 and will have a grand opening on Saturday, Sept. 23. During the inaugural E. Warrenfest on Thursday, Sept. 21, the bookstore will have a bounce house and family area. The festival celebrates the area's businesses and will include food trucks, three stages of live entertainment, and a hop-on hop-off shuttle to take people between shops.
The Williams are a bonafide pair of book lovers (Sarah calls herself a "two-fisted reader") but they wondered if people in the neighborhood felt the need for a bookstore or cared about having one nearby. They got confirmation, Sarah says, when Joe Rashid of the East Warren Development Corporation told them a bookstore was in the top five things residents requested in community surveys.
"That gave us enough reason to come and try it," Sarah says. "People really seemed to want to have a bookstore both here in the neighborhood, but we also had Jefferson Chalmers folks coming over, really from places around the city, and then Grosse Pointers coming over as well… This is such a vibrant community with so many people that love where they live but [who] have to leave where they're at to do a lot of their shopping."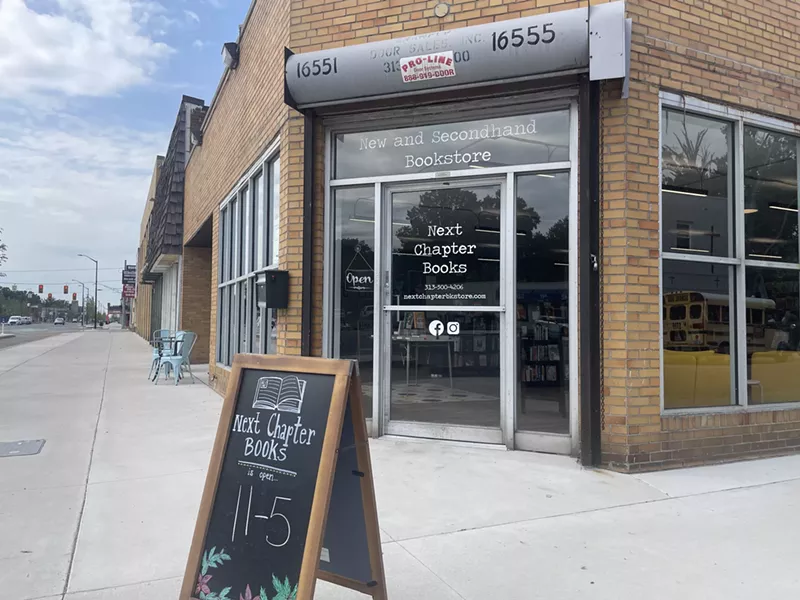 The couple secured the space on E. Warren Avenue in April and have been working on getting it up and running since. They've had regular book club meetings in the shop since February, even though it was half-finished. The shop also plans to add regular events like author talks, poetry readings, and storytime for the kids.
Next Chapter Books shares the space with Eastside Roasters, which is working on setting up a coffee shop in the back of the building. For now, they have a small table set up in front of the store for a quick pour-over or Italian soda for visitors while they pursue the bookshelves. Eventually, Eastside Roasters will have a separate entrance on the other side of the building on Kensington.
Sarah and Jay won a $50,000 Motor City Match grant for the bookstore earlier this year. They have a five-year lease for the space, which is across the street from a new mixed-use apartment complex called The Ribbon that will house Gajiza Dumplins. The Ribbon is still under construction. Popular East African restaurant Baobab Fare is plotting a second location just down the road.
Beyond books and coffee, the shop also sells products like T-shirts and tote bags that are printed by Midtown print shop Ocelot, postcards from Detroit artist collective Live Coal Gallery, and baked goods from Been There Bake That, which is helmed by the couple's daughter.
"What's great about a physical bookstore is not only supporting local businesses and keeping that money in the community but also finding that book that speaks to you," Sarah says. "I love when kids are already coming to the kids section, and they're just going right towards a book and figuring out what it is that makes them want to read… For me, [reading is] just a great way to build my understanding of other people and experiences I haven't had."
Next Chapter Books is open 11 a.m. to 5 p.m. Tuesday, Wednesday, and Friday; 11 a.m. to 7 p.m. on Thursday; and 10 a.m. to 5 p.m. on Saturday.
Subscribe to Metro Times newsletters.
Follow us: Google News | NewsBreak | Reddit | Instagram | Facebook | Twitter