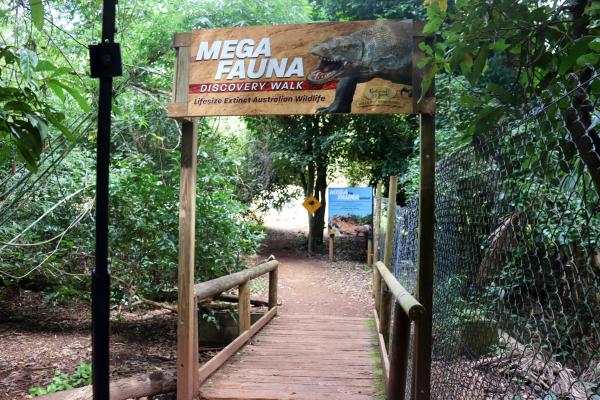 By Matthew Pearce
Cooberrie Park Wildlife Sanctuary's list of attractions continues to grow with the official opening of its Megafauna Discovery Walk on Monday, 20 September.
Wildlife ranger Kieron Smedley said construction on the Discovery Walk had been completed for about two months, with school groups already visiting the Capricorn Coast park to learn more about extinct Australian animals.
The 400-metre walk features life-size cutouts and statues of the giant-sized 'megafauna' that existed about 35 to 40 million years ago.
"This is an absolutely fantastic educational facility that's all part of the Cooberrie Park experience," Mr Smedley said.
"It's a totally different attraction that's great for school groups and great for families, with children able to learn in a natural environment with Cooberrie Park's free range animals.
"The feedback that we've been getting is great. Kids are loving the life-size megafauna and have been getting their photos taken with them."
Mr Smedley said he'd conceived the idea for the Megafauna Discovery Walk himself.
"What we've been trying to do is look at what other facilities have been doing, especially overseas – how they educate children and engage with children without having to buy more animals," he said.
"It's quite hard to be educational if children are looking at a cute, fluffy animal and getting distracted.
"Megafauna is part of the Queensland educational curriculum in some year levels, the same as our 'Mini-Beasts', another attraction which is under construction at the moment.
"We try to keep up with the curriculum, which allows us to update our signage so that when school groups come through they can kick all their boxes.
"And what better way to do that than to have these amazing life-size statues that children can get up close to, they can touch and get photos with."
The Megafauna Discovery Walk was three years in the planning and constructed over a nine-month period.
Member for Capricornia Michelle Landry said it was a privilege to officially open the exhibit and to visit the wildlife sanctuary.
"As Assistant Minister for Regional Tourism and Member for Capricornia, it's great to see a local tourism business like Cooberrie Park go from strength to strength and investing in new attractions, especially during the Covid-19 pandemic," she said.
"While we eagerly await the day that we can welcome back international tourists back to the Capricorn Coast, I encourage everyone to please visit their local tourism attractions, like Cooberrie Park."
Cooberrie Park has been operating as a wildlife sanctuary for 48 years and during that time has rehabilitated and released thousands of wildlife back to the wild.
Their next attraction, the Capricorn Dinosaur Park and mini-golf course, is under construction at the moment with an opening date yet to be set.
The Mini-Beasts attraction, showcasing the world of insects, has been 'put on the backburner' but is expected to open next year.