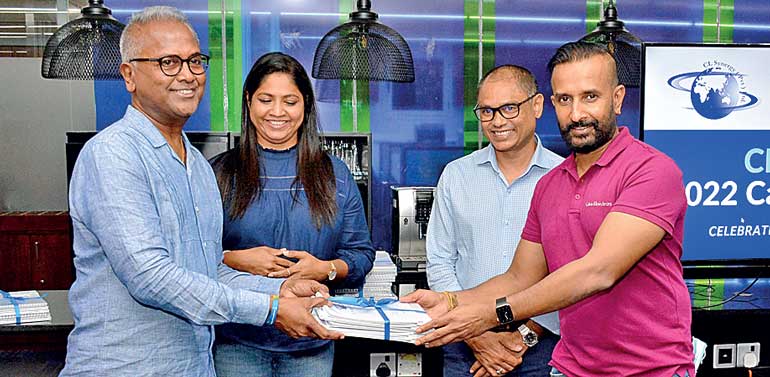 CL Synergy MD Roshan Silva presenting a Calendar set to Foundation of Goodness Founder and Chief Trustee Kushil Gunasekera 

12 charities represented each month

Calendar design with bar codes for easy donation
By Safna Malik 
Premier freight forwarder and logistics solutions provider CL Synergy last week unveiled its company calendar 'CL Synergy SMILES – 2022' with a unique and noble way of featuring charity organisations as examples of generosity.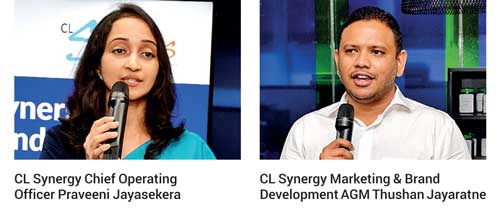 'Beyond Boundaries' and SMILES are slogans that CL Synergy has been carrying ever since it introduced their innovative project 'CL Synergy SMILES – a unique children's education scholarship program for underprivileged children in 2016. The calendar is a further expansion of CL Synergy's efforts in this regard. 
The pandemic and long lockdowns have made yesteryears more devastating for the urban poor relying on daily wages. COVID-19 has significantly reduced their livelihood options. There are charity organisations that have been working tirelessly to aid those in need. Unfortunately with the economic crisis, finding sufficient funds has also been a daunting task for these non-profit organisations.
"That's when we realised how difficult it can be for certain groups of people in our community. As a sensitive and responsible company, CL Synergy decided to help people during those hard times, we identified a few notable non-profit organisations and individuals in Sri Lanka who have been taking care of people with their bigheartedness." CL Synergy Managing Director Roshan Silva said.
He said the company found a way to support 12 selected organisations with this year's edition of the CL Synergy company calendar by featuring their contribution and services.
The CL Synergy SMILES calendar features 12 charities for each month. The calendar has a barcode for every month for kind hearted ones to scan and make a contribution without any hassle.
The selected charities according to months: Foundation of Goodness for the month of January, Animal SOS Sri Lanka for February, Emerge Global for March, Fight Cancer Trust for April, Colombo Friend in Need Society for May, Prithipura Communities for June, Lanka Alzheimer's Foundation for July, ESTER for August, Sumithrayo for September, Sri Lanka Wildlife Conservation Society for October, HelpAge Sri Lanka for November, and SLYCAN Trust for December.
CL Synergy said it dedicated this year's calendar as a token of their humble and sincere appreciation in recognition of their contribution to Sri Lanka, people, animals, and the environment.
Foundation of Goodness Founder and Chief Trustee Kushil Gunasekera said this calendar is a creative way to learn how some organisations work hard to uplift people.
"It's great to support us since COVID-19 has hit the poor harder than we could ever imagine. We strive to bridge the urban-rural difference by providing equal training, resources, facilities, and opportunities to the marginalised communities. However, these two years have been difficult for us to raise enough funds to support them. Being featured in the CL Synergy company calendar for the month of January is a real honour for us," he added. 
He said the CL Synergy desktop calendar is a unique concept. Most companies are creating a variety of beautiful and creative company calendars that mark the months of every year with photos, artwork, quotes, cartoons, puzzles, and celebrities. For a change, CL Synergy has chosen 12 Sri Lankan charities for their company calendar for 2022.
Foundation of Goodness Founder also commented that, "it's a good way to keep people organised in the new year with a desktop calendar as well as move towards CL Synergy's mission to spread awareness and support for organizations like us who help those in need."
CL Synergy aims to help urban-rural families and allow them to send their children to school with their scholarship project CL Synergy SMILES. According to a recent survey done by UNICEF, poverty is the number one risk factor for Sri Lankan children not to attend school. The CL Synergy Smiles fund is a unique, one-of-its-kind initiative where everyone from its employees to business partners and even clients contribute.
Foundation of Goodness Founder Kushil Gunasekera gifted a record-breaking cricket ball used by Muttiah Muralitharan as gratitude. 
At the event, CL Synergy officials handed out CL Synergy SMILES 2022 company calendars to their partners.
Pix by Upul Abayasekara