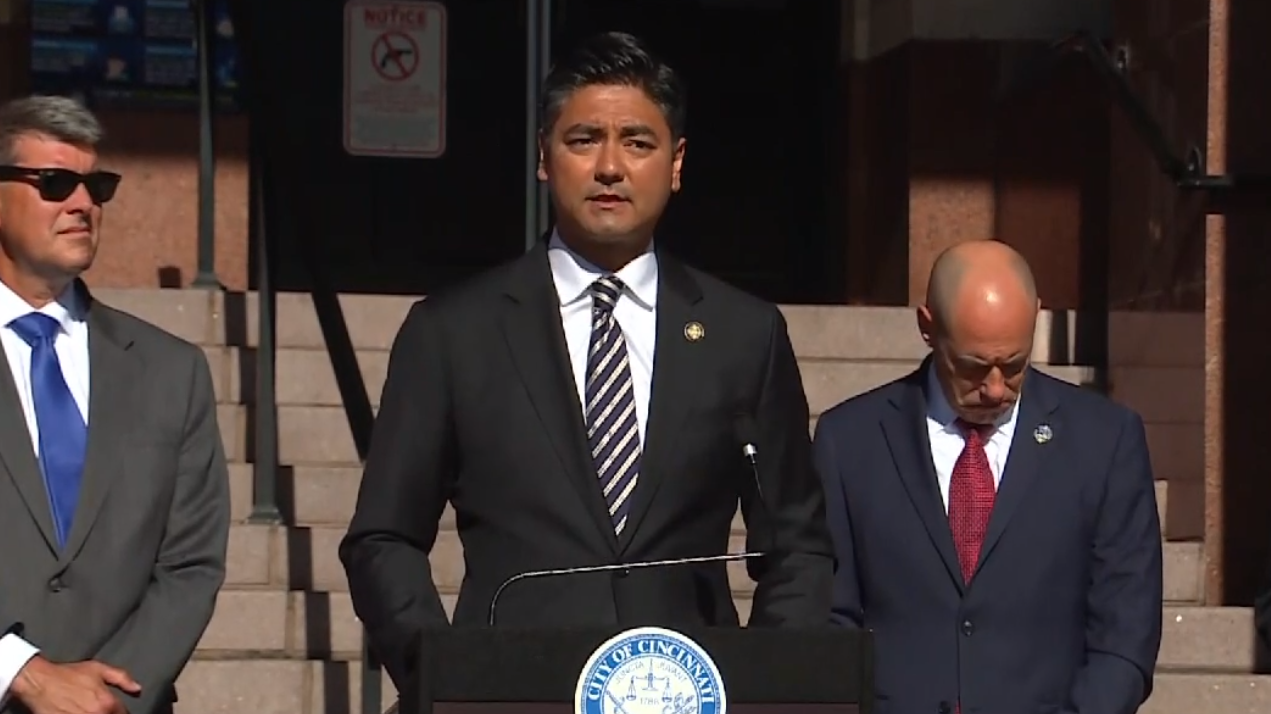 Cincinnati Mayor Aftab Pureval held a press conference Monday, denouncing the Supreme Court of the United States' ruling on Roe v. Wade. "Our Supreme Court, Congress and state legislature have failed us. Local officials must do whatever we can to protect the women of our communities. It is not my job to make it easier for the state legislature and governor to drag women back to the 50's and strip their rights, it's my job to make that harder," Pureval said. "And with today's announcements, we are fighting back.Pureval says he will be introducing legislation that would repeal a 2001 city ordinance that, currently, restricts the city's ability to cover elective abortions in its health plan. He says this will be voted on during Wednesday's City Council session. A travel reimbursement policy will also be introduced that will provide for the reimbursement of employee costs associated with travel to receive services not available within 150 miles and not covered in the city's health plan."The city's travel reimbursement policy will not only cover travel for abortion-related services," the mayor said. "This is about making sure our city employees have access to any eligible medical care that isn't available here, regardless of future statewide laws."His press conference comes three days after the Supreme Court of the United States struck down Roe v. Wade, returning the decision on abortion to individual states."On Friday, June 24, the Supreme Court delivered the most severe and oppressive reversal of human rights in a generation," the mayor said in his opening statement. "In overturning Roe v. Wade, in removing the constitutional right to reproductive healthcare, an unelected body is holding women hostage and taking away their autonomy over their own bodies."Following the decision, Mayor Pureval tweeted his displeasure in the ruling, saying "We won't stand for this, and we're going to fight like hell.""Women today have fewer rights than their mothers and grandmothers. The Court has lost legitimacy and respect, they've gone against history and the will of a majority of Americans, and they've allowed the creation of policies that will cause immeasurable devastation and harm," he continued. "Cincinnati and its local government profoundly, unabashedly, and unequivocally support a woman's right to choose – and we will do everything in our power to preserve that right."
CINCINNATI —
Cincinnati Mayor Aftab Pureval held a press conference Monday, denouncing the Supreme Court of the United States' ruling on Roe v. Wade.
"Our Supreme Court, Congress and state legislature have failed us. Local officials must do whatever we can to protect the women of our communities. It is not my job to make it easier for the state legislature and governor to drag women back to the 50's and strip their rights, it's my job to make that harder," Pureval said. "And with today's announcements, we are fighting back.
Pureval says he will be introducing legislation that would repeal a 2001 city ordinance that, currently, restricts the city's ability to cover elective abortions in its health plan. He says this will be voted on during Wednesday's City Council session.
A travel reimbursement policy will also be introduced that will provide for the reimbursement of employee costs associated with travel to receive services not available within 150 miles and not covered in the city's health plan.
"The city's travel reimbursement policy will not only cover travel for abortion-related services," the mayor said. "This is about making sure our city employees have access to any eligible medical care that isn't available here, regardless of future statewide laws."
His press conference comes three days after the Supreme Court of the United States struck down Roe v. Wade, returning the decision on abortion to individual states.
"On Friday, June 24, the Supreme Court delivered the most severe and oppressive reversal of human rights in a generation," the mayor said in his opening statement. "In overturning Roe v. Wade, in removing the constitutional right to reproductive healthcare, an unelected body is holding women hostage and taking away their autonomy over their own bodies."
Following the decision, Mayor Pureval tweeted his displeasure in the ruling, saying "We won't stand for this, and we're going to fight like hell."
"Women today have fewer rights than their mothers and grandmothers. The Court has lost legitimacy and respect, they've gone against history and the will of a majority of Americans, and they've allowed the creation of policies that will cause immeasurable devastation and harm," he continued. "Cincinnati and its local government profoundly, unabashedly, and unequivocally support a woman's right to choose – and we will do everything in our power to preserve that right."
This content is imported from Twitter.
You may be able to find the same content in another format, or you may be able to find more information, at their web site.