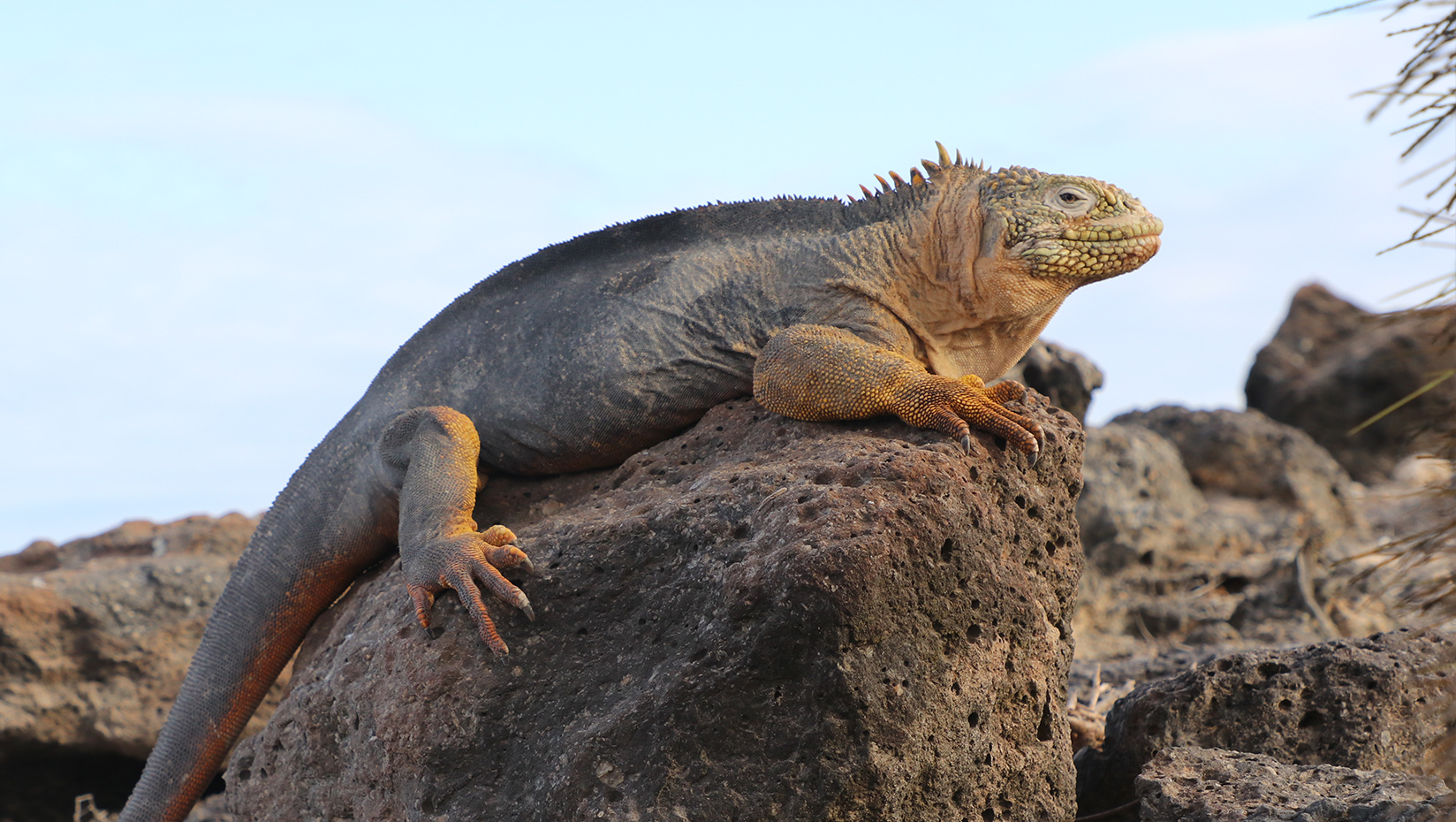 Protecting the Galápagos Islands — sometimes referred to as an evolution showcase and a living museum — is a priority for Noah Charney.
"The Galápagos are a global treasure," says Charney about the 19-island volcanic archipelago that's home to giant tortoises, finches, marine iguanas, flightless cormorants, huge cacti, land snails, mockingbirds, corals, sharks, penguins, sea lions, iguanas and seabirds.
In 1978, the Galapagos were designated a United Nations Educational, Scientific and Cultural Organization World Heritage site of outstanding universal value. Other sites include East Africa's Serengeti, the Pyramids of Egypt, the Great Barrier Reef in Australia, and Grand Canyon National Park.
"They're one of the last places to have giant tortoises," says the University of Maine assistant professor in the Department of Wildlife, Fisheries, and Conservation Biology. "It's very unique and special."
The archipelago, a model system for biological research, has yielded wide-ranging insights into evolution. 
Charney says it's important to improve forecasting of ecosystem responses to climate change on ocean islands to guide policymaking and conservation. Generally, island species are native and unique to their respective locations. And their extinction rates are disproportionately high relative to their geographical areas.
Charney used past satellite images of the islands to develop a simulated climate future. He calls it a "time-for-time" substitution model. Future climates are much better represented by analogs within the historical record, he says. 
The Galápagos' simulated future is a warmer and wetter one. And that, says Charney, could have cascading ramifications for the archipelago and its inhabitants. 
Over the next century, land vegetation growth rates will increase, with the most pronounced increase during the wet season from January to June, as well as in the arid zones. Vegetation growth that follows rainfall events directly increases abundance of insects and other arthropods, which are sources of food for Galapagos finches. The increased food supply, he says, could impact the evolution of their beak shape.
Vegetation productivity also affects the maximum body size of giant tortoises, and is a driver for their annual altitudinal migrations. Projections based solely on changes in habitat suitability suggest the possibility for tortoise populations to increase 13% by the end of the century, although this doesn't take into account other factors at play.
The greening also could make the landscape more susceptible to invasive plants and impact a variety of ecological and evolutionary processes, species of conservation concern, and agricultural practices.
Charney regularly harnesses the power of big data to develop informative forecasts of the world's environment. That will be essential, he says, to understand consequences of fragmentation and wildlife habitat loss.
Ecosphere published Charney's findings, "A Greener Future for the Galapagos: Forecasting Ecosystem Productivity by Finding Climate Analogs in Time." 
The approach can be applied to other rapidly changing systems, including perhaps the Gulf of Maine, says Charney, who also shares knowledge about the environment in other ways.
A chapter in Alexandra Horowitz's 2016 New York Times bestselling book "Being a Dog" chronicled a day in one of his courses at Mount Holyoke College. And, the book "Tracks & Sign of Insects and Other Invertebrates: A Guide to North American Species," which he co-authored with Charley Eiseman won two national awards. 
And the 2010 Switzer Fellow is under contract with Yale University Press for a book that teaches people how to read ecological stories in landscapes. 
Prior to coming to UMaine, Charney was a Charles Bullard Fellow with Harvard University's Harvard Forest; a researcher at the University of Arizona; and a collaborator with Galapagos Conservancy.
Study co-authors are Guillaume Bastille-Rousseau of Southern Illinois University, Charles Yackulic of the U.S. Geological Survey at the Southwest Biological Science Center in Flagstaff, Arizona, Stephen Blake of Saint Louis University in Missouri and the Max Planck Institute for Animal Behaviour in Germany, and James Gibbs of the State University of New York in Syracuse.
Contact: Beth Staples, beth.staples@maine.edu