Peddlers Village, a colonial 18th-century style village nestled in Pennsylvania's picturesque Bucks County countryside, is celebrating its annual Strawberry Festival through the month of May. 
Quaint and surrounded by lush gardens that change drastically through the seasons, Peddler's Village is a great place to shop small with its 65+ open-air shops.
Here you can stroll along winding brick flower lined pathways while browsing unique boutiques with everything from home goods and clothing to 
To call Peddlers' Village is so much more than a shopping village.
One of the state's, a 70 room inn, and even a restored working 1922 antique carousel.
With Pennsylvania country charm nestled in every corner, Peddlers Village is like a real life Mayberry that attracts visitors from all over year-round. One of my favorite things about Peddler's Village is that in between treasure seeking in postcard perfect country shops, you can also enjoy the outdoors as you stroll through winding brick pathways with lush blooming gardens. It's a wonderful way to enjoy the summer weather while getting some shopping in.
With 9 restaurants, a taproom, a wine tasting room, and gourmet treats of all kinds, Peddler's Village is a paradise for foodies.
It's a beautiful and peaceful place to enjoy the spring weather, eat some delicious and creative strawberry flavored treats, dishes and beverages throughout the village. The shopping is pretty great too.
How it Began With a Farmers Market and a California Dream.
After a few trips to California in the late 1950s and early '60s, Earl Jamison, a lifelong Bucks County resident who ran a farmers market, found himself in awe of the romantic storybook-style architecture he discovered in Carmel-by-the-Sea and Disneyland. So much so, he was inspired to create something similar back home. With an ability to turn his dreams into reality like Disney himself, Jamison got to work. Securing a $6000 loan from his uncle, Earl purchased an old 6-acre chicken farm in the small town of Lahaska, PA. Seamlessly blending the farm's original historic buildings into the design of his charming colonial shopping village, Earl opened Peddler's Village with only 1 restaurant (the Cock n' Bull) and 14 shops. With much success and growth over the years, Peddler's Village now spans over 42 acres and is considered one of the region's favorite destinations for shopping and events year-round.
Don't Miss The Shops at Peddler's Village!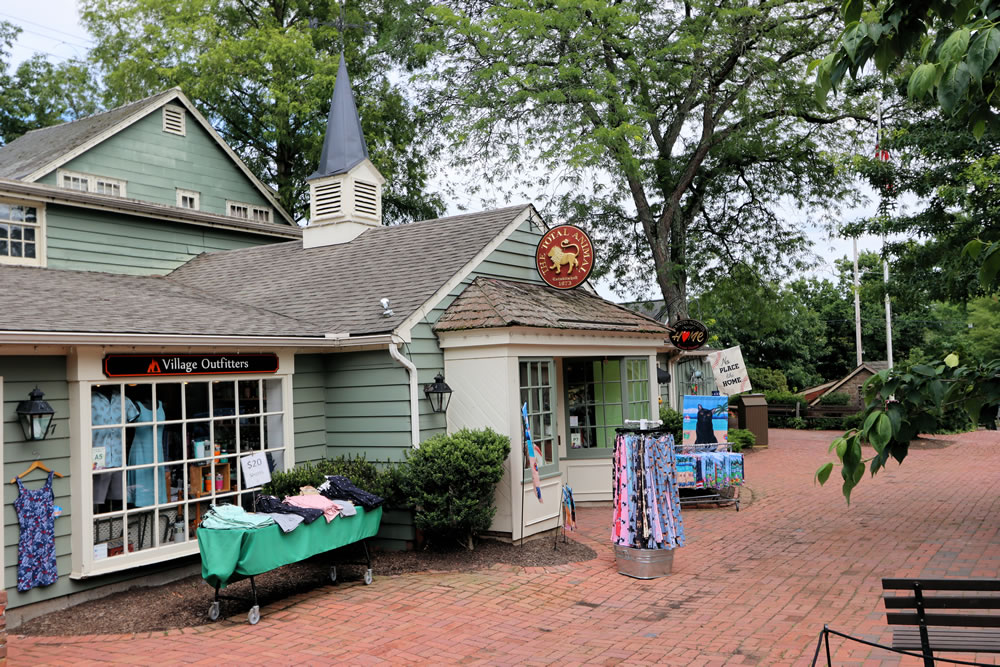 Shopping in Peddler's Village is all about walking into a small charming boutique or shop to see what unique treasures and treats you might find inside. 
Ninety-five percent of the shops in Peddler's Village are locally owned small businesses that carry unique and exclusive products.  You'll find everything from home goods and clothing, to art, collectibles, jewelry, books, toys, and a delicious variety of gourmet specialty foods. Here are a few of our favorite shops in the village.
How to Get To Peddler's Village
Peddler's Village is only 10 minutes west of New Hope and 15 minutes east of Doylestown. Close to many major cities, it's:
60 minutes to Philadelphia 

90 minutes to New York City

90 minutes to Lancaster, PA

3 hours to Washington D.C.
Driving tip: Peddler's Village will most likely show up in your GPS as being located in New Hope. Enter 2400 Street Road New Hope, PA 18938 and you'll be sure to get there.
Peddler's Village is open year round and equally wonderful around the holidays.  See more below!
For a Safe & Socially Distant Holiday Getaway Visit Peddler's Village
Peddler's Village In Bucks County, PA Is A Holiday Winter Wonderland