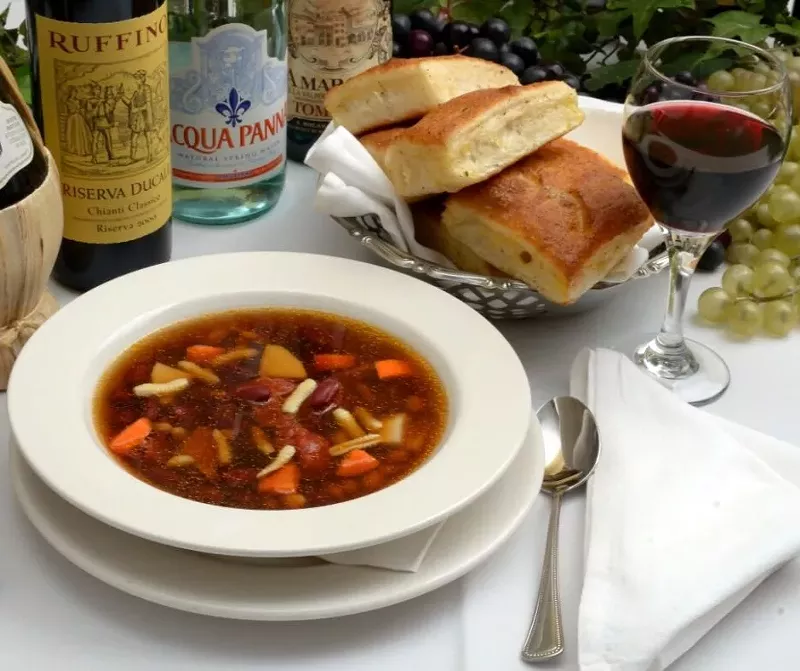 Roman history: On a recent guys' night out with my Italian sweetheart's father, I finally got around to visiting Dearborn's venerated Roman Village. After being turned away at Miller's Bar (they closed at 6 p.m. on a Saturday for lack of staff), we made our way down Dix and wet our whistles in the bar while waiting for a table. Festooned with celebrity photos dating back to the '60s, the restaurant's holding tank poured us some good, honest drinks until we were called to dinner. Sweetie's father ate around the tender edges of an osso buco as big as his head (quite the steal at $29.95), and I could have cut my Parmigiana-style scallopini with a Q-tip. While the ballyhooed bread basket went pretty much untouched, the browned and crispy balsamic-glazed Brussels sprouts that came with (!) our orders were super, as was the veggie-loaded minestrone in a stock three shades deeper in color and flavor than any version I'd ever sampled.
It was a nice night. With two martinis in Sweetie's dad and a double 7 and 7 under my belt, the ride home proved a hoot. And the guy I saw as more or less my girlfriend's dad when the evening started felt more like a friend at the end.
Market returns: Heading back to Eastern Market for the first time in 50 years was enough to make me cry. Memories of trips there as a boy center around my Polish grandmother, who dropped off empty peanut butter jars at the live poultry stall to be filled with duck blood for her homemade czarnina. Much has changed over time, but not everything. Like the proverbial kid in a candy store, I felt like one again, browsing the full cornucopia of Michigan foodstuffs on display. I skipped from vendor to vendor: split peas from the Hampshire Farms stand (out of Kingston); a basket of apples to feed my deer friends, compliments of Greg's Fruit & Vegetable Stand; a breakfast baguette from Cannelle by Matt Kino. And then there were the things I didn't buy but should have, like a $25 grow-your-own mushrooms kit from Give and Grow Mushroom; you just bring it home, cut a hole in the side, and get ready to harvest (3-5 pounds of delectable fungi on average). And at $1.17 a pound, I should have picked up a whole pig head and made God-knows-what with it.
On the subject of my Maker, let me tell you how my Eastern Market experience ended. As I was about to head home, a truck pulled up right in front of me and began unloading bunches of pussy willows — my grandmother's favorite. I grabbed two bunches. I also engaged in conversation with the Hampshire Farm guy (if memory serves, his name was Randall) who sold me those split peas I needed for the soup I was about to make with ham bone that grandma taught me to save half a century ago. He seemed to know a whole lot of history about the place, so I asked him if he could recollect the live poultry place where my grandmother got duck blood from the butcher. Randall not only knew about it, he even remembered the man's name who ran the operation. When he said it, I welled up, hearing it again.
"Turn around," Randall told me with a tear in his eye, too. "That's the spot right there." I was five steps from it, utterly frozen in a moment of emotion and remembrance completely perfumed with a sense of my grandmother's spirit.
Lastly, let's lighten things up…
Jumpin' Jack Flatulence: The Rolling Stones made a 2005 tour stop in Phoenix, staying at the Scottsdale Phoenician, where I worked as dining room captain in the ultra-high-end Mary Elaine's, the resort's former flagship French restaurant. When I came to work one night that week, my G.M., Frank, informed me that I was going to wait on one and only one table that evening. When I asked why, he wouldn't tell me.
"Are you kidding?" I fumed. "This is going to cost me hundreds!"
"Sorry, Stempie," Frank shrugged and smirked.
The restaurant opened. 6, 7, and 8 p.m. came and went. Nothing. I was ready to strangle somebody. Then some suits walked up to me as I sulked.
That's when Stones' guitarist Ron Wood walked up with his wife and kids. There were four of them and a table set for ten. I had high hopes for who might fill those empty six seats. Alas, they went unrewarded. I learned by eavesdropping that Mick had made other plans, Keith had already been tucked in to his casita, and the late Charlie Watts would be a no-show as well.
In the end, everything worked out. The Wood family had an extravagant meal. My service team got a big tip along with backstage passes to the next night's concert in Glendale. (No, we didn't get to party like rock stars with the band, but we did get free drinks and hors d'oeuvres.) And I got to see, first-hand, once and for all, how true it is that, regardless of age and/or social standing, boys will be boys.
Fidgeting in a fine, upholstered leather chair while waiting for course number whatever, Mr. Wood managed to replicate a long, loud fart sound. His then-wife, Jo, gave him some side eye. He assured her it was the chair, not him. Then, he and I made eye contact. Grinning, I gave him the nod I instantly knew he was looking for. He quickly ripped off an even more realistic second effort.
"Now, Ronnie," Jo tried, in proper English, to shut him down. The kids cracked up. I started to lose it, too.
"Am I right, mate?" Ron Wood turned to me for comic validation before rubbing out a few more. We were friends now, thanks to that fraternal bond that exists between all men who never outgrow or rise above our unashamed appreciation for mankind's most hypocritically mocked and universally howled over bodily function.
There are those out there who claim bragging rights for catching one of Ron Wood's concert guitar picks. That ain't shit, people. For all intents and purposes, I've pulled his finger.
Chowhound is a bi-weekly column about what's trending in Detroit food culture. Tips: [email protected].
Coming soon: Metro Times Daily newsletter. We'll send you a handful of interesting Detroit stories every morning. Subscribe now to not miss a thing.
Follow us: Google News | NewsBreak | Reddit | Instagram | Facebook | Twitter