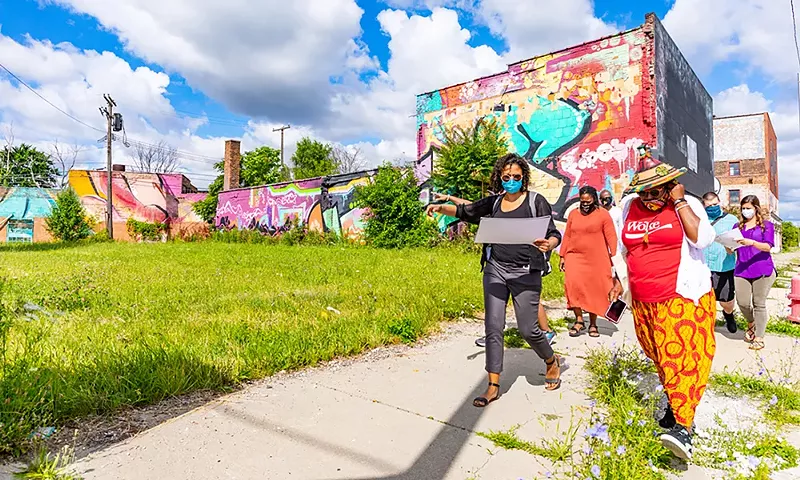 The public will get an opportunity to see Allied Media Projects' new LOVE Building headquarters in Detroit as part of the finale of its newly announced monthly speaker series.
The four-part AMP Seeds Series kicks off on Thursday at the Museum of Contemporary Art Detroit. It's the first time that the series, which was launched in a virtual form amid the COVID-19 pandemic, will be held in person.
"We are thrilled to share our first in-person AMP Seeds series with the Detroit community," said AMP Seeds program director (and Michigan poet laureate) Nandi Comer in a statement. "AMP Seeds was created in 2020 as a virtual solution to connect with our community and foster learning and resource sharing. The 2023 series provides space for joy and expression through dance and honors the food sovereignty movement led by the Indigenous community. We will also explore solutions to some of Detroit's most pressing issues, including unjust environmental policies and the impacts of gentrification and systemic neighborhood disinvestment."
The events feature distinguished local panelists and moderators. "The sessions aim to collectively plant the seeds for more liberated futures in Detroit and beyond," according to a press release.
The 2023 AMP Seed Series events include:
• "My Body, My Movement" at 7 p.m. on Thursday, June 8 at MOCAD with dance performances, workshops, and a discussion featuring Benito "Mav One" Vasquez (Motor City Street Dance Academy), Cara Graninger and Gwynneth VanLaven (DanceAbility Detroit), and Derrick Finley-Bell (Thee Plastic Dollz dance crew), moderated by choreographer and performance artist Jennifer Harge.
• "Hood Work: Neighborhood As Resistance" at 7 p.m. on Thursday, July 13 at MOCAD with Asia Hamilton of Norwest Gallery, Bryce Detroit of New Center, and Tyree Guyton of the Heidelberg Project, moderated by artist Scheherazade Washington Parrish.
• "Community Nourishment" at 7 p.m. on Thursday, Aug. 3 at MOCAD featuring a screening of the 2020 film Gather with chefs and activists Twila Cassadore and Nephi Craig in conversation with Indigenous activist and farmer Kirsten Kirby-Shoote, moderated by Detroit farmer shakara tyler.
• "Waging Love: Building an Environmentally Just Detroit" at 7 p.m. on Thursday, Sept. 14 at the LOVE Building, with a panel of organizers from Detroit's environmental and climate justice movements.
AMP started about 20 years ago as a Midwest conference for alternative publishing in Bowling Green, Ohio. In 2002, it was incorporated into a nonprofit, and later relocated to Detroit, where it became more of a social justice organization.
In 2019, it announced it would develop two buildings in Detroit's Core City neighborhood as part of a $10 million development to create the LOVE Building complex, which will also include groups like Detroit Justice Center, Detroit Disability Power, Detroit Narrative Agency, Detroit Community Technology Project, and Paradise Natural Foods.
The LOVE Building is located at 4731 Grand River Ave.
Subscribe to Metro Times newsletters.
Follow us: Google News | NewsBreak | Reddit | Instagram | Facebook | Twitter