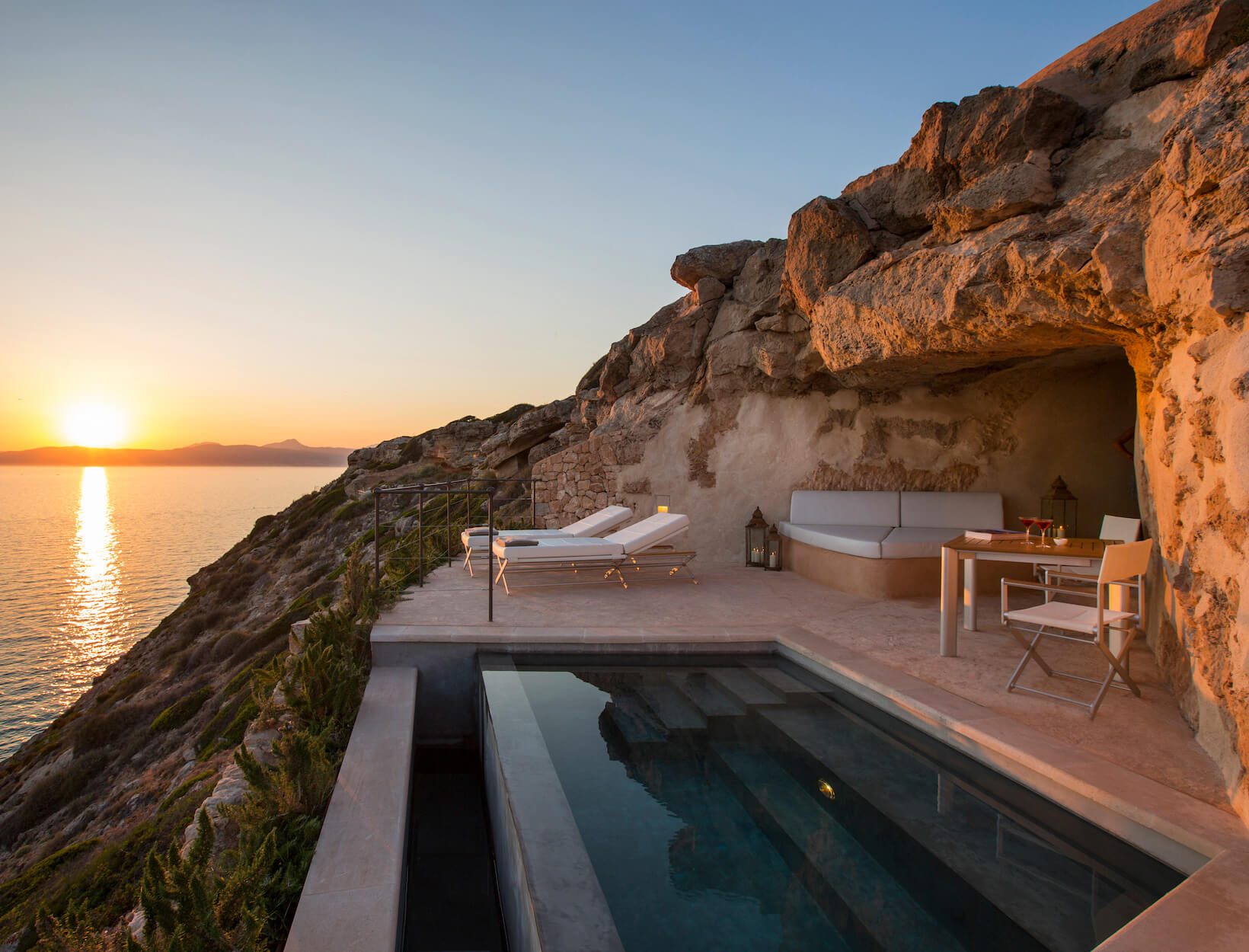 5 New Hotels Worth Planning a Trip Around
Some hotels are just a place to stay—and others are a (large) part of why you picked a vacation spot in the first place. Whether you're driving upstate or feeling like something more transoceanic, these hotels are the latter. Most are brand-new and have just started welcoming guests within the last couple of years. But we couldn't resist also telling you about one more-established hotel built into Mallorca's dramatic cliffs—along with the little luxuries we're stashing in our carry-ons these days.
COUNTRY
Built for full-time forest bathing in the Catskills, Piaule's collection of private cabinettes are pared-back and sleek, with heated stone floors, handcrafted ceramics, and lightweight organic linens made exclusively for the hotel. Each morning, if you're not heading into town for eggs and bagels at Goodies, you'll poke into the restaurant, which serves as a gathering place for morning bites, evening cocktails, some epic weekend dinners, and the kind of weather-watching that gives Piaule its status as a landscape hotel.
Yes, you could spend all day looking out at the land—but we suggest dropping by Circle W Market for provisions and doing lunch trailside at Kaaterskill Falls. (Bring a suit; there's a swimming hole at the bottom.) When you wander on back to Piaule, take that wandering to the spa, where you can move from hot soak to cool mineral plunge pool—the best place on the property to watch the sun dip behind the mountains—and then into the purifying heat of the sauna. Your plans for the night: SILVIA is well worth the drive to Woodstock, Subversive Malting + Brewing is great for local craft beer and sourdough pizza, or you can bring the energy way up with dinner at Lil' Deb's Oasis and dancing at the Avalon Lounge.
Built on the grounds of a working cattle ranch in Greenough, Montana, the green o falls somewhere between ritzy and roughing it: By day, you'll rove around 37,000 expansive acres of Rocky Mountain property (in your own Lexus SUV, provided by the hotel) for guided rappelling tours, whitewater rafting excursions on the Blackfoot River, and—if you want to live out some Wild West dreams—hands-on lessons in driving cattle. Sunset drinks on a private island more your speed? Arranged. By night, you'll stay in a spacious, modern cabin made for two and pop into the restaurant, Social Haus, for an eight-course tasting menu that changes daily. Or relish in room service: a spin on pizza delivery by some big culinary brains. Chef Brandon Cunningham is a master with seasonal, hyperlocal ingredients, and in-house pastry chef Krystle Swenson is up for a James Beard award.
The green o is cousin to the more theme-y (and kid-friendly) dude ranch Paws Up, which is situated across the road on the same property. Benefits: access to Paws Up's ATV-ing, gun-range-ing, and on-site spa-ing—with respite on the green o's adults-only grounds.
The first in a new collection of hotels from Aman founder Adrian Zecha, Azumi Setoda is a contemporary take on the ryokan, blending traditional Japanese hospitality with modern minimalism. It's set on Ikuchijima, a small island—you could drive it end to end in twenty minutes—on the Seto Inland Sea. And a stay there is an invitation to slow down. The experience is designed to feel like you're in constant contact with nature: Rest in front of wide windows that open up to an airy courtyard, melt into your custom-built cypress bathtub, and gather for simple, beautifully prepared meals made with seasonal vegetables, fresh-caught fish, and just-picked citrus. (Ikuchijima is known across Japan for its lemons.)
Directly across the street, you'll find Azumi's sister property yubune, a contemporary bathhouse and sauna made for lingering and mingling. And wander down the Shiomachi shopping street as far as it goes, picking up lemon cakes, potato croquettes, and an orange juice called cajyutta, with additional stops at the Shiomachitei Bicycle Café and the Hill of Hope.
COAST
Mo'orea, French Polynesia
Created by French hair guru Christophe Robin, Ginette Mo'orea is designed to immerse guests fully in Polynesia's cultural heritage. The guesthouse itself is built into a Polynesian fare, or villa, that bumps up against a nearby lagoon. And it's designed to feel as if you're an honored guest in a local home. It has just four (spectacular) suites built with traditional materials—straw, bamboo, pandan leaves—and decked out with Polynesian objets that Robin has collected over the last 15 years.
You'll be welcomed by head of house Jean-Louis, who's there to help curate your experience in Mo'orea. Here's what's on the docket: A long dip in the lagoon, obviously. Float a while or borrow a snorkel to get acquainted with the coral garden below (anemones, clownfish, and rays, oh my). If you're playing beach bum, settle under the palm groves at Ta'ahiamanu beach or look out over Tahiti at Temae. Itching for some movement? The route to Belvedere lookout takes you through pineapple fields and lush forest. And starting this summer, you can charter Ginette's private catamaran and spend the day skipping across Mo'orea's lagoons and bays.
For lunch, go for tuna tartare and champagne at Mo'orea Beach Café or drop by Fare Maheata—a favorite of Jean-Louis's—which serves authentic Polynesian food and sits right above the beach. A 30-minute ferry across the strait to Tahiti gets you to the bustling Marché de Papeete, a celebrated market: You'll find small trinkets and very good mangoes as well as bigger-ticket items like fancy wood carvings and brilliant Tahitian pearls. While you're on Tahiti, make your way to Teahupo'o to watch the surfers (or catch a wave yourself). As the sun sets, opt for dinner back at Ginette, which leads with farmers' market fruits and vegetables and locally caught fish.
Where the Adriatic Sea meets Montenegro's shimmering Boka Bay, the palatial One&Only Portonovi offers many treasures: A sailing excursion to medieval island villages, a journey through the region's vineyards and olive groves, a coastal road trip in a Rolls-Royce once owned by Yugoslav revolutionary Marshal Tito…and that's when you're not busy falling in love with the view from your balcony. Or come with a crew and book out a whole villa. There are five on the property—some with pools, others with private beaches and jetties where you can hop on the yacht you chartered.
While you're here, get lost in the endless promenades, cobblestone alleyways, and flower-filled courtyards of neighboring Herceg Novi. And if Montenegro doesn't seem like an obvious wellness destination, a surprise: The thick, mineral-rich mud pulled from the bay outside of nearby Igalo is considered healing—you can DIY it at Blatna plaža (which translates to "mud beach") or visit the Dr. Simo Milošević Institute for specialized treatments. One&Only has a full medical spa on the grounds, too. Pop in for a facial or sweat it out in the sauna, sure. Or book a full-on Chenot Method reset complete with a full-body vitality survey, specialized workouts, and a menu of anti-inflammatory, plant-based meals.
Mallorca's Cap Rocat isn't exactly new—it opened in 2010—but it is new to us. It's where you go for total seclusion. As in, it's built into a walled fortress. With moats. Yes, Cap Rocat was originally built for military defense in the 19th century, but don't be surprised by how open and peaceful it feels now. Take your pick from rooms nestled in the original citadel, suites with sunny terraces, or—get this—chambers set directly into the cliffs where the fortress used to keep its cannons. The whole place is utterly romantic: evergreen gardens, wide-open ocean vistas, avant-garde Mallorcan food, and miles of protected coastline.
If (if) you decide to leave the grounds, Palma proper is just a 20-minute taxi away. Fall for the charming Moorish architecture in Old Town, the Gothic basilicas with high-flying spires, and the old fisherman district of Santa Catalina, which has transformed into a hot spot with some very good restaurants. Speaking of: Grab veggie sandwiches and cafe con leche at La Molienda, some of the best tapas on the island at La Bóveda or Restaurante Buscando El Norte, streetside sips (and great people watching) at Bar Bosch, and skyline views and cocktails at Hotel Sant Frecesc's rooftop bar.